Brooklyn Nets Can Take Advantage of the Cleveland Cavaliers' Lauri Markkanen Mistake
It's not uncommon for one organization's loss to be another's gain. But in the case of the Brooklyn Nets, the Cleveland Cavaliers' decision to invest $67 million in former Chicago Bulls enigma Lauri Markkanen could impact Brooklyn's title hopes.
The Nets are still looking to add pieces for this season. A Cleveland free agent could fit a roster spot in Brooklyn, or if the Nets are interested in taking a more significant swing, there's a former All-Star that could benefit from the Blake Griffin Rehabilitation Challenge (patent pending). The arrival of Markkanen with the Cavaliers opens some doors for some moves less than a month before training camp.
To be clear, Lauri Markkanen is a clunky fit with the Cleveland Cavaliers
The Cleveland Cavaliers are entering year four of their second post-LeBron James era, and it's not going smoothly. They selected point guards with consecutive lottery picks in 2018 and 2019 and are still struggling to figure out how and if Darius Garland and Collin Sexton fit together.
In late July, Cleveland used the No. 3 overall pick to select USC stretch big Evan Mobley. Then they committed $67 million to bring in Markkanen. He's a (wait for it) stretch big. They still have Kevin Love, who is a (drum roll, please) stretch big. Does general manager Koby Altman understand this isn't a fantasy basketball roster?
Markkanen came in a sign-and-trade deal from the Bulls. So not only are they paying him an average of nearly $17 million a year for the next four seasons when there was almost no market for him, but they also gave up a draft pick and versatile combo forward Larry Nance Jr. in the process.
Because when you can give up your best defender to overpay a scorer whose scoring average has (checks notes) gone down steadily the last two seasons and who has missed an average of 20 games a season, you must jump at the chance.
Altman's folly could turn into an opportunity for Brooklyn Nets general manager Sean Marks. Not saying that Marks is playing 3-D chess while Altman is playing with some human waste material, but then again, it might not be that far off the mark.
The Brooklyn Nets have options to improve their frontcourt depth
If there was a recurring theme in the playoffs last season for the Brooklyn Nets, it was images of Giannis Antetokounmpo overwhelming defenders who either were too short or too frail to stop him. The Nets used Griffin as their starting center during their playoff run. DeAndre Jordan had a nice courtside seat for both series, as he had shown himself to be unusable at this point in his career.
But there could be size on the way. Isaiah Hartenstein, a 7-foot center who emerged as a rotation piece for the Cleveland Cavaliers late last season, is an unrestricted free agent. After Altman spent $100 million to retain Jarrett Allen and flushed $67 million for Markkanen (while still being on the hook for $60.2 million worth of Love's contract), there's not a lot of budget left for Hartenstein.
Hartenstein might have been hoping for more than the $1.7 million player option he rejected. However, that $1.73 million veteran's minimum would still represent a slight increase and provide a chance to win in Brooklyn. The Nets have long shown interest in the young German big man, and Brian Lewis of the New York Post says that hasn't changed. But there's another option on the table.
A buyout from the Cleveland Cavaliers could get Love to the Brooklyn Nets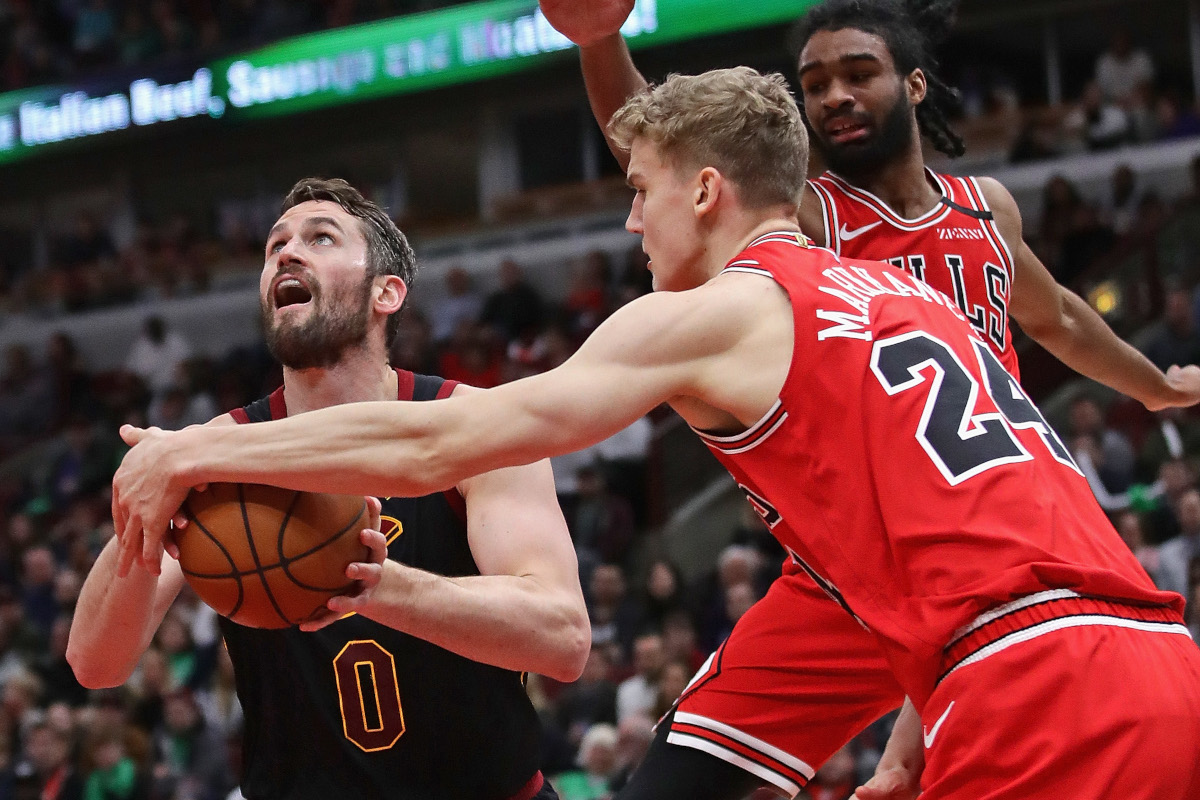 Terry Pluto of the Cleveland Plain Dealer reported recently that the Cleveland Cavaliers were "making progress" toward a buyout of Love's contract. Love's camp says he's not interested in a buyout.
Lewis points out that Love has a waterfront apartment in Tribeca. He's also reportedly friendly with Nets star Kevin Durant. Love has a ring with the Cavaliers and might want another one. He'll soon be 33 years old, injuries decimated his last five seasons, and with a buyout, Brooklyn could get him for the veteran's minimum ($2.64 million for a player with 10 or more years experience).
It wouldn't be franchise-player Love the Nets would be getting. Heck, it's not even third wheel-behind-LeBron-and-Kyrie-Irving Love that would be coming to Brooklyn. But he's got a ring, would know he's coming to play a role, and wouldn't have to conserve energy while trying to lead a bad team.
Love can still shoot, and when he's not constantly 30 feet away from the basket, he can still rebound. At worst, he's a cheap vehicle for another six fouls to use on Antetokounmpo.
And neither Love nor Hartenstein will cost $67 million to be inconsistent offensively and nonexistent defensively.
Contract information courtesy of Spotrac.