Why the Brooklyn Nets Can Win It All Without Kyrie Irving and Why They Should Try
The Brooklyn Nets successfully appealed to New York City officials, and because of that, Kyrie Irving is allowed to practice with the team in Brooklyn. But his COVID-19 vaccination status still prevents him from being at, much less suiting up, any of the team's home games at Barclays Center. The city ban on non-vaccinated people inside public gyms also extends to Madison Square Garden.
That means if Irving remains fully healthy or otherwise engaged (pausing for a laugh break here), he could play in a maximum of 39 games for the Nets. Less than half a season from your starting point guard is less than ideal for the NBA's championship favorites. It's made even worse by the situation being entirely preventable.
Privacy aside, Kyrie Irving's situation is no longer conjecture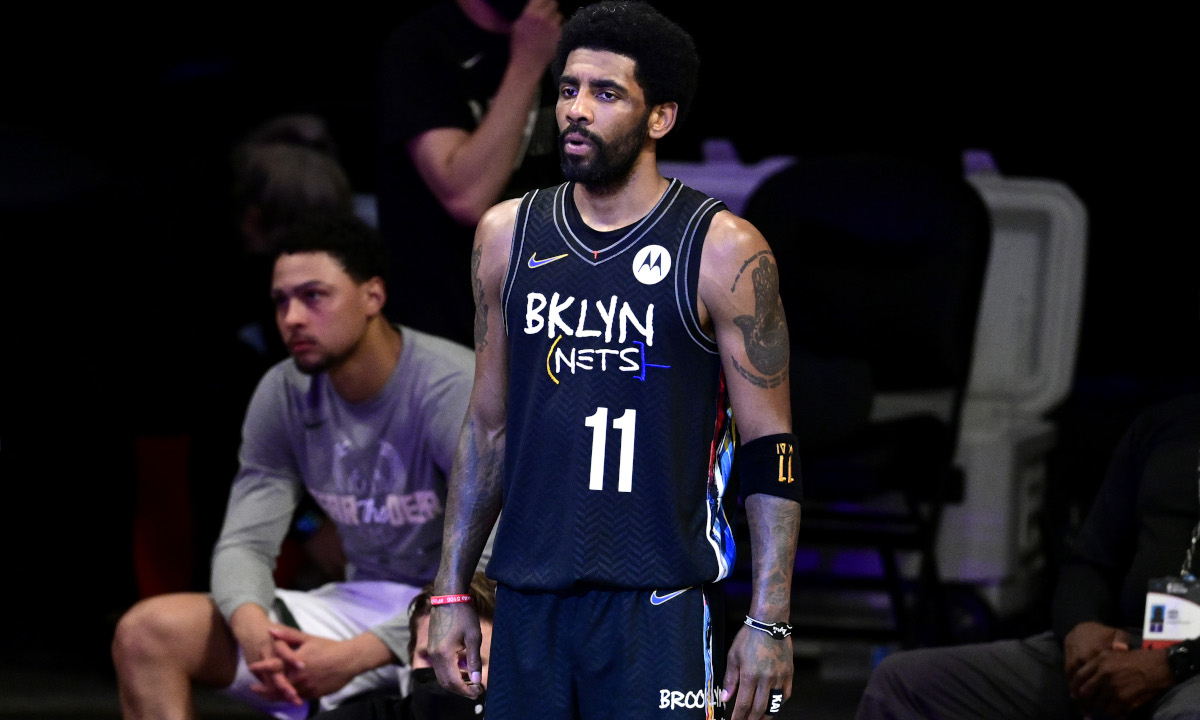 Kyrie Irving appeared remotely at the Brooklyn Nets' media day in late September. When asked about his vaccination status, Irving demurred and asked that his privacy be respected.
But when the Nets hosted the Milwaukee Bucks in a preseason game at Barclays Center on Oct. 8, the cat was officially out of the bag. The box score told the story: "Kyrie Irving: NWT-Ineligible to Play." For the record, "NWT" is NBA box-score shorthand for "not with team." Since he's not under league or team suspension, the number of reasons Irving could be ineligible is down to one. No shot, no play in New York City.
Brooklyn coach Steve Nash adjusted by moving James Harden to the point, shifting Joe Harris to the 2, and inserting versatile Bruce Brown into the starting five as the small forward. It's the preseason. It's no big deal; ask Russell Westbrook of the 0-4 Los Angeles Lakers.
The Nets open the season on Oct. 19 against the Bucks in Milwaukee. So Irving is good to go there. Ditto for Oct. 22 on the road against the Philadelphia 76ers. It gets dicey from there. Brooklyn opens a six-game homestand on Oct. 24 against the Charlotte Hornets. Cue up Lineup B? That's the choice Nash faces.
The Brooklyn Nets can thrive without Kyrie Irving
Nash admitted after Sunday's practice the situation the Brooklyn Nets are facing with Kyrie Irving, per a tweet from Brian Lewis of the New York Post:
"I think we recognize he's not playing home games. We're going to have to for sure play without him this year. So it just depends on when, where, and how much."
That pretty much sums up Irving's tenure in Brooklyn thus far. In two seasons, he's played in 74 of 144 regular-season games. He's been in the lineup for only nine of the team's 16 playoff contests. Based on his regular-season game count, that means he's statistically likely to be available for 20 of the 39 games in which he's not ineligible to participate. That's not a swipe at Irving; it's math.
But there's a better solution. Get Kevin Durant to sign off on a deal to get Irving out of Brooklyn. Respect his privacy by getting him away from the prying eyes of New York. The Nets have what they need to compete for a title without the distractions that invariably accompany Uncle Drew and his antics.
Harden's been a point guard for a contender. He was the primary ballhandler for most of his stay with the Houston Rockets. They didn't win a title, but they were almost always in the mix. And he didn't have Durant to lighten the load.
A Big 3 is nice, but 2 superstars are more than enough to carry the Brooklyn Nets
Big Threes forming superteams around the NBA are all the rage, and Durant, Harden, and Kyrie Irving certainly qualify as a Big Three. Or, at the very least, a larger-than-normal trio.
But less than four months ago, Giannis Antetokounmpo was the lone superstar on a championship club (Khris Middleton is a star, but there's little super about it). LeBron James and Anthony Davis were enough for the Lakers in 2020. Kawhi Leonard flew solo in 2019 for the Toronto Raptors.
Brooklyn has former All-Stars in Blake Griffin, LaMarcus Aldridge, and Paul Millsap to add gravitas. Harris has led the NBA in 3-point accuracy two of the last three years. Patty Mills has championship experience off the bench. Cam Thomas looks like a future star out of the No. 27 spot in the 2021 draft.
Kyrie Irving is a superstar. This fact is not in question. He's also, by choice, an enormous drain on team chemistry. Asking your teammates to play more than half a season without you because you don't trust the exact science the rest of them were OK with takes selfishness to a new level.
It's a headache the Brooklyn Nets can cure without even needing an injection.
Box score data courtesy of NBA.com.
RELATED: Michael Jordan Has No Patience for NBA Players Who Still Refuse to Get Vaccinated From COVID-19: 'I'm a Firm Believer in Science'