Brooklyn Nets GM Sean Marks Gave Brutally Honest Assessment Before Re-Signing Former All-Star: 'Why Would You Come Back?'
It was a surprise when former All-NBA big man LaMarcus Aldridge abruptly retired from the NBA in April 2021. After experiencing an irregular heartbeat during an April 10 game, he followed medical advice and stepped away from basketball. After retiring, he confessed to battling depression and then provided a second shocker this summer by re-signing with the Brooklyn Nets.
Aldridge received medical clearance to resume his career and quickly agreed with the Nets on a one-year veteran's minimum deal. But Brooklyn general manager Sean Marks recently admitted that he had doubts about bringing back the seven-time All-Star.
LaMarcus Aldridge already has a decent Hall of Fame resume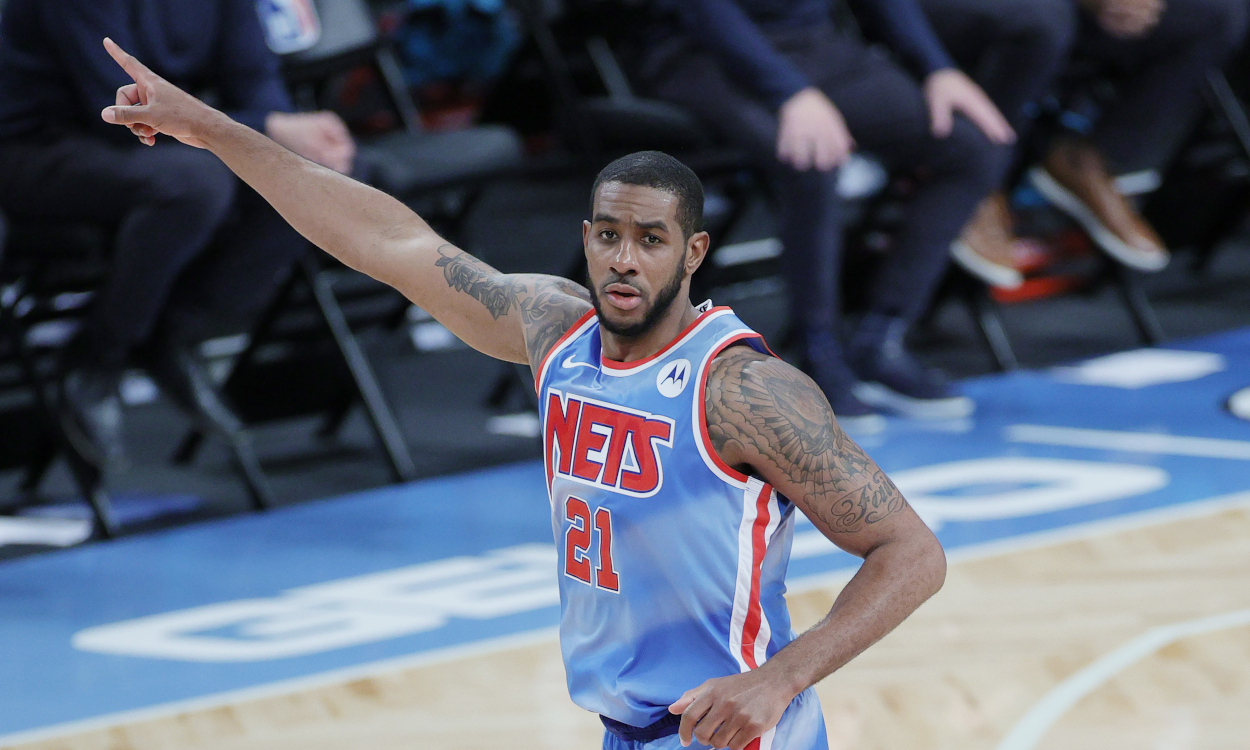 According to Basketball Reference's Hall of Fame Probability Index, LaMarcus Aldridge is already better than a 50/50 shot at heading to Springfield at some point. With a 50.9% rating on the scale, Aldridge is ahead of 30 Hall of Famers. That includes 2021 inductees Ben Wallace, Chris Webber, and Bob Dandridge.
It might not happen on the first ballot, but his odds are solid.
And with nearly $211 million in career earnings, it's doubtful Aldridge's motivation to return for a minimum-salary gig is financial. Instead, Aldridge is doing what several veterans with the Brooklyn Nets are: chasing a championship ring as the cherry on top of a great career sundae.
Brooklyn Nets GM openly questioned why LaMarcus Aldridge wanted to risk it
After securing a buyout from the San Antonio Spurs in March 2021, LaMarcus Aldridge signed a minimum deal to join the Brooklyn Nets as soon as he cleared waivers.
He played in only five games, all starts, before his forced retirement. In those games, the five-time All-NBA selection averaged 12.8 points, 4.8 rebounds, and 2.6 assists in 26.0 minutes per game, shooting 52.1$ overall and hitting 4-of-5 from long range (where is only a 32.1% career marksman).
Rather than give the starting gig back to veteran DeAndre Jordan, Nets coach Steve Nash turned to another veteran who came to Brooklyn after a buyout, Blake Griffin. Now it appears Aldridge and Griffin will share the load at the 5 as the Nets look to capture the franchise's first NBA championship.
But at his preseason press conference, per NBA.com, Marks said he asked Aldridge bluntly why he wanted to come back:
"I tried to talk him out of it. I said, 'Why? You don't need this: Why would you come back?'

"It's not something that we take light-hearted, it's not something he should, either, and he was very comfortable, wanted to be back here and stated, like several of our guys, that there was unfinished business here, so to bring him back in the fold, we thoroughly enjoyed our time with him last season, and we all saw what he was capable of doing and the dynamic that he added to the team both on the court and off the court."

Sean Marks
Aldridge will certainly give Nash more flexibility in the rotation.
How the Brooklyn Nets look with Aldridge back
The return of LaMarcus Aldridge gives the Brooklyn Nets yet another former All-Star. They also have Kevin Durant, Kyrie Irving, James Harden, Griffin, and Paul Millsap. Their chief rival in the chase for the championship (at least to the Las Vegas odds), the Los Angeles Lakers, have seven former All-Stars: LeBron James, Dwight Howard, Russell Westbrook, Rajon Rondo, DeAndre Jordan, Anthony Davis, and Carmelo Anthony.
Brooklyn has only one center listed on the roster, and he's not likely to get extended minutes for the Nets unless it's the G-League's Long Island variety. The Nets added 29th overall pick Day'Ron Sharpe and Jevon Carter from the Phoenix Suns, sending Landry Shamet to the desert in exchange.
Instead, Brooklyn will cover the minutes at the five with Aldridge and Griffin while also deploying young Nicolas Claxton at times. But the Nets might also get some small-ball looks with Millsap or James Johnson in the middle, as well.
The pieces are there for the Nets to make a run, provided their veteran core of Durant, Irving, and Harden stays healthy. That trio played in only eight regular-season games together last season, and both Irving and Harden missed playoff time with injuries. It's the downside of experience; with age comes increasing injury risk. With eight players in at least their 10th NBA season, the Brooklyn Nets are banking on that experience to lead them to never-before-seen heights.
Statistics courtesy of Basketball Reference. Contract information courtesy of Spotrac.
RELATED: Stephen A. Smith Boldly Asserts That Brooklyn Nets Superstar Kevin Durant Shut Down a Potential Ben Simmons Trade