Brooklyn Nets Sharpshooter Joe Harris Not Worried About Social Media Criticism: 'My Mom and My Sister Beat Me up Pretty Good'
Joe Harris is the senior member of the Brooklyn Nets entering the 2021–22 season. Rescued off the scrap heap by general manager Sean Marks in 2016, Harris was part of the motley crew Marks assembled in his first season in Brooklyn that went 20–62. But Joe E. Buckets persevered and became one of the top 3-point shooters in the NBA the last three seasons.
However, that dead-eye shooting didn't translate to the postseason in 2021. After leading the NBA in 3-point accuracy for the second time, hitting 47.5% last season, Harris was a dismal 32.7% (16-of-49) in the seven-game loss to the Milwaukee Bucks in the second round. Roundly criticized after the defeat (though not as roundly as Ben Simmons), he didn't pay that much attention to social media. He didn't need to.
Joe Harris was out of the NBA in 2016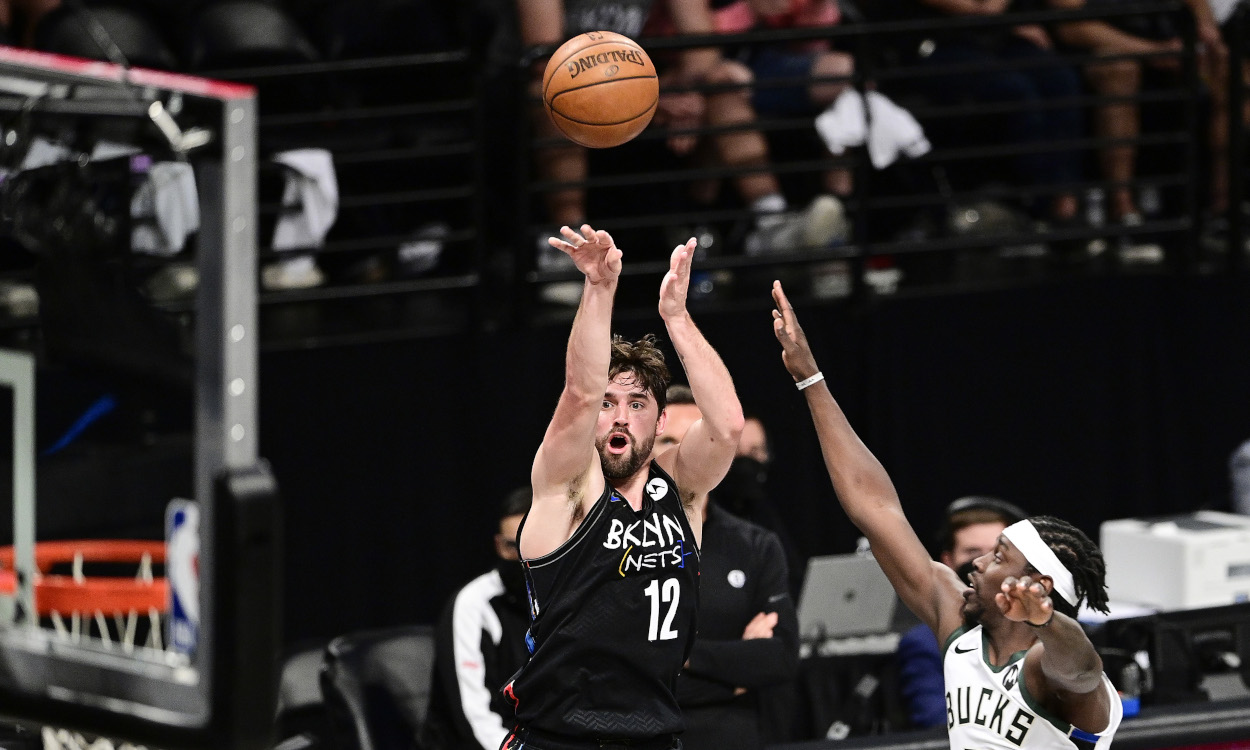 A four-year starter at Virginia, Joe Harris was a 40.7% 3-point shooter for the Cavaliers before being drafted by Cleveland's version of the Cavs in 2014. Overshadowed in his arrival in The Land by some guy named LeBron James returning to the city, he was a spare part of the team that reached the NBA Finals in 2015.
A shoulder injury sidelined him early in the 2015–16 season. Deemed expendable by general manager David Griffin, Harris went to Orlando in a mid-January trade. Cleveland wanted the roster spot. The Magic didn't want Harris and bought him out as soon as the deal became official.
Marks extended an invitation to the Brooklyn Nets training camp on a non-guaranteed contract. Harris made the team and was a rotational wing until a concussion ended his season in early March 2017. The following season, he emerged as a legitimate 3-point threat and by 2018 was starting for a playoff team.
Harris stunned Golden State Warriors superstar Stephen Curry to win the 3-Point Shootout at All-Star Weekend in Charlotte in 2019. But his season ended much the same as last season did. After leading the NBA in 3-point shooting, Harris was a frigid 4-of-21 in a five-game first-round loss to the Philadelphia 76ers.
Last season, the stakes were higher. The results were not.
Harris heard plenty about his shortcomings, thank you very much
Joe Harris talked about a rough offseason following his poor series against Milwaukee during the Brooklyn Nets media day. Per Nets Daily, the long-range marksman didn't pay much attention to the critiques he got on social media.
He didn't need to:
"My mom and my sister beat me up pretty good."

Joe Harris
The Nets were a markedly different team in 2020–21 than in 2019–20, yet Harris' numbers didn't suffer in translation. He averaged 14.5 points per game, with Kevin Durant sidelined all season and Kyrie Irving out for all but 20 games. Last season, with both stars on the court followed by the addition of James Harden in mid-January, Harris still put up 14.1 points per game.
His long-range shooting forces defenses to account for him, creating space for the stars to do their work. Harris is also a picture of constant motion in the Brooklyn system, running around screens for spot-up opportunities.
From out of the NBA to valuable role player on a championship contender, it's been a meteoric rise for Harris.
Joe Harris is historically good from 3-point range
Last season, Joe Harris' 47.5% mark from 3-point range was the 27th-best single-season figure in NBA history. It rises to 22nd if one eliminates the three seasons the line moved in to 22 feet (1994–97).
In the big picture, the Brooklyn Nets' sniper is the fourth-best deep shooter in the league's history at 43.8%, moving past former Nets Hall of Famer Dražen Petrović on the all-time list. Two of the three players ahead of him benefited from the short-line years. All-time leader Steve Kerr is at 45.4%, while Hubert Davis is third at 44.1%. Seth Curry sits between the two at 44.4%.
No one is more deadly in catch-and-shoot situations than Harris. Among players who took at least three catch-and-shoot 3s per game last season, Harris led the NBA at 51.5%. The next closest was Marcus Morris of the Los Angeles Clippers at 49.8%
Joe Harris has had big series from deep. In the first-round win over the Boston Celtics last season, he was 17-of-33 before struggling against the Bucks. And if he struggles, Brooklyn Nets fans can take heart: Mom and sis will be on the job to make sure he knows about it.
Statistics courtesy of Basketball Reference and NBA.com.
RELATED: Kyrie Irving May Be Foolishly Hurting the Nets' Championship Chances