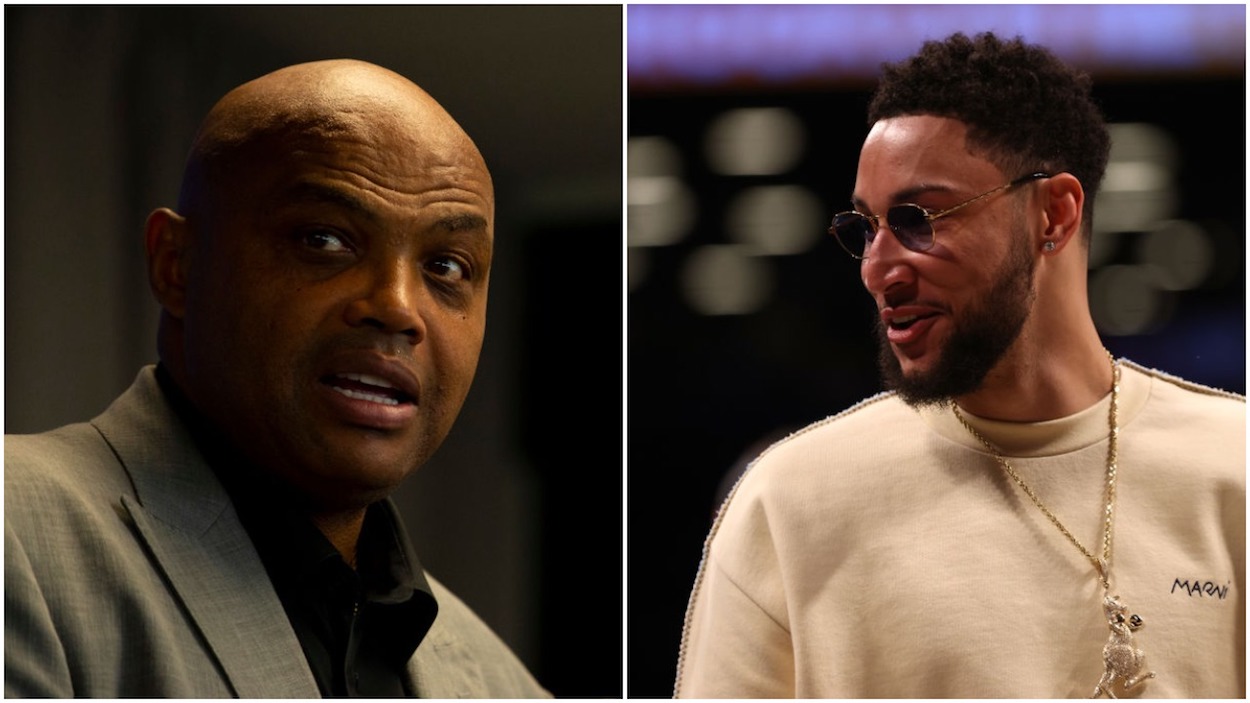 Brooklyn Nets News: Charles Barkley Warns That Playing Ben Simmons Would Be '1 of the Worst Decisions in the History of Sports'
While Ben Simmons may seem like an ace up the Brooklyn Nets' collective sleeve, Charles Barkley wouldn't put the guard back into the lineup.
Depending on your level of optimism, there are two different ways to assess the Nets-Celtics playoff series from a Brooklyn perspective. On the more pessimistic side of the coin, being down 2-0 in any series is a less-than-ideal situation. If you want to hold onto some hope, though, you could argue that the Kings County club is yet to lose a home game. They also theoretically have Ben Simmons waiting in the wings, ready to change the defensive matchups going forward.
Charles Barkley, however, has a warning for the Nets.
In his mind, getting Simmons back into the lineup is more than unnecessary. According to the Round Mound of Rebound, that would be "one of the worst decisions in the history of sports."
Charles Barkley warns the Brooklyn Nets about rushing Ben Simmons back
Given the stakes of a postseason series, it's understandable that the Brooklyn Nets want to throw the kitchen sink at the Celtics in an effort to mount a comeback. The most obvious change, at least as of now, would be getting Ben Simmons back into the lineup.
For those in need of a refresher, Simmons hasn't hit the court during his time in Brooklyn due to a nagging back injury. While he's reportedly aiming to return within the next few games, it's unclear how effective he'll be. As of an April 18 update from Shams Charania, the guard had yet to begin playing five-on-five or taking physical contact in practice. To go from that status to playing high-stakes NBA games in a week would be quite a feat.
Charles Barkley also sees that potential issue. During an April 20 broadcast of TNT's Inside the NBA, he warned the Nets against shoehorning an unprepared Simmons into the lineup.
"This would be the worst decision," Chuck said. "This would be one of the worst decisions in the history of sports. To put that kid out there to play against [Jayson] Tatum and [Jaylen] Brown and Marcus Smart, three terrific, physical players. Mentally, the last time we saw him on the court, he was afraid to shoot the basketball. … He can wait 'til next year [to play]."
While Ernie Johnson and Kenny Smith wondered if Simmons could suit up for 15 minutes per game and provide a bit of defensive support, Barkley wasn't having any of it.
"I would not put him in that situation," Barkley explained. "It's like, say, "We got a window. We don't have to win a championship this year. I got Kyrie, KD, Ben Simmons for basically the next 10 years.' Why would I risk him against Boston for 10 minutes a night or 15 minutes a night? I'm always looking at the big picture. If I'm the Nets, I'm like, 'Wait a minute. We gonna have two of the best 10 players in the world and Ben Simmons going forward.'"
Shaquille O'Neal and Smith then pressed Barkley on why the Nets wouldn't feel like their talent was enough to push for a title this year. To that, Chuck simply insisted that Brooklyn wasn't the best team and that, if the organization had any common sense, they'd know these playoffs weren't the time to force the issue.
Charles Barkley makes some valid points, but keeping Ben Simmons on the bench is also a gamble
While Sir Charles isn't a perfect analyst, he does raise some valid points about Ben Simmons. At this point, we shouldn't assume that the big Australian will magically be back to his best. Even if we set any re-injury risks aside, which are always a theoretical possibility, the guard hasn't played competitive basketball for nearly a year. As Barkley said, it's naive to expect him to step off the sidelines and lockdown someone like Jayson Tatum or Jaylen Brown.
There's also the issue of chemistry. While Simmons has been around the Nets for a while now, he's yet to spend any serious time on the court with his new teammates. That may be easy to overlook, but it will become rather apparent if someone blows a switch or misplaces a pass in the dying moments of a game. Again, we can't just treat this like a video game and plug someone into the lineup without any consideration of the larger context.
With all of that being said, though, Chuck is probably being a bit generous when it comes to the Nets' window. Even if Simmons, Durant, and Irving stay together, there's no guarantee that this team is destined for future greatness. Perhaps someone suffers a career-changing injury. Maybe another star will into the Eastern Conference, shifting the balance of power. At this point, we just don't know what the future holds.
While Brooklyn should hang around the top of the league for the next few years, treating that as a foregone conclusion is a recipe for disaster. If the 2021-22 NBA season showed us anything, it's that a star-studded roster doesn't always equate to success.
It may sound like somewhat of a cop-out, but Barkley's quotes underscore just how tricky the Nets' current situation is. If the opening stanzas of the series are any indication, they need to do something, but it's not 100% clear what that something is. You don't want to force Simmons onto the floor knowing that he won't be effective, but you also don't want to pass up an opportunity to chase a championship. No one knows when the next chance to lift the Larry O'Brien Trophy will come.
At this point, all we can do is wait and see how the Ben Simmons situation unfolds. If nothing else, it will certainly be dramatic.