NBA Insider Says Brooklyn Nets Are Not Assuming Kyrie Irving Changes His Mind and They're Right Not To
As the Kyrie Irving drama with the Brooklyn Nets prepares to enter the regular season unabated, at least one NBA insider sees a link between the current scenario and a massive trade from last season. The Nets have asked Irving to stay away from the team until he complies with local COVID-19 vaccination mandates. Irving is not vaccinated and is thus ineligible to play for Brooklyn in its 41 home games and two at Madison Square Garden this season.
Irving's issues put a new perspective on the January 2021 trade for former NBA MVP James Harden. While the deal ostensibly created a new Big Three for Brooklyn, the new reality for the Nets is that Harden's acquisition enables the team to better weather a protracted absence by Irving.
Kyrie Irving has dug in on his vaccination stance
While claiming he is providing "a voice for the voiceless," Kyrie Irving also portrays himself as the victim of his self-created crisis. Irving's decision to skip vaccination makes him ineligible to play in New York City, which mandates proof of vaccination to enter public gyms. Barclays Center and Madison Square Garden both fall into that classification.
Irving stands to lose more than $16 million in salary this season, more than $380,000 per game for the 43 games in which he's ineligible. On a grander scale, the Nets also withdrew a four-year, $186 million extension offer. The final year of the four-year, $136.5 million contract Irving signed to join the Brooklyn Nets in July 2019 includes a player option for 2022–23.
That means Irving could opt out and become an unrestricted free agent next summer. If his vaccination holdout lasts all season, the Nets likely will let him see what he can get on the open market and move on without him.
In some ways, it appears Brooklyn has already started that process.
The Brooklyn Nets didn't see James Harden as a luxury item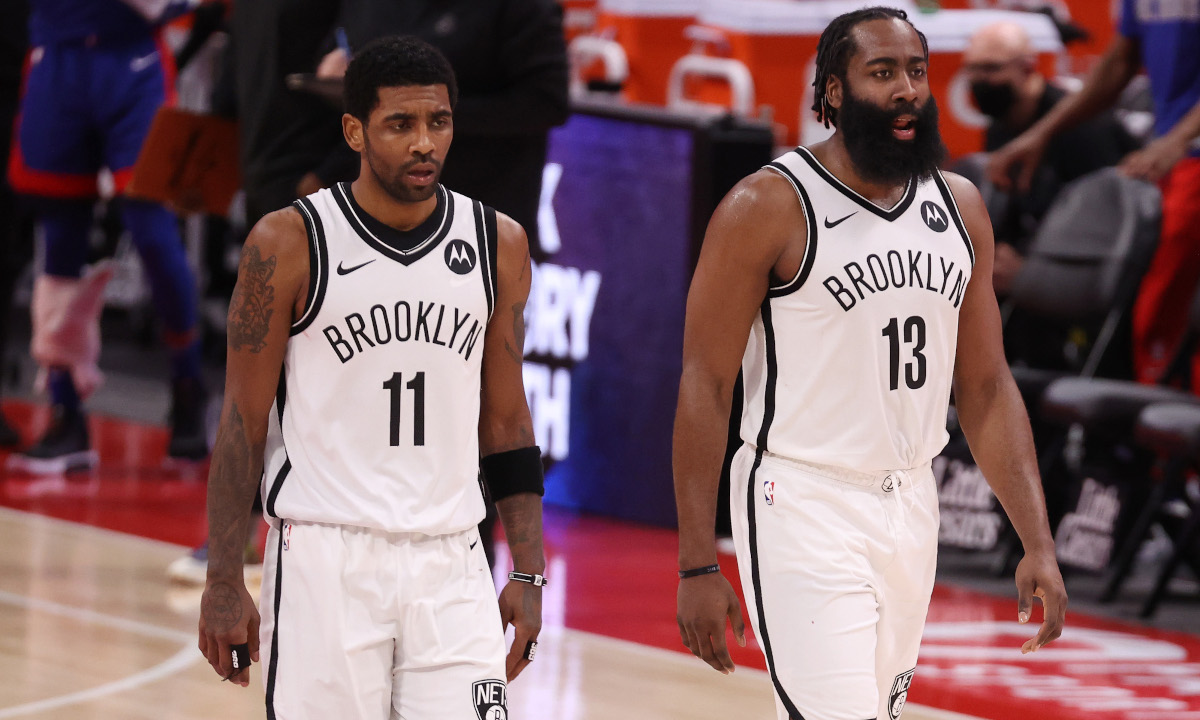 As James Harden was doing everything in his power to get the Houston Rockets to trade him last season, the Brooklyn Nets were one of the teams on his wish list of destinations. The Nets gave up promising youngsters Jarrett Allen and Caris LeVert in the four-team deal to land Harden, surrendering seven first-round picks and three first-round swaps to the Rockets in the trade.
But Adrian Wojnarowski of ESPN said on The Woj Pod podcast recently the Nets made the trade while viewing Harden as a player they needed, not merely as an addition to their cache of superstar talent:
"When the Nets made the trade, they saw James Harden as a necessity. I think that they could already see that they may not be able to count on Kyrie Irving. I think the day James Harden arrived in Brooklyn; Kyrie Irving was expendable — if he chose to be expendable."

Adrian Wojnarowski
Wojnarowski went on to say Brooklyn isn't expecting Irving to backtrack from his stance.
"Right now, they are not assuming Kyrie Irving will change course," Wojnarowski said regarding Irving's vaccination status.
That doesn't mean there's a robust market for Irving around the NBA, however.
"You just don't know what you'd be trading for," Wojnarowski said of Irving's trade value. "You don't know whether he wants to play — does he want to play for you? Does he want to play at all?"
Those are not questions a general manager wants to have when adding a $34.9 million ticket to the salary cap sheet.
The future for Kyrie Irving and the Brooklyn Nets could be a short one
Kyrie Irving's status with the Brooklyn Nets is active but not with the team. That won't change unless he relents and receives at least one dose of the coronavirus vaccine.
A missed season won't do much for Irving's value should he decline his $36.5 million option for 2022–23. But he's still an elite talent, and there's not a coach or general manager out there who doesn't think he's the one that can reach a player with whom other teams have been unable.
As it turns out, trading for Harden was prescient by Brooklyn. By acquiring a player with both MVP credentials and a long history of playing the point guard spot, the Nets insulated themselves against an Irving situation.
While not having Kyrie Irving dramatically diminishes the margin of error for the Brooklyn Nets, it doesn't by itself close the championship window the team created by bringing in Kevin Durant with Irving in 2019. Harden gives the franchise the playmaker it needs to keep its offense humming, while Durant takes on the leadership role on the club.
Contract information courtesy of Spotrac.
RELATED: Joe Harris Is an Established Veteran Leader for the Brooklyn Nets, but Pines for a Childhood Treat