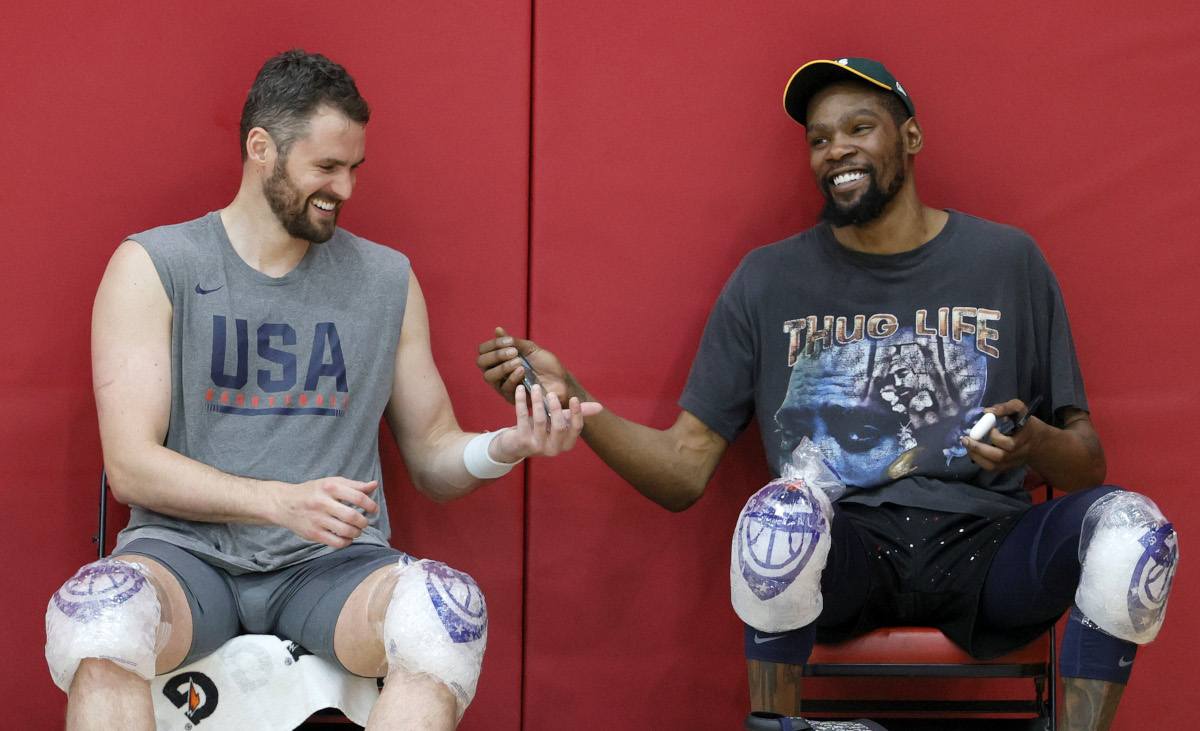 Brooklyn Nets Now Have an Opportunity to Make a Play for Kevin Love as Their Missing Championship Piece
Kevin Love is still a member of the Cleveland Cavaliers. But the soon-to-be 33-year-old might not fit with a rebuilding team. Kevin Durant of the Brooklyn Nets, meanwhile, might have a chance during the Tokyo Olympics to pitch coming to Brooklyn to Love.
The Brooklyn Nets fell short of their NBA championship goals. After losing to the Milwaukee Bucks in a Game 7 on their homecourt, the Nets face an offseason of upheaval with eight players set to hit free agency in August. But they may have a path to attract former All-Star big man Kevin Love from the Cleveland Cavaliers.
That plan will take some additional maneuvering. Brooklyn has no cap space available this summer and no path to which it can open any. That will make any moves beyond keeping their free agents challenging to manage. Kevin Love's availability is contingent upon events outside Brooklyn's control. And other teams may have the same idea this summer.
But is Kevin Love a player the Brooklyn Nets should even want to pursue?
With the Cavaliers in 2020–21, Kevin Love had the least productive year of his career. Not only did Love miss 47 games with injuries, but he also was limited in what he offered when he did play.
He averaged a career-low 24.9 minutes per game when he was healthy enough to get on the floor. He averaged 12.2 points a game, the second-lowest mark of his career. His average of 7.4 rebounds a game was by far his lowest mark. Love shot 40.9% overall (second-worst of his career), 36.5% from 3-point range, and 82.4% from the foul line.
Love is a long way from his best years. He's a five-time All-Star but not since 2018. The most recent of his All-NBA seasons was 2013–14. Love has played in just 103 of a possible 219 games the last three seasons. He'll also be 33 years old before next season starts.
That doesn't paint a beautiful picture. But Kevin Love has some positives, and the Brooklyn Nets may have a path to lure him to Barclays Center.
A surprising Olympic bid opens a door for the Nets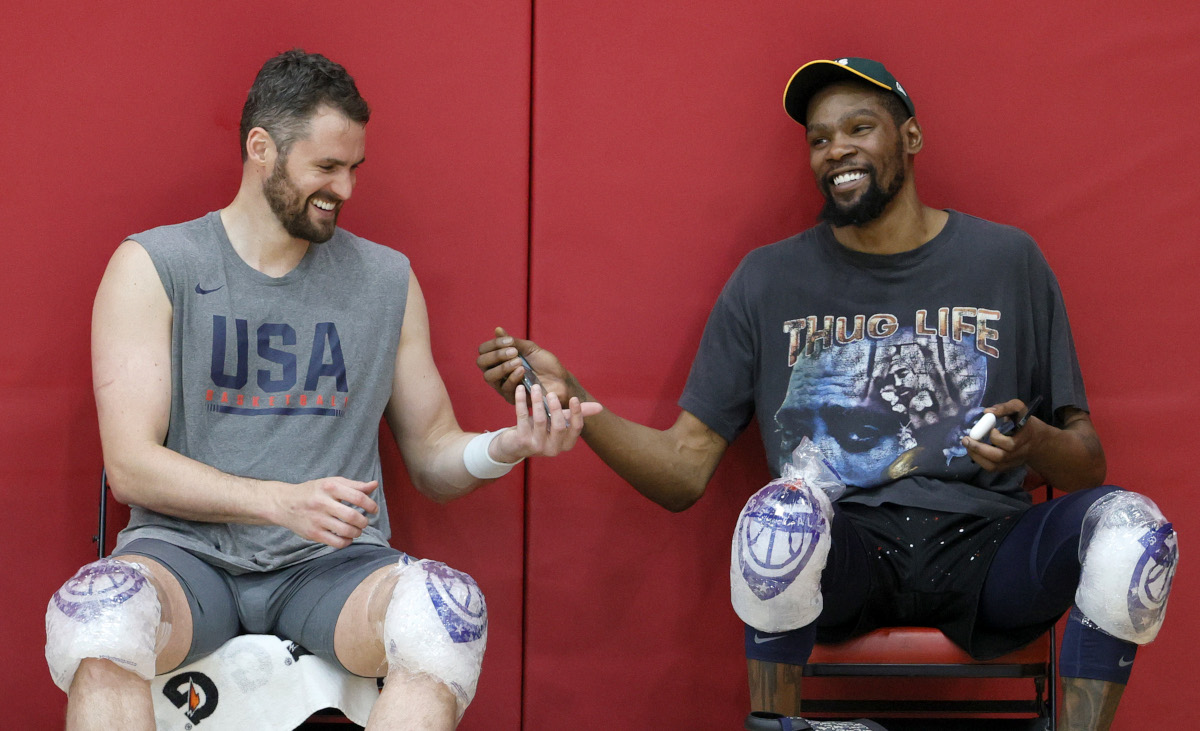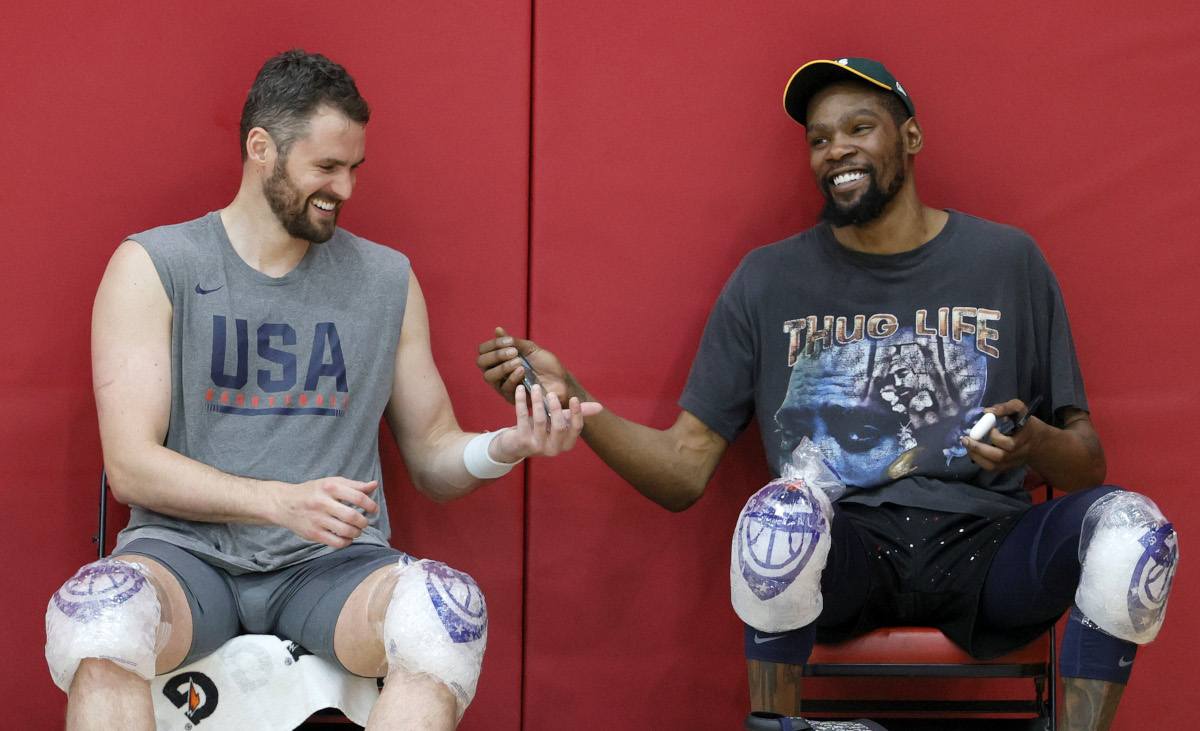 Kevin Love was a stunning selection to round out the 12-man roster USA Basketball is taking to the Tokyo Olympics in late July. There aren't a lot of players rewarded with an Olympic bid after their worst season.
There are reports the Brooklyn Nets could be in a prime position to take advantage of that. Reportedly, Love will be rooming with Nets star Kevin Durant during the Olympic run. Durant and Love have played together before in red, white, and blue. Both were members of the gold-medal-winning U.S. squad in London in 2012.
If nothing else, Love is realistic about where he is at in his career, according to the New York Post.
"Yeah, I understand going into my 14th season that being that No. 1 guy, playing 35 minutes, getting 20 touches a game is probably in my rearview. But how I can affect the team, and feeling how I'm feeling now, I know that I can do it at a very high level. I don't try to put a ceiling or limit on myself at all. So long as I'm feeling good, I know I'm going to play good.

"If it's asked for me to have to pivot in my career for a team to win, I'm more than willing to do that. … But I do feel like on that [Cavaliers] team, or whichever team I end up on, USA Team, this is definitely something that I can continue to progress in the right way for really anybody. It doesn't matter who I'm out there with or who I'm playing with out there on the floor."

Kevin Love
How realistic is it for the Brooklyn Nets to have a chance to add Kevin Love? That may depend on one's definition of "realistic."
Getting Kevin Love to the Brooklyn Nets will take some doing
Short of trading one of their superstars to bring in Kevin Love, the Brooklyn Nets have few options available by which to acquire him. Love still has two years and $60.2 million remaining on the four-year extension he signed with Cleveland in 2018.
The easiest path to Brooklyn for Love would be via a buyout from the Cavaliers. Cleveland has been in rebuilding mode since LeBron James left after the 2017–18 season. More importantly, the Cavs have a little less than $1.5 million in dead money on their cap sheet for next season. They have no dead money commitments after that.
Cleveland could account for Love's remaining $60.2 million over five seasons to make the annual hit at least a bit more manageable using the stretch provision in the Collective Bargaining Agreement. In a typical offseason, that clause in the stretch provision only applies until Aug. 31. With this offseason starting late and ending early,  an extension past that date seems likely.
In that scenario, Love would be available to sign a veteran's minimum deal in Brooklyn (think Blake Griffin). So there are a lot of moving parts necessary to get Kevin Love to the Brooklyn Nets.
Statistics courtesy of Basketball-Reference.