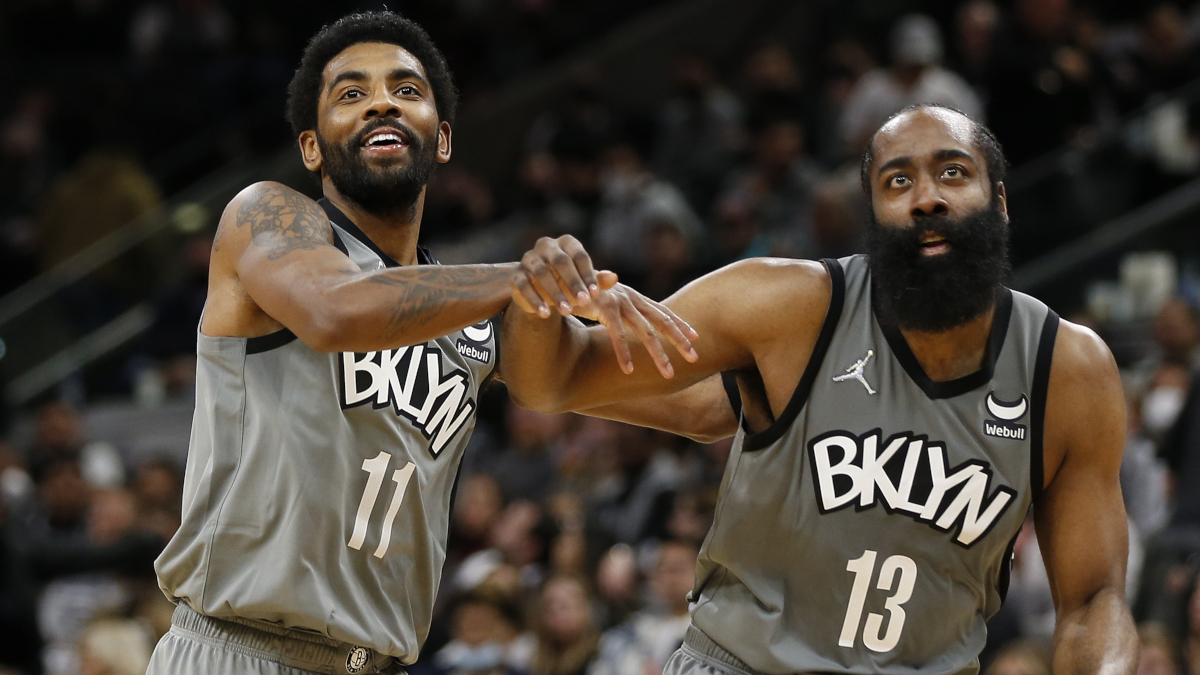 Brooklyn Nets Rumors: James Harden Could Quickly Be Losing Patience With Part-Time Backcourt Partner Kyrie Irving
James Harden is reportedly growing more frustrated with the Brooklyn Nets, particularly with the part-time status of Kyrie Irving.
If the adage about fire and smoke being in proximity is true, the Brooklyn Nets have real concerns about the future of their seldom-seen but oft-discussed Big Three. After Ben Simmons-for-James Harden sequel rumors circulated recently, there's been buzz of late that Harden might already be looking for home sites somewhere other than Brooklyn.
The Nets acquired Harden from the Houston Rockets in January 2021. The Kevin Durant-Kyrie Irving-Harden trio boosted Brooklyn into championship-favorite status entering 2021–22. Then came Irving's anti-vax drama, Durant's knee injury, and Harden's early-season slump, if not necessarily in that order. The result has the Nets third in the East, a half-game behind the Miami Heat and tied with the Chicago Bulls (who hold the tiebreaker).
Harden declined an extension from the Nets. Has he already decided to move on?
James Harden's role with the Brooklyn Nets is complicated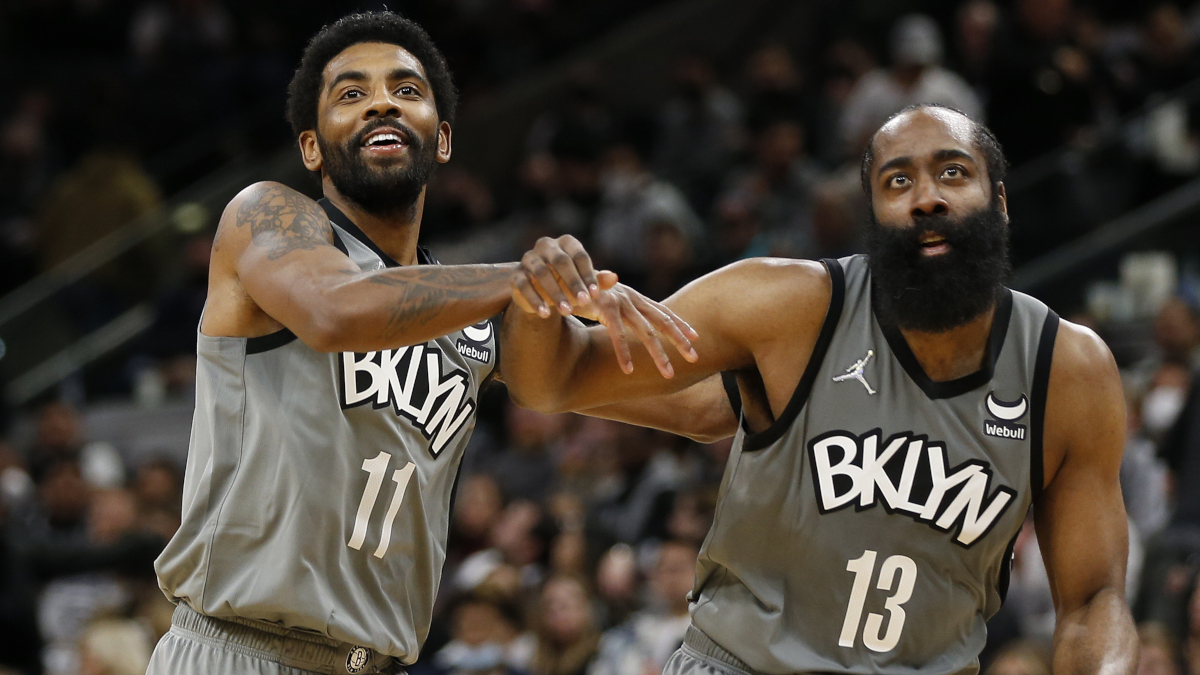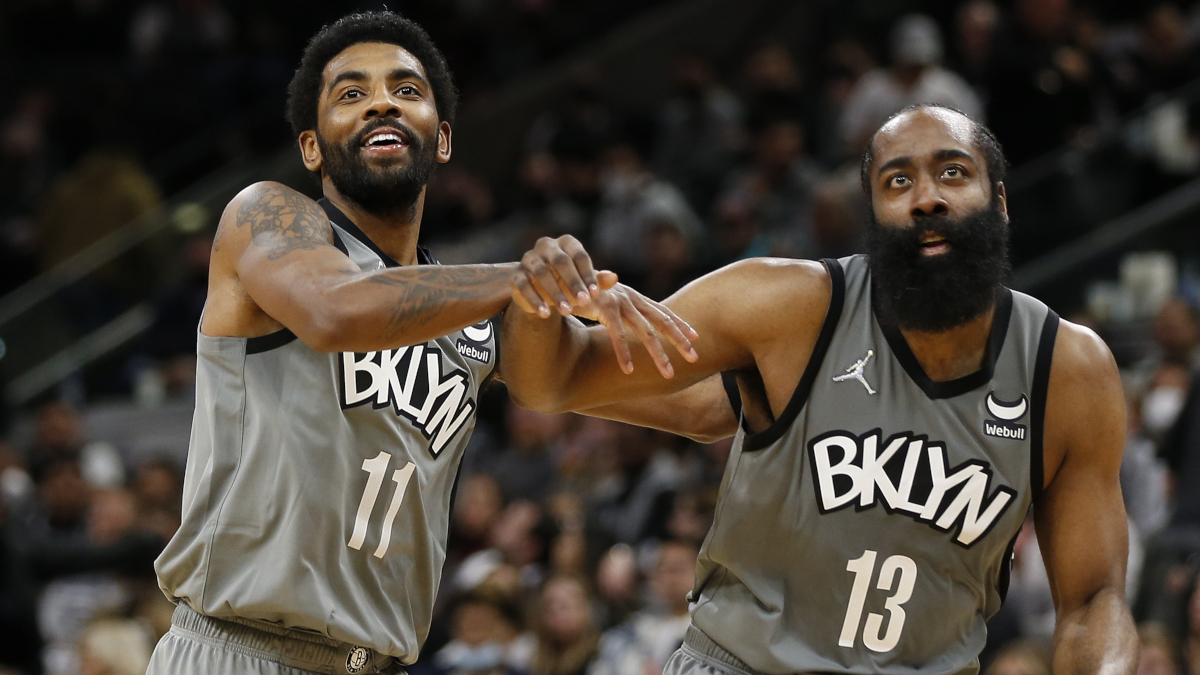 When the Brooklyn Nets acquired James Harden, the possibilities were endless. Harden and Irving would form perhaps the NBA's most powerful backcourt; two guards equally capable of scoring, running an offense, and creating for Durant and the role players.
But the vaunted Big Three barely pushed away from the dock before the boat started to take on water. With injuries and Irving's off-court issues, the trio played together just eight times last season. Harden's hamstring and Irving's ankle prevented the Big Three from playing in half the team's 12 playoff games.
When Irving declined to be vaccinated against the coronavirus (COVID-19), Brooklyn deactivated him. That put the responsibility of running the offense solely on Harden's shoulders. A rule change designed to stop the former MVP's signature move of initiating contact to draw fouls frustrated him early in the season.
A December outbreak of players, including Durant and Harden, entering health and safety protocols backed the Nets into a corner and they brought Irving back as a part-time player. Before he could rejoin the team, he wound up in the protocols as well.
The Big Three played together just twice before Durant sprained his left MCL. Brooklyn coach Steve Nash is juggling rotations to account for a part-time point guard. And Harden is reportedly getting fed up with the situation.
Multiple factors are said to be bothering James Harden
According to Jake Fischer of Bleacher Report, James Harden has a laundry list of grievances about his current situation with the Brooklyn Nets.
Among those is his unhappiness living in Brooklyn. Between the climate and New York's state income tax, The Beard quickly realized he's not in Kansas Houston anymore.
But he's also reportedly losing patience with Irving's situation as a part-time player. After Harden joked he would administer the vaccine to Irving himself, Fischer's report calls into question how serious Harden might be. According to Fischer:
"Harden has been vocai to Nets figures and close contacts alike about his frustrations regarding Kyrie Irving's part-time playing status. A recent injury to Kevin Durant has exacerbated the issue, leaving Harden to shoulder the majority of the offensive burden during Brooklyn home games."

Jake Fischer, Bleacher Report
Perhaps Harden heard Shaquille O'Neal's take on how he would handle the Irving vax question.
The 12-year-veteran professed a brotherhood with Nash before the season started. But the coach's approach to distributing late-game minutes is also said to be frustrating Harden. Nash goes with the hot hands in crunch time. Harden is more accustomed to a defined unit being on the floor in those pressure situations.
The Philadelphia factor enters the chat
According to Sam Amick of The Athletic, James Harden had two choices when the Rockets granted his trade request in 2021. He could reunite with former Houston general manager Daryl Morey with the Philadelphia 76ers or Harden could form a superteam with the Nets.
Morey, now president of basketball operations for the 76ers, pursued Harden, offering All-Star Ben Simmons, young defensive savant Matisse Thybulle, and two first-round picks.
With Simmons' situation in Philadelphia still in limbo, the Simmons-for-Harden rumblings renewed. Morey reportedly is willing to let his disgruntled point guard sit the remainder of the season so he can explore an offseason trade with Brooklyn.
Harden has a $46.9 million option for next season and declined an extension. Financially, the decision makes sense; the superstar can get a five-year, $270 million deal from Brooklyn using Bird rights. The largest extension he could sign is four years and $227.2 million if he opts in, essentially paying him $274.7 million over five seasons.
There are advantages for the 76ers in an opt-in and trade scenario, as Bryan Toporek of Forbes explained. Unlike a sign-and-trade for a free agent, an opt-in and trade would not hard-cap Philadelphia next season. For a team chasing a title, that's an important detail.
James Harden and the Brooklyn Nets are likely joined through the end of this season. After that, the situation becomes much more fluid.
Contract information courtesy of Spotrac.
Like Sportscasting on Facebook. Follow us on Twitter @sportscasting19.