The Brooklyn Nets Sound Optimistic About Their Championship Future After Some 'Very Positive Conversations' With Kyrie Irving and James Harden
Once the Brooklyn Nets added James Harden to the duo of Kevin Durant and Kyrie Irving last season, already high expectations quickly vaulted into championship-or-bust expectations. When the franchise's Big Three were on the court together, an uncertain fit appeared rather seamless. Now, the team sounds even more optimistic about its championship future after having constructive conversations concerning contract extensions with Harden and Irving.
Injuries derailed the Nets in last season's playoffs. Harden and Irving went down as Brooklyn lost to the eventual champion Milwaukee Bucks. Durant simply wasn't enough to carry the team on his own. But with a few tweaks to the roster and more concrete commitments from the Nets' other two stars, the franchise immediately bounces back as title favorites.
Brooklyn went out and retooled its roster around Durant, Harden, and Irving in preparation for another title run
The Nets responded to a disappointing playoff run with a savvy offseason that included intelligent draft picks and under-the-radar free-agent signings. Brooklyn's Big Three needs to be healthy for the team to win, which became the problem last season. Harden went down less than a minute into Game 1 of the series against Milwaukee, and Irving was hurt during Game 4.
That left Durant to try and carry a depleted squad past Giannis Antetokounmpo and Co. He came within half a big toe of doing it, but the Nets didn't have enough to win a championship, even if they had beaten Milwaukee. They weren't deep enough without Harden and Irving.
But general manager Sean Marks tried to solve that problem and put more talent around the team's star trio. Brooklyn drafted LSU's Cam Thomas with the 27th pick in the 2021 draft. Thomas was one of college basketball's best scorers as a freshman who somehow slipped to the bottom of the first round. Marks also acquired North Carolina big man Day'Ron Sharpe on draft night. Sharpe is a high-energy, high-hustle, athletic rebounder with a developing offensive game.
The Nets also signed former San Antonio Spurs guard Patty Mills to back up Irving. The team re-signed vital contributors from last year in Blake Griffin and Bruce Brown as well. Paul Millsap and LaMarcus Aldridge joined the party as veteran frontcourt depth.
If one, two, or even all three of the Nets' stars go down with injuries, Brooklyn's roster is now deep enough to be able to carry the load for a brief period. If the full roster stays healthy, head coach Steve Nash just has that many more options to choose from.
Keeping Harden and Irving around long term would extend the Nets' championship window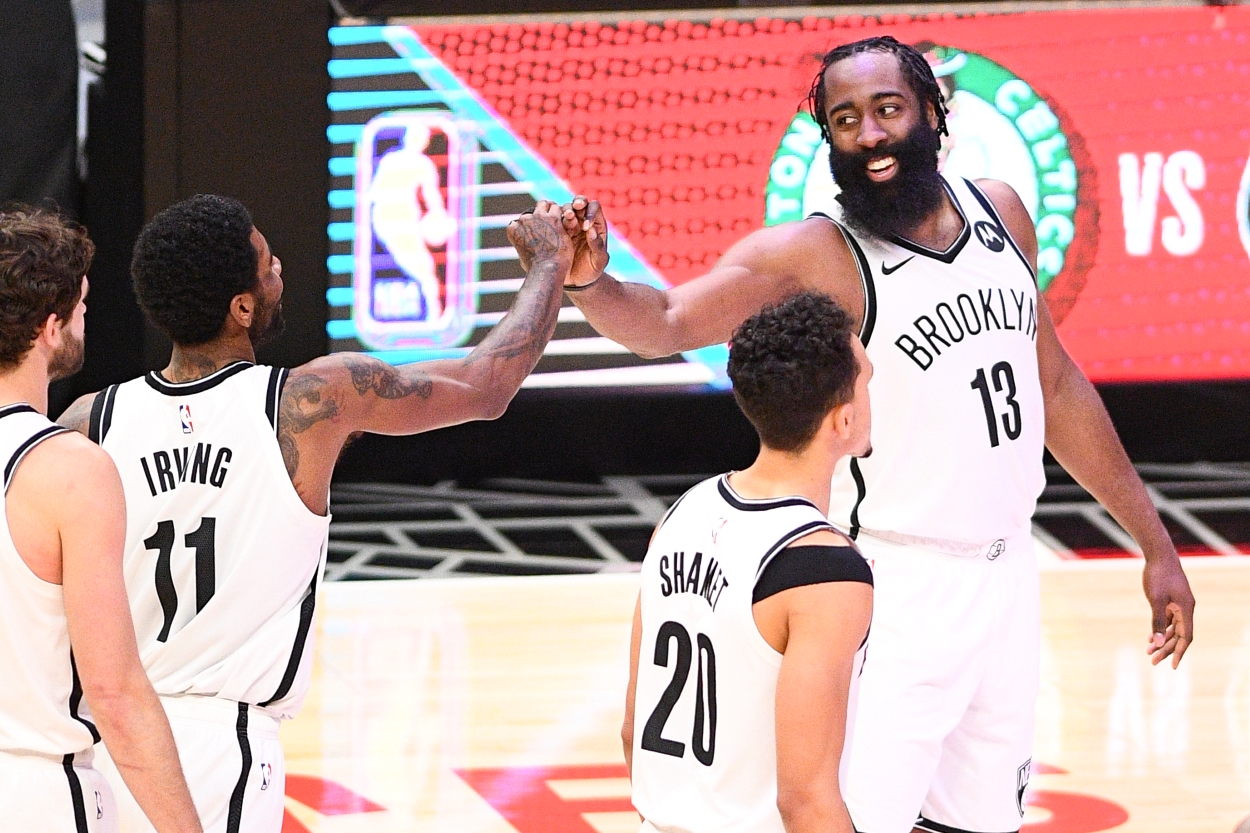 Durant already signed his big extension, agreeing to a four-year, $194 million deal to stay in Brooklyn through 2025-26. He's taken care of.
Irving's current deal goes for two more seasons, but the former Dukie has a player option for 2022-23 ($36.5 million) that he will likely opt out of. Harden is in the same boat, except his player option is for more than $47 million, which is enough to make him think about exercising it.
Either way, both Irving and Harden are unrestricted free agents after 2022-23.
But in an article on Yahoo Sports, Marks said he's had good conversations about contract extensions with representatives of both players:
"Regarding the extension conversations, we've had very positive conversations with both those guys — whether it's family members, (other) people, and so forth. I think it always helps to do these things in person. Again, with this being summer, we're very cognizant of letting people have their own time away before we all get back into the swing of things here.

"We're looking forward to sitting down with them over the course of the next week, two weeks, and furthering those discussions."

Brooklyn Nets GM Sean Marks on contract extension talks with Harden and Irving
With Durant, Harden, and Irving locked up long term, Brooklyn would be championship contenders for the foreseeable future
It's no secret that having three of the best players in the league on your roster makes you a title contender. But as the franchise found out last season, it's not enough just to have the three. Championship teams need depth; the Nets didn't have it and lost in the Eastern Conference semifinals.
But the organization had a resourceful offseason, both through the draft and free agency. Should one or more of Durant, Harden, or Irving go down, reinforcements are waiting.
Realistically, though, that depth won't mean anything if Harden and/or Irving decide to bounce after next season. All the assets Brooklyn gave up to acquire The Beard and pair him with his dynamic duo would be for naught.
But if the franchise can come to terms on extensions with Harden and Irving — which sounds possible — and keep the pair alongside Durant, the Nets will be lingering atop the East for the next half-decade.
All contract details courtesy of Spotrac.
RELATED: The Milwaukee Bucks are Reconstructing Their Bench and Loading up for a Second Consecutive NBA Title Run