Brooklyn Nets Star James Harden Still Adapting to New-Look NBA
Since he was traded to the Houston Rockets in 2012, no NBA player has shot more free throws than James Harden. The NBA is cracking down this season on offensive players who hunt for fouls. It's not fair to say Harden is the sole reason for the NBA's decision. But he is perhaps the most notorious culprit.
On opening night against the Milwaukee Bucks, it appeared the Brooklyn Nets star still has some adjusting to do to the NBA's new normal.
Harden finished the blowout loss to the Bucks with 20 points on 6-of-16 shooting, including an uncharacteristically poor 2-of-8 on 2-point attempts. But a look beyond the numbers shows that The Beard was still trying to do his old tricks, only to discover new, dissatisfying results.
James Harden took more than 10 free throws per game the last 9 seasons
Since the Oklahoma City Thunder sent James Harden to Houston in October 2012, he's shot more free throws than any player in the NBA — by an enormous margin.
From 2012–13 through 2020–21, Harden attempted 6,707 foul shots. That's nearly 2,000 more than the next player on the list: Russell Westbrook (4,745).
Harden was also the runaway leader in attempts per game. He's the only player to average at least 10 charity tosses per game in that span (10.2). Joel Embiid of the Philadelphia 76ers was second at 9.0, and New Orleans Pelicans youngster Zion Williamson was the only other player with more than eight per night (8.3).
Of course, Harden is also one of the best free-throw shooters in the league. Strategically, it makes sense to get to the line as often as possible when you're canning 85.8% for your career (46th-best in NBA history). He's rapidly climbed the all-time list for total attempts, too. With 7,659 before the Oct. 19 season opener, he's 23rd in those rankings.
But for all his flailing in Milwaukee, the rewards were relatively few.
Harden didn't get the calls in Milwaukee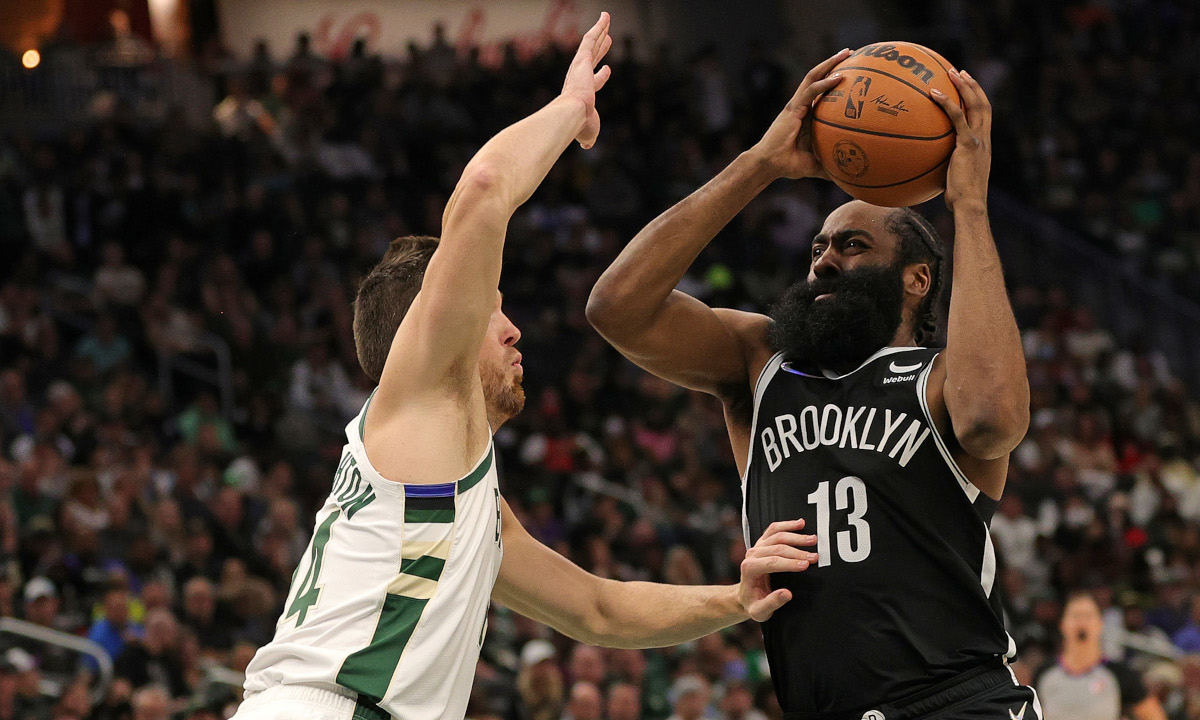 With his upper-body strength, James Harden has been an elite finisher during his career. He's made nearly 64% of his attempts inside the restricted area. That includes a 67.4% showing last season, and he's not been below 60% since his rookie year in 2009–10.
But against the Bucks, Harden was just 2-of-6 near the rim. On this shot attempt, you can see Harden go to one of his old stand-by moves, a wild flailing of the arms, in a vain attempt to get a foul call against Milwaukee defender Brook Lopez.
Harden only took four free-throw attempts against the Bucks, making all of them. It's a tiny sample size, only a single game. But for a player who has averaged 8.7 attempts per game in his career, it's at least an early indication that he might need to make some strategic changes.
That might include something as simple as taking a good shot rather than throwing up his arms or flopping to the ground to influence a call. Referees made those no-calls a point of emphasis in the preseason, and that has carried into the regular season, by all indications.
James Harden was a primary offender
If there was a way to get to the free-throw line, James Harden could find it. Whether that meant hooking an opponent's arm while taking the ball to the basket or exaggerating even the slightest hint of contact, Harden was the master.
Unnatural shot motions? The Beard has an entire repertoire. That is, until this season.
Harden already got a taste of the new normal during the preseason, when he was pleading his case to officials when his signature gyrations didn't get him the free-throw attempts he thought he could get.
He certainly wasn't alone. Trae Young of the Atlanta Hawks got called out by his boyhood idol, Steve Nash, for his foul-hunting ways. Stephen Curry could do some referee manipulating as well.
But James Harden is a 25-point-per-game scorer in his career, one of only 12 in the history of the NBA. You don't get there without knowing how to "score the ball." (Because one doesn't want to be confused with "scoring the toaster," after all.) He'll adjust. Scorers always do, even if they don't get 10-plus foul shots a night with which to work.
Statistics courtesy of Basketball Reference, Stathead, and NBA.com.
RELATED: James Harden and Steve Nash, Not Kevin Durant, Are the Real Dynamic Duo for the Brooklyn Nets: 'We Are Twins. We're Just Different Colors'