Brooklyn Nets Coach Steve Nash Declares Team's Biggest Controversy Off-Limits: 'I Think I've Pretty Much Said Everything I Have to Say About It'
On Oct. 13, Brooklyn Nets point guard Kyrie Irving released a lengthy Instagram Live post in which he discussed his status. The Nets aren't allowing Irving to participate in practices or games until he can play full-time. On Wednesday, coach Steve Nash shut down questions on the topic of Irving. It is a topic that has engulfed the team's preparation for the regular season and the pursuit of the franchise's first NBA title.
Brooklyn is the oddsmakers' choice to win the championship, but those odds posted before Irving's COVID-19 vaccination status threatened to sideline him this season. The Nets decided on Oct. 13 to move forward without Irving rather than prepare separately for games in which Irving was eligible and those he is not. And apparently, Nash is done talking about the topic.
Kyrie Irving's eligibility issues make Nash's job harder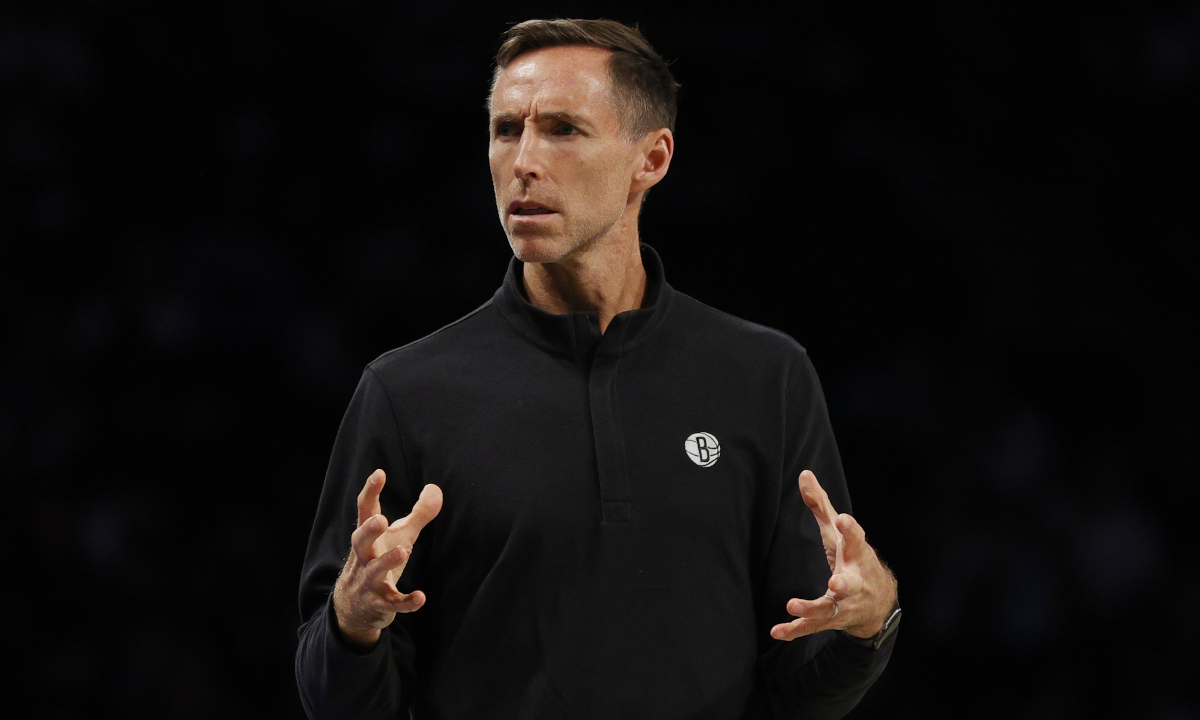 Under the City of New York's vaccination mandate, Kyrie Irving is ineligible for 43 of the Brooklyn Nets' 82 regular-season games. People without at least one dose of the vaccine cannot use public gyms. The city ruled Barclays Center in Brooklyn and Manhattan's Madison Square Garden fit in that category.
Irving wouldn't confirm his vaccination status during the team's media day in late September and asked that his privacy be respected. But when the Nets hosted the defending champion Milwaukee Bucks for a preseason game on Oct. 8, Irving's status was listed on the box score as "ineligible to play."
The only plausible reason for Irving to be ineligible for Brooklyn is being unvaccinated. The cat was out of the bag at that point. After the team appealed to the city to have their practice facility exempted from the mandate as a private gym, Irving practiced on Oct. 10.
However, after discussions among governor Joe Tsai, general manager Sean Marks, coach Steve Nash, and input from players Kevin Durant, James Harden, and Joe Harris, the Nets released a statement declaring Irving out until his status changes.
Steve Nash isn't answering Kyrie Irving questions
Per a tweet from Brian Lewis of the New York Post on Oct. 14, Nets coach Steve Nash responded to Kyrie Irving's social media post. Nash wanted no part of the discussion:
"I didn't really listen to it. And I think I've pretty much said everything I have to say about it. If something changes, we can talk about it; but I really want to focus on moving forward and our group and solutions to the challenge ahead of us."
As far as that process of moving forward, Nash acknowledges there are challenges.
"When you lose an exceptional talent like that, your roster is built under the certain parameters of having three guys, so everybody has to slide up a spot," Nash said.
Brooklyn has plenty of backcourt depth. Harden has played point guard extensively during his career, particularly while leading the Houston Rockets from 2012–21. That allows the Nets to maintain a star presence in the role of primary ball-handler.
The Nets also signed veteran Patty Mills, who won a championship with the San Antonio Spurs in 2014. Bruce Brown was a valuable defender for them last season, and rookie Cam Thomas has shown star potential in the Summer League and the preseason.
Steve Nash is not the only Net keeping quiet
The day the Nets announced their verdict on Kyrie Irving's status, Harden said he had not talked to his backcourt running mate, per Ryan Morik of Sports New York.
"That's the front office. We had conversations, as far as a collective unit, and the ultimate decision that the front office made was that if Ky wasn't gonna be here full-time, then it's best for him not to be on the team part-time," Harden said. "I have no say so in that, and I can only state my opinion. We gotta continue to move forward. Obviously, we would love to have Kyrie here."
Steve Nash said the need for continuity within the program was the deciding factor.
"This was a difficult decision, but I think it was a sound one and one that makes complete sense to everyone," Nash said. "And we're just gonna have to move on. If things change, like I said, it would be incredible to have him back in the fold, but it was a tenuous situation to have a player in and out like that. So there's more clarity, and we can focus on the future and keep going."
The Nets have more talent now than at any time since the franchise entered the NBA in 1976. Expectations are sky-high. The recurring drama surrounding Kyrie Irving doesn't make that each for Steve Nash, and he's navigating it the best way he knows how: by focusing on the guys there for him.
Like Sportscasting on Facebook. Follow us on Twitter @sportscasting19.
RELATED: The Brooklyn Nets, in Desperate Need of Good PR, Should Retire a Former Legend's Jersey, Says Ex-NBA Guard: 'He's One of the Greatest Players to Come Through There'