Brooklyn Nets Tantalizingly Tease Their Potential in a Dominant Victory at Chicago
The Brooklyn Nets provided an honest answer to a philosophical question with a massive second-half surge against the Chicago Bulls on Jan. 12. With its Big Three of Kevin Durant, Kyrie Irving, and James Harden together for just the second time this season, Brooklyn sprinted away from the Bulls with a scintillating 30-8 burst to close the third quarter.
What had been a tie game turned into a Nets blowout in the blink of an eye. The fourth quarter began the same way the third ended, with Brooklyn opening the period with 13 unanswered points to complete the competitive portion of the night's activities convincingly. Brooklyn took its largest lead at 130–92, with 4:41 remaining. For one night during a brutal stretch of four games across four time zones in six days, the Nets' superstar-laden roster showed what it's capable of when intact.
What the win means for the Brooklyn Nets
The Brooklyn Nets entered United Center in Chicago with a reputation of coming up small against the NBA's best teams. They were 0–8 against teams in the top four of the East and West and 25–6 against the teams they were supposed to beat. Throw in that Brooklyn was coming off a terrible loss at Portland — far from an elite squad — and the mission was clear. Kevin Durant spelled out the scenario.
"You definitely want to play great against the best teams in the league for sure," Durant said per Brian Lewis of the New York Post. "Especially after losing last game, we wanted to bounce back no matter who it was against. It's good to come here in a tough environment and get a W. … For us to come in here and win in this fashion, it meant a lot to us."
The Nets remain 1.5 games behind the East-leading Bulls but avoided a three-game sweep in the season series. Brooklyn also ended a nine-game winning streak at home for Chicago.
Coach Steve Nash took a more conservative approach on the significance of the blowout.
"These games can definitely give a team confidence," Nash said, according to Nick Friedell of ESPN. "Give ''em mojo and something to build on, but it can also not. So it's in the bank. We've shown that we can perform this way; we've shown the type of spirit and energy we can bring to the game, the purpose.
"Now we got to build on it. … We raised our level, we competed. We rose to the occasion, and now we move forward, and hopefully, it is a moment in time that helps us get to another level."
If the Nets consistently find that level, it could spell trouble for the rest of the NBA.
Two sets of big fingerprints on this Brooklyn Nets victory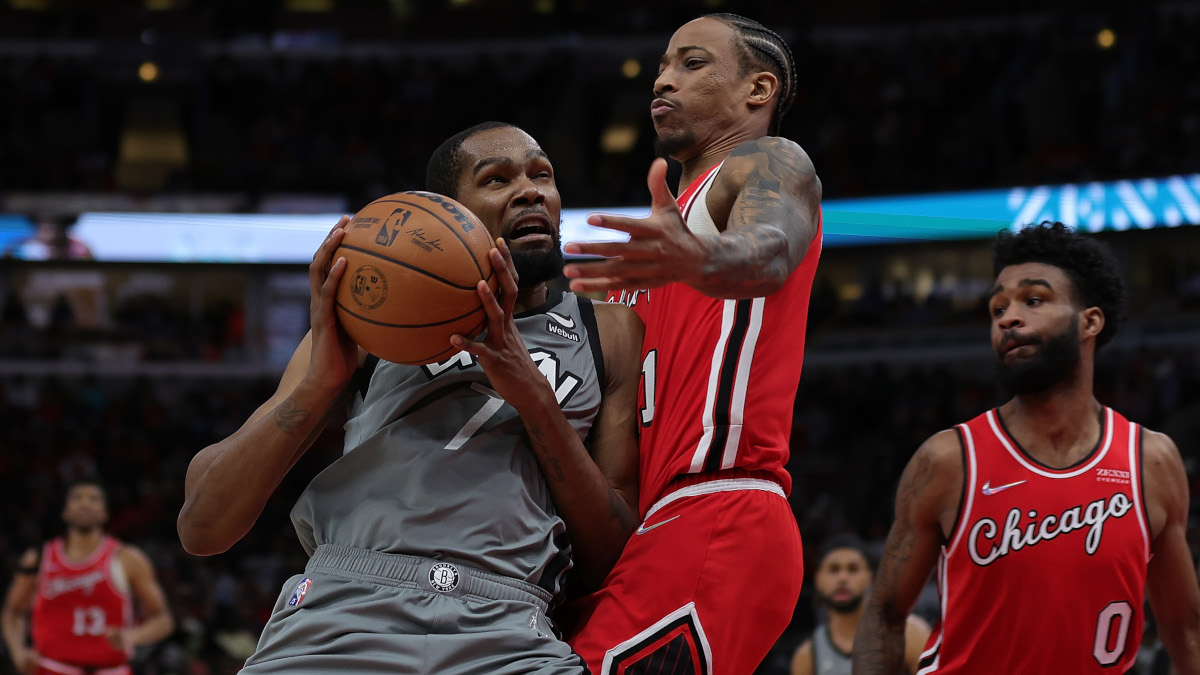 Durant finished with a game-high 27 points in 30 minutes for the Brooklyn Nets. Harden put up 25 points and 16 assists in 33 minutes. Irving didn't quite have the gaudy stat line, with nine points in 24 minutes, but it was just his third game of the season. He was also coming off an ankle injury sustained in the loss at Portland.
Brooklyn's third quarter was terrifyingly good. The Nets scored at will against one of the NBA's better clubs. They scored 39 points on 12-of-18 shooting and hit 5-of-9 from 3-point range.
More significantly, the sometimes-leaky defense turned stout. Chicago shot only 7-of-23 in the period, made only one of its nine deep tries, and committed six turnovers that led to 11 Brooklyn points.
The game was tied 71–71, with 8:43 remaining in the third. The Nets scored the following nine points and kept their foot on the accelerator.
Beyond the stars, rookie Day'Ron Sharpe made an imprint on the game
Day'Ron Sharpe made his first career start count. After scoring a career-high 14 points in 24 minutes against the Trail Blazers, Sharpe got the nod at center for the Brooklyn Nets with Nic Claxton nursing a sore hamstring.
Sharpe responded with 20 points on 10-of-14 shooting and added seven rebounds in 22 minutes. He had 10 points on 5-of-6 shooting through the first three quarters while playing 14 minutes.
It was interesting that Sharpe got the starting nod rather than veteran Blake Griffin with Claxton and veteran LaMarcus Aldridge (sore right foot) unavailable. It was the 19th starting lineup Nash used in 40 games.  
Between injuries and December's coronavirus (COVID-19) outbreak, it's been next to impossible to set a rotation. Throw in Irving's status as a road-only player (provided the road doesn't go through Manhattan or Toronto), and Nash juggles minutes like a circus performer.
Perhaps no one feels the effects of that more than veteran guard Patty Mills. He's adapting to a previously unheard-of role as a starter at home and a reserve on the road. He broke out of a mini-slump in Chicago with 21 points on 7-of-10 shooting, knocking down 6-of-8 from deep.
That came on the heels of five games during which Mills averaged just 5.0 points and shot 9-of-40 (22.5%), making 7-of-32 (21.9%) from the land of three.
In the end, it's just a single game. But in that game, the Brooklyn Nets erased the "can't beat a good team" narrative. They also showed how devastating they can be with the Big Three together. Sometimes a win is more than a single game in the standings.
Statistics courtesy of Basketball Reference and NBA.com.
Like Sportscasting on Facebook. Follow us on Twitter @sportscasting19.