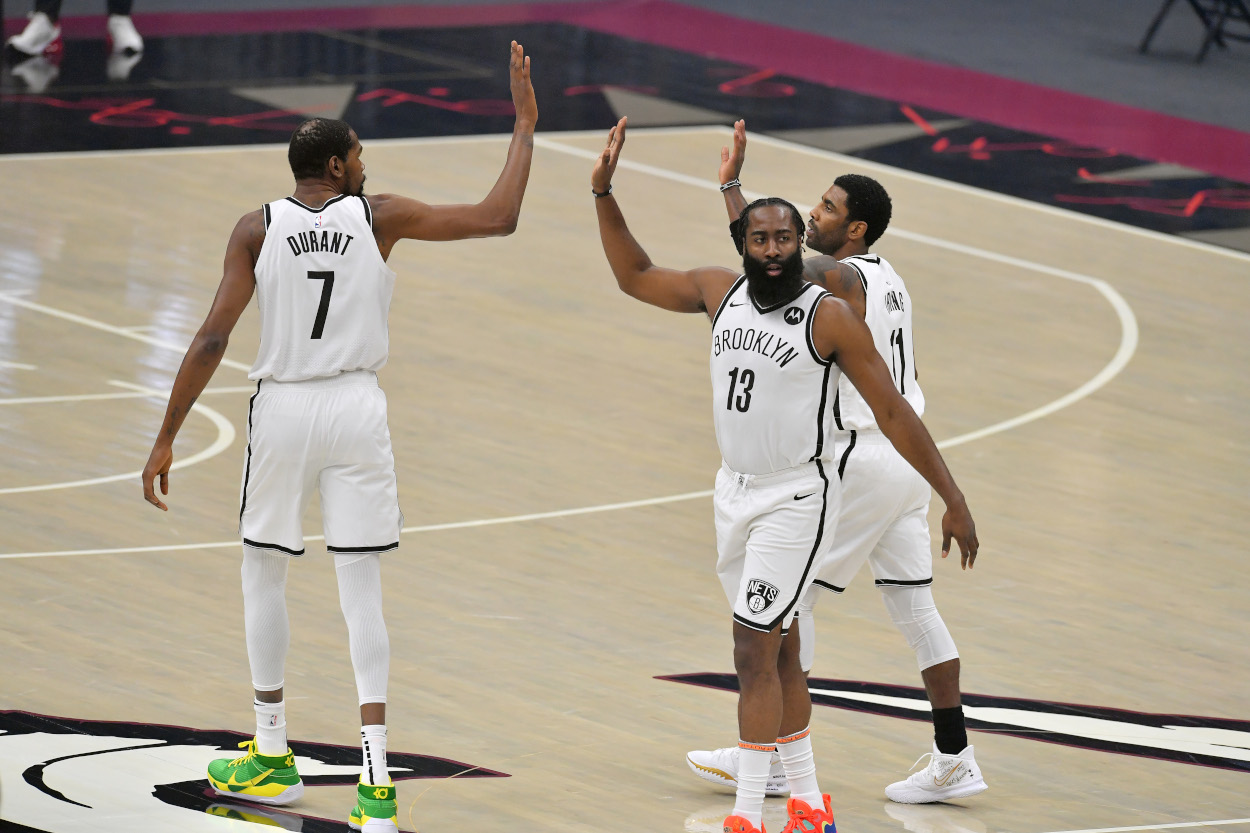 Brooklyn Nets' Worst Nightmare Taking Shape With Kyrie Irving Injury
The Brooklyn Nets are seeing their nightmare scenario play out as injuries to James Harden and now Kyrie Irving have reduced its Big Three to a Big One. The Milwaukee Bucks have rallied from a 2-0 deficit to tie their Eastern Conference semifinals series that once appeared to be a Brooklyn rout.
The Brooklyn Nets hopes for their elusive first NBA championship ride on the health of their newly assembled Big Three. Kevin Durant came to the Nets with two rings while with the Golden State Warriors, while Kyrie Irving picked up one with the Cleveland Cavaliers. With James Harden, acquired by the Nets from the Houston Rockets in January 2021, predictions had the trio leading Brooklyn to unseen heights.
It seems like a solid idea in principle. In practice, it's been demonstrably effective as well. But there is a significant caveat to that statement. "When healthy" is a typical qualifier when discussing sports. But with the basketball firm of Durant, Irving, and Harden, Ltd., that "limited" designation rings with way too much truth.
In much the same vein as the age-old question involving sound, trees falling, and no one hearing them, there is an obvious query about the Nets. Is a Big Three an actual Big Three if it's seen together with the same frequency as Sasquatch?
The Brooklyn Nets have been great with their Big Three, so far as that goes
After acquiring James Harden, the Brooklyn Nets played 59 games. Their record in those 59 games was a sterling 41–18. That was the best record in the Eastern Conference over the span and the third-best in the NBA, trailing only the Utah Jazz (45-16) and Phoenix Suns (44-17).
As far as the effect Harden, Kevin Durant, and Kyrie Irving had together? The Big Three had a net rating plus-7.2 points per 100 possessions during the regular season. Their offensive rating was 119.6 points per 100 trips while holding opponents to 112.5 points.
But here's the thing, and there's no getting around it. Durant, Harden, and Irving only appeared together for 202 minutes in eight games. During those games, Brooklyn was 6–2, so they were good together. They just weren't often together.
Harden left Game 1 of their Eastern Conference semifinal series with the Milwaukee Bucks after 43 seconds. His strained hamstring has kept him out since. Despite only being together for six of Brooklyn's nine games thus far, the Durant-Harden-Irving trio has played the sixth-most minutes of any three-player group on the roster.
In those 130 minutes, Brooklyn has a net rating of plus-22.1 points per 100 possessions, scoring 135.4 points and allowing 113.3. That's remarkably good. But it's also deceptive considering all but about a minute came in the first round.
Nets may not have James Harden or Kyrie Irving for Game 5
The Brooklyn Nets, even with James Harden sidelined for all but a cameo in Game 1, took down a 115–107 win. After eviscerating the Bucks 125–86 in Game 2, pundits declared the series over. But a funny thing happened on the way to Brooklyn going to the conference finals. Milwaukee still thought there was a series to play.
The Bucks scored the same 86 points in Game 3 as they did in the Game 2 rout. But holding the Nets to 42 fewer points paid dividends in an aesthetically lousy but still valid 86–83 victory. Milwaukee then rode a strong second quarter to a dominant 107–96 win in Game 4. The series heads back to Brooklyn tied at two games each.
Adding injury to insult, Kyrie Irving went down hard midway through that second quarter when he landed on Giannis Antetokounmpo's foot after scoring a layup. Irving did not return, but X-rays on the ankle were negative, per ESPN. His status for Game 5 is unknown. Coach Steve Nash said James Harden was doing on-court work with his tender hamstring, but he missed Game 4.
Nash also said the Nets wouldn't rush Harden due to Irving's injury.
It's a nightmare scenario for Brooklyn Nets fans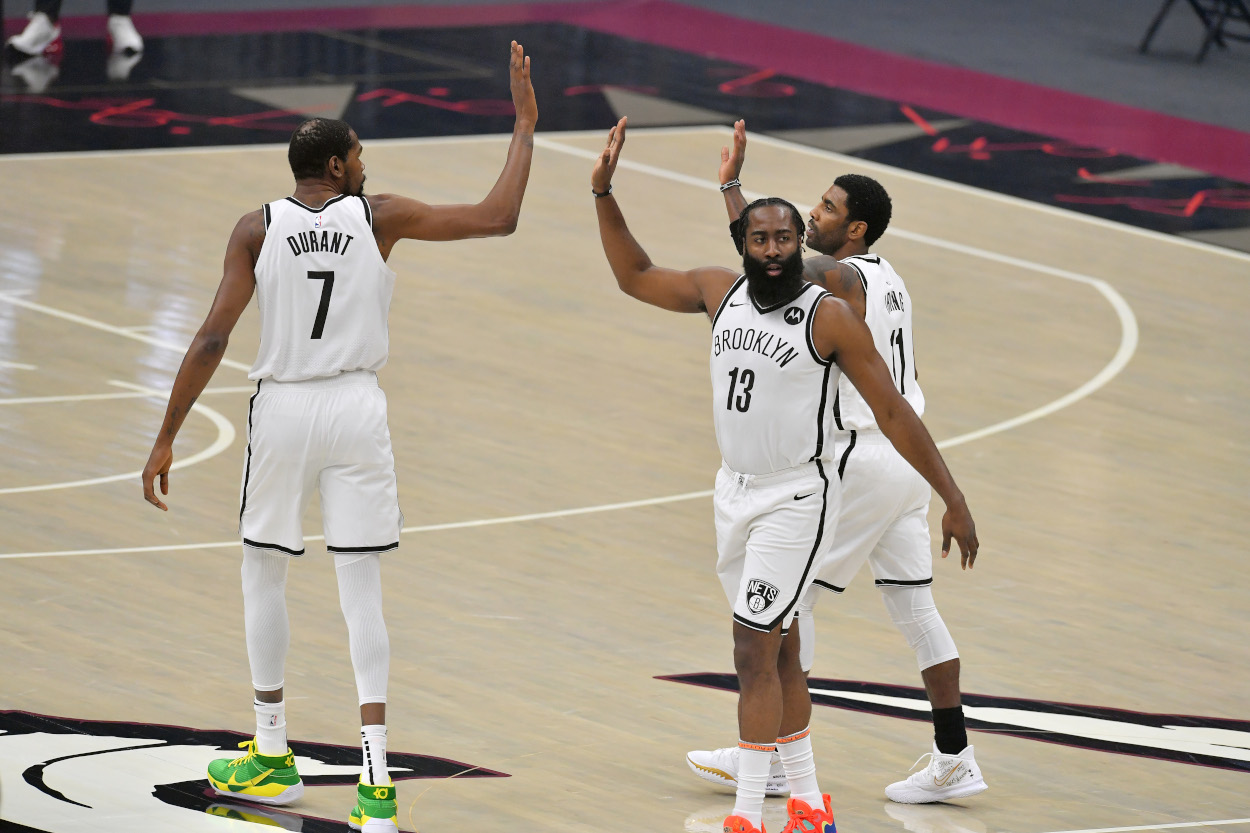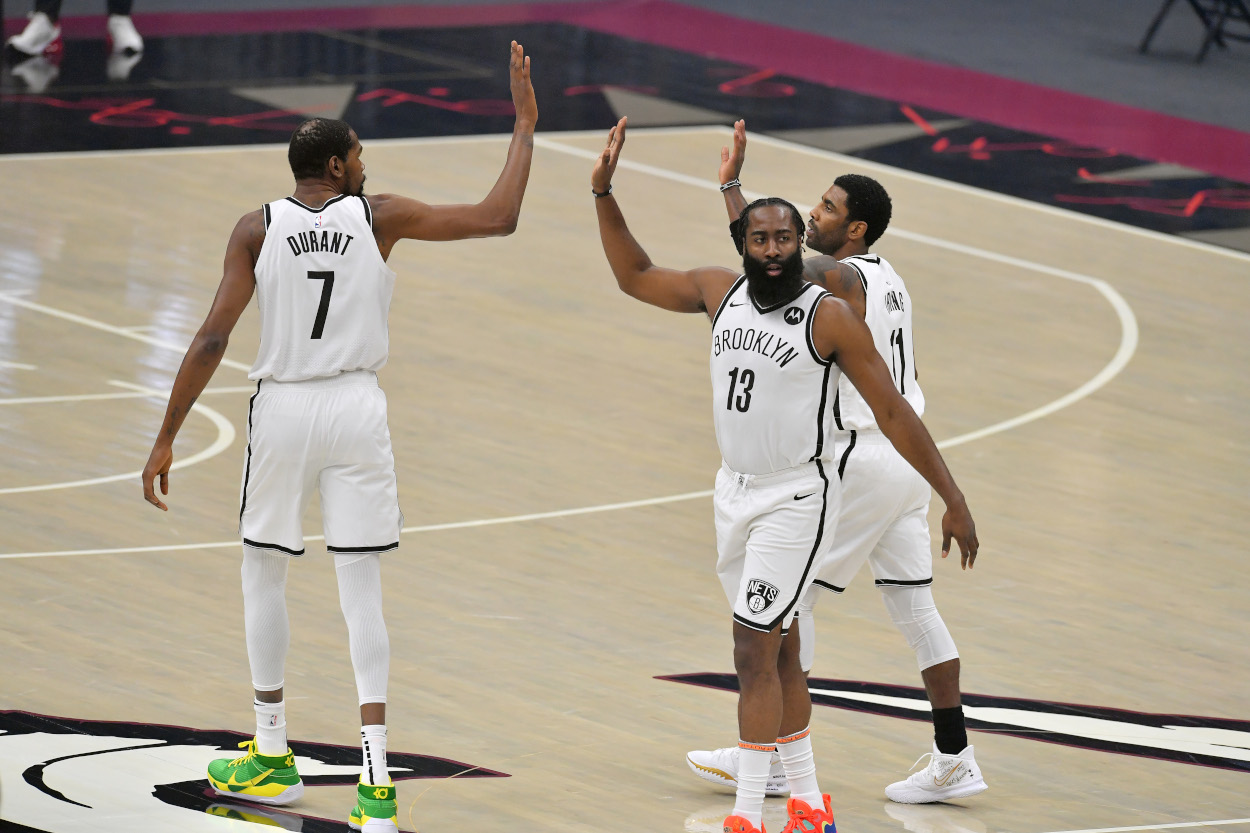 Kevin Durant returned to the court in 2020–21 after missing an entire season recovering from a torn Achilles' tendon. Kyrie Irving has had health woes throughout his career. In 10 NBA seasons, Irving has missed less than 10 games just once (75 games played in 2014–15). Since 2017–18, Irving has missed 107 out of a potential 308 regular-season games, including 70 in two years with the Nets.
After coming to Brooklyn, Harden missed 23 games with an injury to the same hamstring he hurt in Game 1 against the Bucks. Durant was out 37 games on the year, most of them — as with Harden — due to a hamstring injury. Irving sat 18 games for various reasons, including a seven-game stretch in January for personal reasons.
There's no questioning the ability of the Nets and their Big Three. It's availability that is the problem, and that may doom the Brooklyn Nets' title hopes.
Statistics courtesy of Basketball Reference and NBA.com.