Brotherly Love: 10 Notable NFL Sibling Rivalry Matchups
The Fuller family Thanksgiving celebration probably looks a little different than yours. #CHIvsDET pic.twitter.com/w9gsJKGopw

— Detroit Lions (@Lions) November 27, 2014
One of the main storylines of Thursday's Bears-Lions Thanksgiving game was the first NFL matchup between brothers Corey Fuller and Kyle Fuller. Corey is a receiver for Detroit, while Kyle is a rookie cornerback for Chicago. The showdown between siblings obviously made it hard for the Fullers' parents to figure out how to root for, so they took the creative middle road and showed up to Ford Field with custom-made half-and-half Bears/Lions jerseys.
The Fuller family is ready for #CHIvsDET. How about you? #OnePride pic.twitter.com/Q97W8wFYrX — Detroit Lions (@Lions) November 27, 2014
The good news for parents in that situation? At least one of your sons will win. The bad news? Well, at least one of your sons will lose. On the field, it was Corey's Lions that prevailed by a score of 34-17. Of course, Fuller vs. Fuller was far from the first time a sibling rivalry unfolded on an NFL football field. (In fact, the Pro Football Hall of Fame has compiled a list of more than 350 sets of brothers who have played pro football, although not all of them had overlapping careers.) Here are some other notable brother-vs.-brother games from recent history, listed in alphabetical order by family last name. (All stats come from Pro-Football-Reference.com.) Who would you add to this list?
Barber
Twin brothers Tiki Barber (pictured left) and Ronde Barber (pictured right) were both drafted out of Virginia in 1997: Tiki, a running back, went to the Giants as a second-round pick, while Ronde, a defensive back, was taken in the third round by Tampa Bay. The brothers faced each other four times during their NFL careers, with each Barber winning two of the four contests.
Davis
49ers tight end Vernon Davis (pictured) and Colts defensive back Vontae Davis were looking forward to their first-ever matchup on the football field, a San Francisco-Indianapolis game slated for September 2013, but the brother-brother showdown will have to wait a little longer. The Colts won the anticipated reunion game 27-7, but Vernon was inactive for the first time in six years and watched the game in street clothes due to a hamstring injury.
Harbaugh
Brothers John Harbaugh (pictured left) and Jim Harbaugh (right) represent 1/16th of the NFL's head coaches, and their teams have met twice since Jim left Stanford to become 49ers coach in 2011. The first matchup came on Thanksgiving night of 2011, which John's Ravens won by a score of 16-6. Of course, the second and more famous of the two meetings came a little more than 14 months later, when Baltimore triumphed over San Francisco 34-31 in Super Bowl XLVII, or, as it's better known, the Harbowl.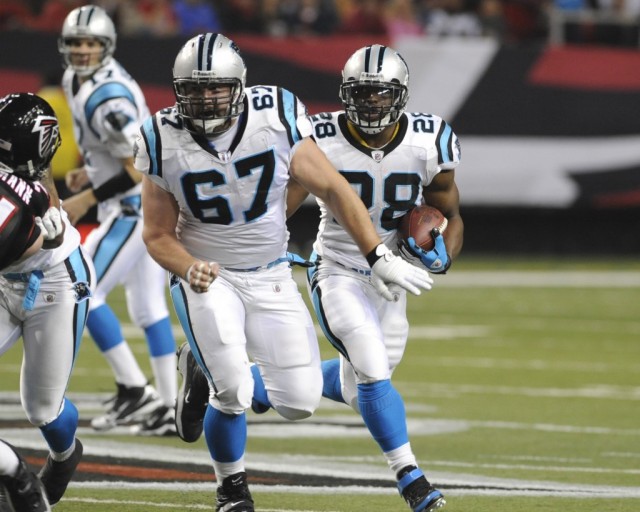 Kalil
Panthers veteran center Ryan Kalil (pictured) and Vikings offensive lineman Matt Kalil have been on opposite sidelines for an NFL game once before, an October 2013 meeting that Carolina won 35-10. The brothers weren't the only family members involved in that day's events, as sister Danielle Kalil sang the national anthem before kickoff. Ryan's Panthers and Matt's Vikings will play again this Sunday in Minneapolis.
Long
When Chris Long's St. Louis Rams and Kyle Long's Chicago Bears faced each other last November, the brothers made headlines for something besides simply being related. Chris (pictured), a defensive end, came racing in to pull Kyle, a rookie O-lineman off a pile after a little scrum broke out. (You can watch the brotherly embrace here.) The Rams won the game 42-21.
Manning
One of the most famous brother-brother pairings in NFL history are two of the most successful quarterbacks in recent memory. Giants QB Eli Manning (pictured left), who owns a pair of Super Bowl rings, has led his team against older brother Peyton Manning (pictured right) three times. The first two meetings (2006 and 2010) came while Peyton quarterbacked the Colts, with the last regular-season Manning Bowl in 2013 pitting Eli's Giants against the Broncos, who had signed Peyton the year before. The winner all three times? Peyton.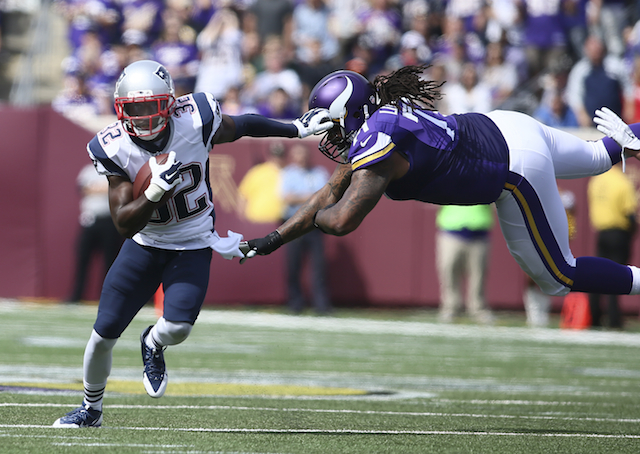 McCourty
The first and only time twin brothers Devin McCourty (pictured) and Jason McCourty met in an NFL game, it was Devin that prevailed. His Patriots beat the Titans 34-13 on September 9, 2012 to earn long-term bragging rights for the 2010 first-round pick over his brother, a fellow Rutgers product who was selected in the sixth round of the 2009 draft.
Ryan
Jets head coach Rex Ryan (pictured left) has matched wits with his brother Rob (pictured right), the Saints defensive coordinator, five times over their NFL coaching careers. Rex has captured all five meetings: The first two came when he was the Ravens' defensive coordinator and Rob held that position for Oakland, then three more followed during Rex's Jets tenure (against the Browns, Cowboys, and Saints, respectively). Considering Rex's win percentage as a head coach is only .484 (including a miserable 2-9 record in 2014), he probably wishes he could face Rob 16 times a year.
Sharpe
Last, but not least, we reach the Sharpe brothers: former Green Bay standout receiver Sterling and his Hall of Fame sibling Shannon (pictured), a tight end with the Broncos and Ravens. Sterling was a first-round pick in 1988 out of South Carolina, while Shannon took a lower-profile route to the pros as a seventh-round selection from Savannah State. The brothers' teams met twice, with the Broncos winning 22-13 at home in 1990 and the Packers returning the favor by the score of 30-27 at Lambeau three years later.