The Browns Are Being Forced to Rely on Baker Mayfield and His Dodgy Shoulder to Carry the Offense Following Another Crucial Injury
Despite some lofty expectations heading into the season, the Cleveland Browns' 2021 campaign is yet to fully leave the station.
First, it was revealed quarterback Baker Mayfield is playing through a slight shoulder tear. Then, star running back Nick Chubb injured his calf. Now, the Browns are going to have to start preparing for life without go-to RB2 Kareem Hunt.
Add in a long list of key role players on the injured reserve with various ailments and injuries, and things are definitely trending in the wrong direction for the Browns.
The Browns' latest loss involves key RB Kareem Hunt
One of the best parts of the Browns' offense is their dual-threat backfield. Between Chubb and Hunt, they employ two starting-caliber running backs who feast off each other's ability.
Chubb is a ground-and-pound runner who dominates between the tackles, while Hunt thrives in open space on screens, pitches, counters, etc.
However, moving forward, the Browns are staring down a scenario where neither running back will be available. Hunt suffered a rather serious calf injury during the Browns' Week 6 loss to the Arizona Cardinals and was placed on IR on October 18.
This rules Hunt out for a minimum of three games. Based on the severity of the injury, it could be longer.
Even greater pressure is now being placed on an injured Baker Mayfield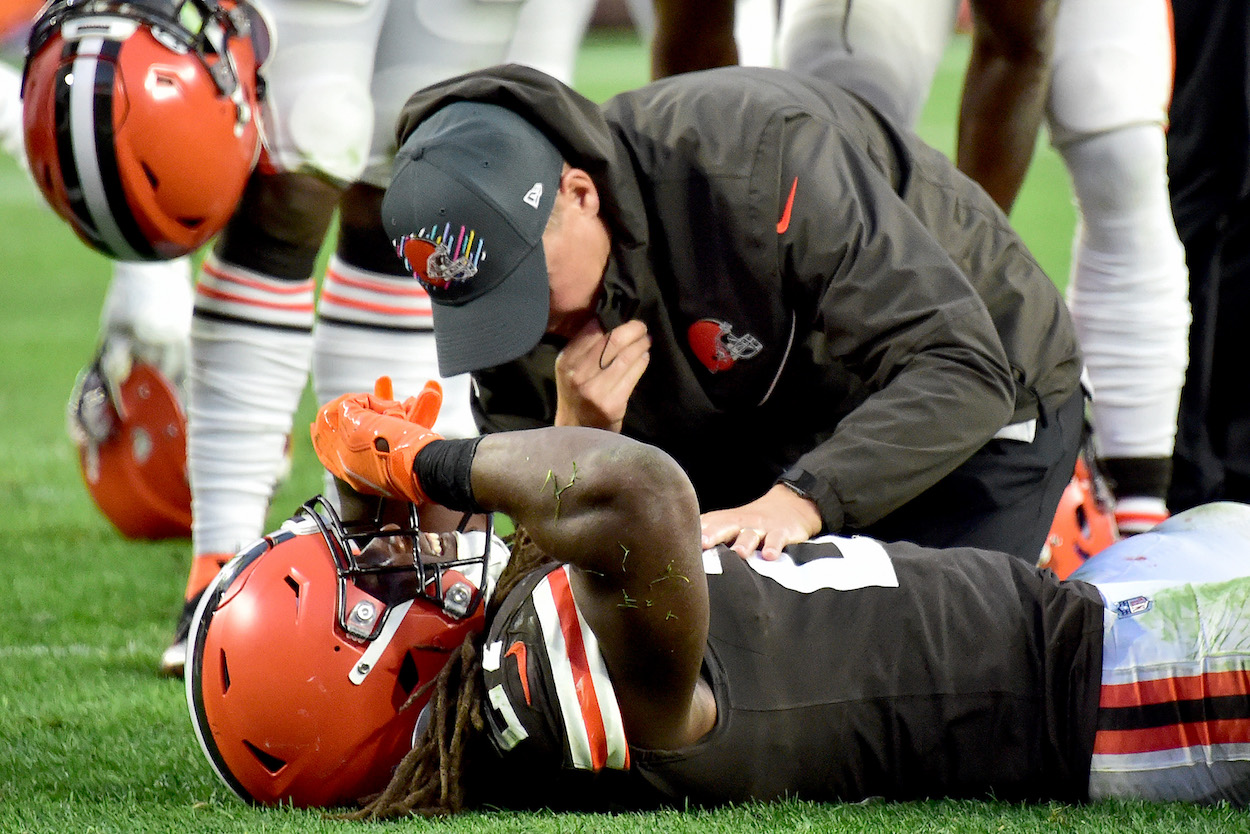 The loss of Chubb is already making Mayfield's life challenging. Throw in a three-week absence from Hunt, and Mayfield's job is nearing unfathomable levels of difficulty.
Remember, Mayfield is dealing with his own injury at the moment as well. The last thing a quarterback with an injured shoulder needs is losing all semblance of a running game. The Browns' offense will have to transform itself into a pass-first scheme, which is just not something Mayfield can support due to his health.
The Browns do have an impressive variety of pass-catchers to offer Mayfield. However, even they are suffering from the injury bug. Jarvis Landry is working through knee pain, and Odell Beckham Jr. missed part of Sunday's game with a shoulder issue.
The Browns are both figuratively and literally falling apart, and Mayfield must deal with the ugly aftermath.
What does this mean for Mayfield and the Browns?
The Browns' schedule lightens up a bit moving forward, and there's a chance Chubb is cleared to play during Week 7. Hope is not completely lost for Cleveland quite yet.
However, that doesn't negate the pressure placed onto Mayfield's (injured) shoulders. With a contract extension discussion looming overhead, this truly is Mayfield's opportunity to prove that he is a franchise quarterback.
If he's able to carry the offense for a few weeks while everyone around him gets healthy, his claim to a significant amount of cash this offseason grows stronger.
On the flip side of the discussion, if Mayfield struggles due to the absence of Hunt and potentially Chubb, questions about his future in Cleveland could gain more traction. With the Baltimore Ravens pulling away in the division and the Cincinnati Bengals on the rise, the pressure to perform has never been higher for the Browns.
Like Sportscasting on Facebook. Follow us on Twitter @sportscasting19.
RELATED: The Miami Dolphins' Constant Blunders are Bringing the Tua Tagovailoa Era to a Swift End