The Browns' Brainless Decision to Not Trade Odell Beckham Jr. Is Opening the Door for a Surprising Second-Half Hero
Heading into this year's NFL trade deadline, all the signs pointed toward the Cleveland Browns trading Odell Beckham Jr.
The enigmatic wide receiver was growing steadily more frustrated with his lack of targets from quarterback Baker Mayfield. Despite the team's efforts, it was an issue that seemingly had no solution.
While Beckham Jr.'s large contract made him a problematic acquisition for teams pressed against the salary cap, common sense suggested the Browns would still find a suitor for their disgruntled wideout. After all, it's Odell Beckham Jr., one of the league's more talented and famous players.
The Cleveland Browns foolishly did not trade Odell Beckham Jr.
Despite the writing being on the wall in Cleveland, the Browns foolishly decided to retain Beckham Jr. past the trade deadline. It's reasonable to assume they didn't receive an offer they deemed worthwhile. However, it's the Browns' following move that calls into question the logic of everything.
The Browns asked Beckham Jr. to stay away from the team on November 3, less than 24 hours post-deadline. In fact, Browns coach Kevin Stefanski is rumored to have said Beckham Jr. "won't be with the team for the rest of the season."
With the trade deadline in the rearview mirror, the only thing Stefanski could be alluding to is Beckham Jr.'s impending release. This would be a disastrous outcome considering how excited the Browns were upon initially acquiring OBJ in 2019. They believed he would usher in a new era of success in Cleveland.
Now, the star WR is on the brink of release, and the Browns will have nothing to show for it due to their mismanagement of the trade deadline.
The Browns need to lean on a surprising face moving forward
With Beckham Jr. likely done in Cleveland, the Browns need to turn their intention toward rebuilding their offense without his presence. While Mayfield never seemed to target OBJ consistently, his company still attracted the attention of opposing defensive coordinators.
Now, defenses can exclusively place their No. 1 corners on Jarvis Landry. They can even start double-teaming him.
With all of that in mind, this is where a returning Donovan Peoples-Jones enters the picture. A sixth-round pick in 2020, Peoples-Jones is coming back from a groin injury and is immediately being expected to pick up the slack.
As a rookie, he racked up 304 receiving yards on just 20 targets, and was well on his way toward shattering that mark here in 2021 before his groin injury (228 yards on 15 targets).
Peoples-Jones is rejoining the Browns as the team's potential No. 2 wide receiver. It's a lot of pressure for a second-round player. However, a string of solid performances in this role would do a lot for his future and the Browns' playoff odds.
It's worth noting Mayfield is still nursing an injured shoulder. The pressure will be on Peoples-Jones, Landry, and the rest of the Browns' receivers to get open and make plays.
Did Cleveland botch the Odell Beckham Jr. situation?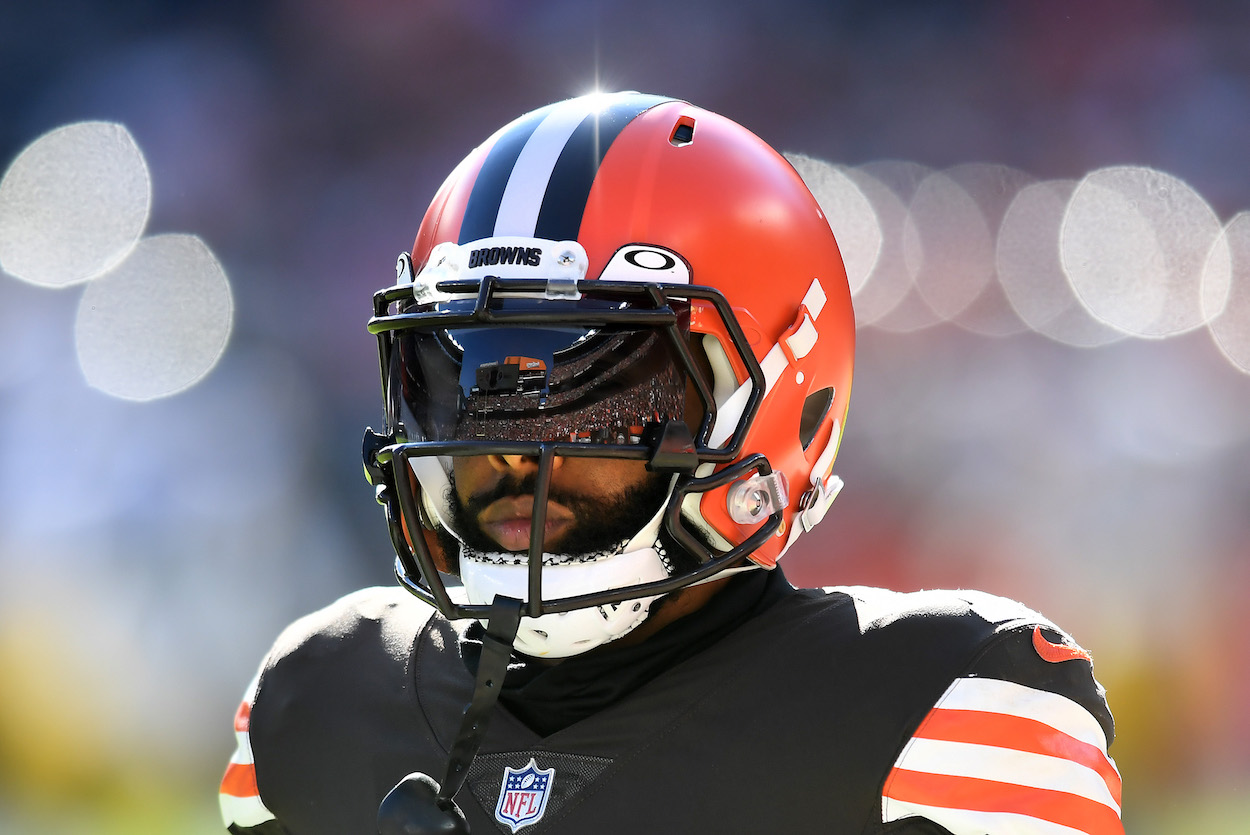 Circling back to Beckham Jr. and what his looming departure means for Cleveland. It's worth wondering how much blame the Browns deserve here. Acquiring OBJ felt like a home run acquisition at the time. Now, it looks like a complete and utter disaster.
For starters, it's not the Browns' fault Beckham Jr. struggled with injuries. Had he not missed time with a torn ACL last year, there's a chance he and Mayfield would have developed a stronger relationship.
However, Stefanski and how he organized the Browns' offense deserves criticism. He repeatedly claimed time after time he would script targets for OBJ, and it simply never happened. He had a legit WR1-type talent at his disposal and failed to get him the football. It was a pure waste of talent (and money).
Suppose Beckham Jr. does end up released and signs with a new team; they'd be wise to learn from the Browns' mistakes. If you're going to roster OBJ, get him the dang football.
All stats courtesy of Pro Football Reference.
RELATED: The Eagles and Raiders Nearly Agreed to a Massive Blockbuster Trade That Would've Completely Flipped the AFC West Upside Down