Browns Coach Kevin Stefanski Sends Out Message About Upcoming Myles Garrett and Mason Rudolph Matchup
When Myles Garrett and the Cleveland Browns faced the Pittsburgh Steelers during the 2019 regular season, one of the ugliest moments to ever take place on a football field occurred. Garrett hit Steelers quarterback Mason Rudolph on the head with Rudolph's helmet.
Rudolph hasn't played much in 2020 as Ben Roethlisberger has been back for the Steelers. He will start in the team's Week 17 game against the Browns, though, which has led to many people discussing last year's incident. This includes Browns coach Kevin Stefanski, who recently addressed it.
Myles Garrett got into an ugly altercation with Mason Rudolph in 2019
RELATED: NFL Legend Jim Brown Was Once Accused Of Extremely Dark Crimes
With not much time remaining in a Thursday Night Football game between the Cleveland Browns and Pittsburgh Steelers last season, Myles Garrett took Mason Rudolph down during a play. The two players then got into an altercation that resulted in Garrett ripping off Rudolph's helmet and hitting him on the head with it.
The NFL then suspended Garrett indefinitely, and he missed the final six games of the regular season.
Additionally, months after the altercation, Garrett even said to Cleveland.com that he had thought about quitting football after the incident.
"I would've been OK," Garrett said, according to Cleveland.com. "I love football. I love competing, I love my teammates, and I definitely want to win, but at the end of the day, I'm still a guy. I'm still a young man who has a lot of life to live and my life is much more than football. I just would've moved onto something else I enjoy and found another way to save my competitive nature, whether it would've been trying out for a basketball team or going to play baseball like [Michael] Jordan."
Garrett, though, has been back for the 2020 season, and has been one of the best defensive linemen in the game this year.
Mason Rudolph is starting for the Pittsburgh Steelers in Week 17
RELATED: Here's What Needs To Happen for the Cleveland Browns To Make the NFL Playoffs
Garrett has been back for the Browns this season and has had an excellent year. He has recorded 10-plus sacks for the third straight season, as he has 12 in 13 games. Garrett also earned his second Pro Bowl selection.
Rudolph, on the other hand, has only appeared in four games and has only thrown four passes in 2020. This is due to Ben Roethlisberger being back for Pittsburgh, but it also comes after Rudolph threw for 1,765 yards, 13 touchdowns, and nine interceptions in 10 games in 2019.
With the Steelers already clinching the AFC North division title, though, Pittsburgh plans to start Rudolph for Week 17. Garrett and Rudolph will be going head-to-head again.
Browns coach Kevin Stefanski has had to answer questions about the matchup, too.
Kevin Stefanski sent out a message about the Myles Garrett-Mason Rudolph matchup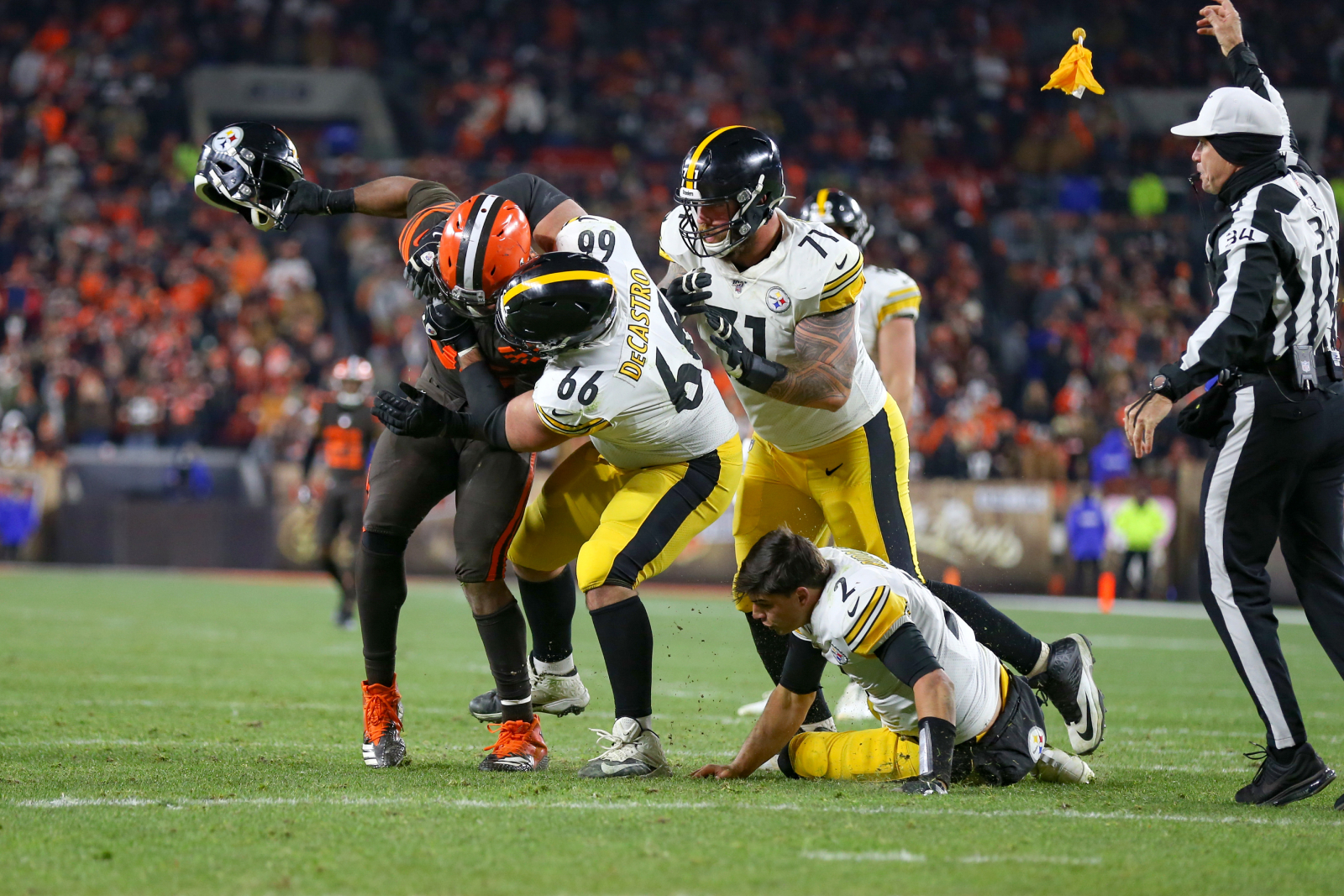 RELATED: Former Super Bowl MVP Santonio Holmes Just Honored His Roots With a $15,000 Holiday Gift
Stefanski recently spoke to the media ahead of the Week 17 game. He ultimately addressed the upcoming matchup between Garrett and Rudolph, too.
"I think we are well past that incident, both Myles and our team," Stefanski said, according to Cleveland.com. "We talk about maintaining our composure in every single game. It is nothing new to this week. We have to make sure that we are keeping the main thing the main thing and focusing on our work."
Stefanski also praised Garrett's leadership, according to Steelers reporter Chris Adamski.
"I think Myles is in a really really great place," he said, according to Adamski. "He gives great leadership to our team. I think he and we and everyone has moved past that."
It appears that Myles Garrett and the Cleveland Browns are past that ugly incident. All eyes will still be on the two players, though, when the Browns and Steelers play on Sunday.
Stats courtesy of Pro Football Reference