Browns' Confusing $20 Million Tight End Commitment Isn't Promising for Baker Mayfield
The Cleveland Browns are trying to do whatever it takes to get the offense back on track. The pressure is on Baker Mayfield more than ever, and after the departure of Odell Beckham Jr., rumors have swirled about Jarvis Landry potentially being released as well.
Ahead of the March 8 franchise tag deadline, the Browns decided to use the tag on tight end David Njoku in a bit of a confusing move. The Browns beat the deadline and are now working on a long-term deal with Njoku, which is good for both parties.
However, the Browns are now committing $20 million to the tight end position as a whole, and that might not be the help Mayfield is hoping for.
The Browns are now spending $20 million at the tight end position in 2022
After the signing of Njoku, the Browns' tight end room continues to be a crowded one. They also have Harrison Bryant and Austin Hooper.
In the 2020 offseason, the Browns inked Hooper to a four-year deal worth $42 million in 2020, which was puzzling at the time. A couple of years later, that move is still questionable, and now placing the tag and trying to work a long-term deal with Njoku makes the Browns look more confusing.
According to Jeremy Fowler of ESPN, the Browns have no plans of getting rid of Hooper.
So there you have it. Hooper is set to make $9.5 million in 2022, while Njoku will earn $10.9 courtesy of the franchise tag — and he could earn more cash if they agree to a new contract.
What are the Browns doing? Nobody knows, but moves like these aren't what Mayfield needs to get over the hump.
The Browns' tight end decisions aren't exactly what Baker Mayfield needs to succeed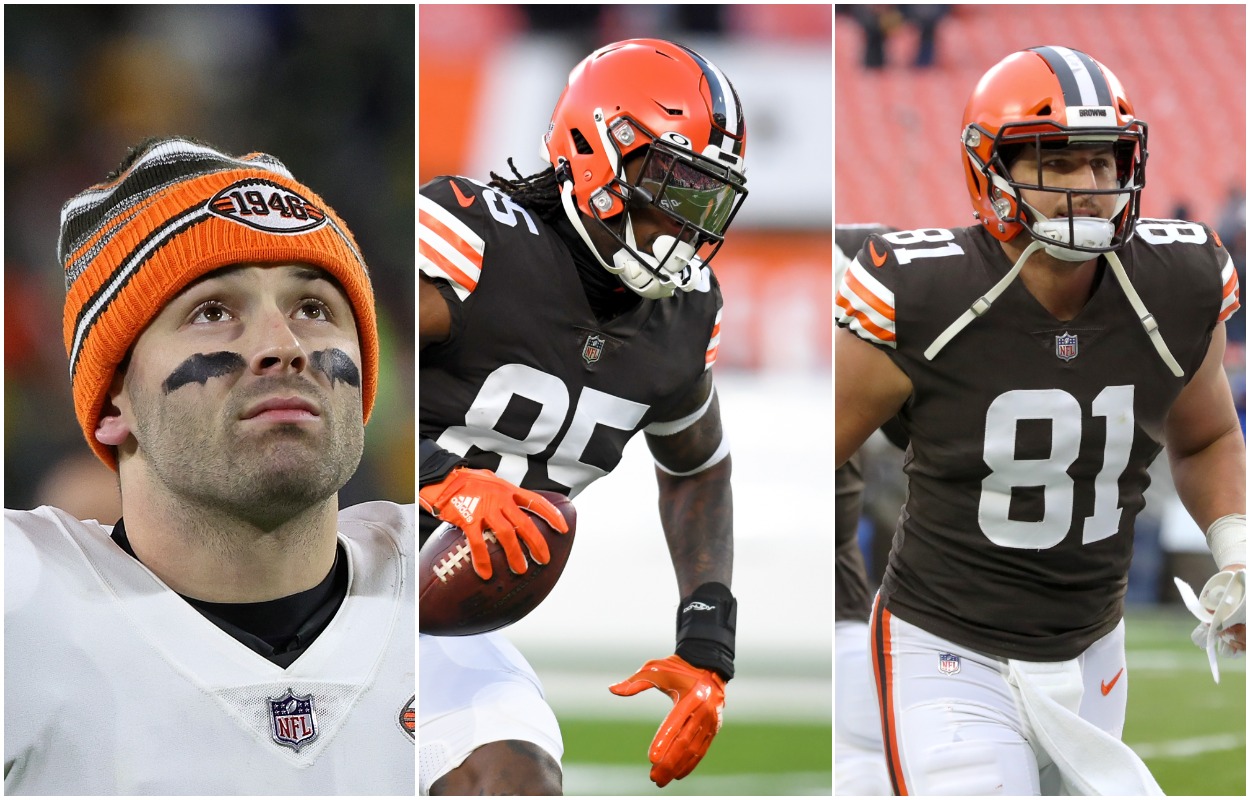 The verdict is still out on whether or not Mayfield is the guy in Cleveland. According to Mary Kay Cabot of cleveland.com, the Browns are committed to him in 2022 but aren't working on an extension.
So, that means Mayfield needs to impress this season. If not, it might be the end of his run with the Browns, and it could be the final chapter of his run as an NFL starter.
Mayfield has been off and on in his NFL career, and in 2021 he took a big step back. Here are his numbers so far since being taken No. 1 overall in the 2018 NFL Draft:
2018: 3,725 yards, 27 TD, 14 INT
2019: 3,827 yards, 22 TD, 21 INT
2020: 3,563 yards, 26 TD, eight INT
2021: 3,010 yards, 17 TD, 13 INT
This past season was Mayfield's worst from a statistical standpoint, although he did start just 14 games due to an injury. Nonetheless, these aren't first-round choice numbers, and with the money that quarterbacks are getting now, the Browns have every right to be hesitant.
So, why pay Njoku and Hooper a combined $20 million? Neither player has shown to be a true threat in the passing offense, and their numbers from 2021 were severely underwhelming.
Njoku: 36 catches, 475 yards, four TD
Hooper: 38 catches, 345 yards, three TD
Yeah, those aren't too eye-popping. To be fair, Njoku and Hooper finished third and fourth, respectively, in receiving yards. But that isn't saying a lot, especially since Donovan Peoples-Jones led the team with just 597 yards.
Zach Ertz would have been a better short-term option for Cleveland, and he might have cost the same amount as what they are paying Njoku this season under the tag.
There is no secret the Browns need an overhaul on the offensive side of things, except for star running back Nick Chubb. But deciding to use $20 million on Njoku and Hooper makes no sense and makes things even more difficult for Mayfield.
The franchise can turn things around on offense by nailing the 2022 NFL Draft and free agency
The decision on Landry is still up in the air, and the Browns can save quite a bit of cash by trading him or releasing him. But, if they do that, they need to find somebody to replace him.
Enter Garrett Wilson, who Pro Football Focus tossed in the graphic above. The star wide receiver from Ohio State would be a breath of fresh air for Mayfield and give him a true No. 1 WR, something they hoped to have when Odell Beckham Jr. found his way to Cleveland a few years back.
Moreover, the Browns need to find somebody in free agency. Chris Godwin, Davante Adams, and Mike Williams stayed with their respective teams, and Michael Gallup is working on a new deal with the Dallas Cowboys.
Is Amari Cooper an option for Cleveland? It would be costly, but the Browns have no choice — they need to surround Mayfield with quality weapons.
The next few weeks will be important for the Browns, and then the 2022 NFL Draft will be another critical few days. The defense has its fair share of players, but the offense needs some rejuvenation. Even though Cleveland dropped $20 million on Njoku and Hooper, that won't be the move that puts them over the top.
Mayfield must be worried.
Stats Courtesy of Pro Football Reference
RELATED: David Njoku, Browns Buy More Time to Put Tag On Big Contract