Browns DE Myles Garrett's Hilarious Response to 'Random' Drug Test After Ditching the Sleeves Once Again
The Cleveland Browns and Denver Broncos will hash it out on Thursday Night Football. However, this Browns team will look much different after a rash of injuries to all positions. Baker Mayfield will be out, and so will both Nick Chubb and Kareem Hunt in what will suddenly be a challenging game for Cleveland. But, one player who will be out there is defensive star Myles Garrett.
However, Garrett isn't too thrilled and took to Twitter to voice his displeasure after being randomly drug tested again.
The return of sleeveless Myles Garrett
The Browns defensive star and one of the most feared pass rushers in the NFL got drug tested again this week. In turn, Garrett took to Twitter and voiced his thoughts on the process.
The 'random' drug tests sure don't seem very random, at least not to Garrett. Both times he has gone sleeveless, he ended up getting drug tested. Perhaps the NFL is skeptical due to Garrett's unworldly physique.
Either way, this is the second time in the past three weeks that the Browns star has gotten drug tested, so the question remains of how random it is.
Due to that, Garrett has decided to retire the Sleeveless Myles look and will likely stick to sleeves from now on to avoid yet another 'random' drug test.
Garrett is the NFL leader in sacks and anchoring the Cleveland defense
The Browns defense isn't what everybody thought it was going to be. Moreover, this group got torched by the Los Angeles Chargers and gave up 47 points in a frustrating loss as Justin Herbert carved them up time and time again.
On the other hand, Garrett is once again having an excellent season. He has eight sacks through six games and is a huge reason why Cleveland's defense is 3rd in the NFL in sacks with 18. Garrett leads the NFL and is one sack ahead of Pittsburgh Steelers star TJ Watt.
The Browns passing defense has been an issue, however. This past weekend, they gave up 37 points against the undefeated Arizona Cardinals as Kyler Murray went to town and worked his magic.
Garrett also hilariously put a graveyard of NFL quarterbacks in his front yard, and Murray made sure to ask him about it after the game.
The two had some fun after the game, and Murray ended up with the victory. But none of that takes away from the fact that Garrett is having a terrific season.
The Browns have their work cut out for them against the Broncos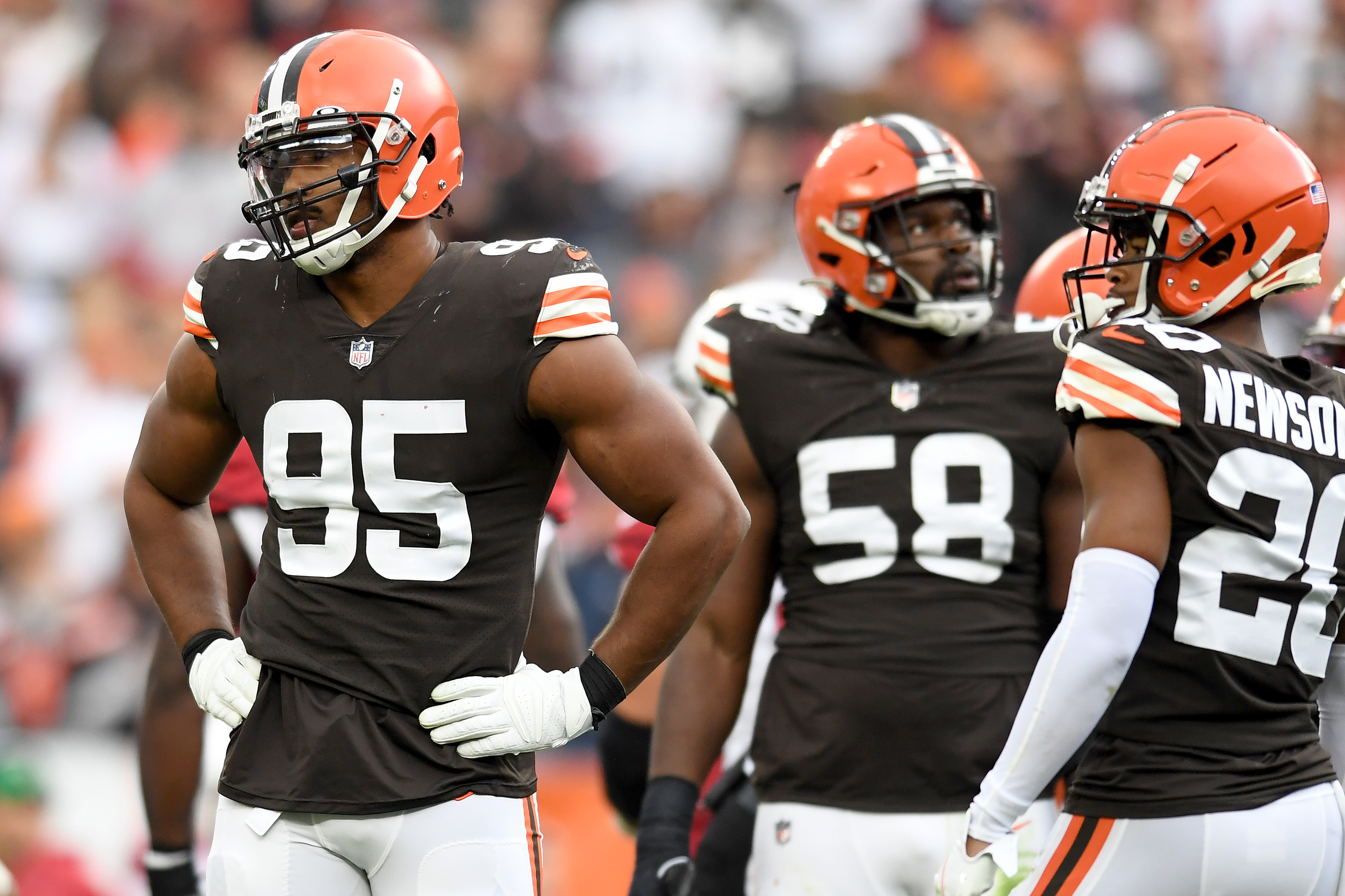 In a typical week, the Browns would be favored over the Broncos. However, this is not a typical week. Their starting quarterback and both running backs are out. Their wide receivers are banged up. Their starting tackles might not play, either.
This does not bode well for the Browns, and Garrett and the defense will need to step up even more if they want to avoid dropping below .500 on the season.
Will sleeveless Myles Garrett make an appearance?
Probably not, but at this rate, Garrett should be able to get to the quarterback and disrupt the Broncos' offense at least a little bit.
Stats Courtesy of Pro Football Reference
RELATED: Broncos Star Von Miller Delivers Frightening Warning to Baker Mayfield and the Browns: 'I Don't Know Who the Tackle Is, but I'm Going to Kill Him'