Browns RB D'Ernest Johnson Waited His Turn, but Now It's His Time to Shine Due to Cleveland's Unfortunate Luck: 'Next Man Up'
Injuries have decimated the Cleveland Browns offense over the past few weeks, especially in the backfield. Nick Chubb and Kareem Hunt are out for Cleveland's Thursday Night Football matchup against the Denver Broncos. That leaves D'Ernest Johnson as the next man up. His unlikely journey to the NFL prepared him for this very moment.
With Baker Mayfield out as well, Johnson will need to step up in Week 7.
D'Ernest Johnson was a star at South Florida
D'Ernest Johnson played high school football at Immokalee High School in Florida. 247 Sports rated him as a three-star running back coming out in the class of 2014.
Johnson received a few scholarship offers from major college football programs, including Georgia, Ole Miss, and North Carolina. Instead, he opted to stay home and attend South Florida.
The 5-foot-10, 208 pound running back enjoyed a productive career with the Bulls. He rushed for 1,796 yards and 16 touchdowns in four seasons. Johnson was a dynamic playmaker as a receiver and kick returner as well. When he left South Florida, he was the program's all-time leader in all-purpose yards.
Johnson didn't play for a Power Five school, so he flew under the radar in terms of getting national recognition. However, he made significant contributions to the Bulls football team while sharing a backfield with Marlon Mack.
The Browns RB worked as a fisherman during a year off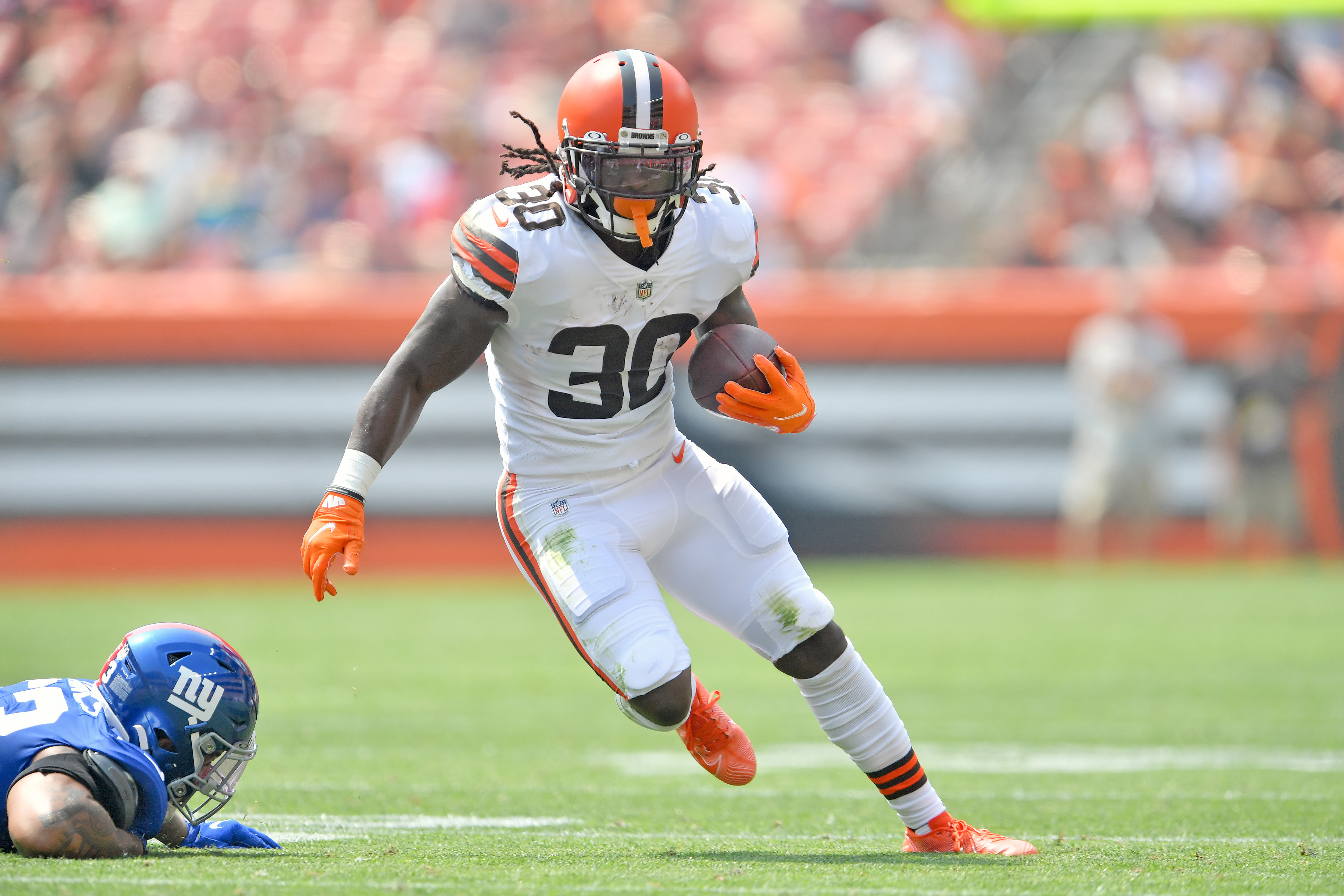 Despite his productivity at South Florida, De'Ernest Johnson went undrafted. Not many NFL teams showed interest in the Florida native.
Johnson was out of football for the 2018 season and ended up working as a fisherman to make ends meet, per the Browns team website. He was chasing mahi-mahi in Key West, Florida. Now, he's worried about NFL defenders chasing after him.
After the year off from the game, Johnson did everything to get back to it. He played in the Alliance of American Football before the league's brief tenure came to an end.
Johnson led the AAF in both rushing and scrimmage yards when the season ended. The Cleveland Browns noticed his performance and invited him to a minicamp tryout. Once a spot opened up on the depth chart, the team brought him back for training camp.
Johnson impressed the coaches and secured the final roster spot before the 2019 NFL season.
Johnson is ready to step up in the wake of Browns' injuries
When the Browns are healthy, they feature the most dangerous 1-2 punch in the NFL at the running back position. The problem is, they're not healthy.
Nick Chubb suffered a calf injury in Week 5, which caused him to miss the next game. He won't be available for Thursday Night Football, either. Chubb's running mate, Kareem Hunt, also suffered a calf injury in Week 6.
The Browns placed Kareem Hunt on injured reserve, meaning he will miss at least three games. With Chubb and Hunt out of action, the door is now open for D'Ernest Johnson.
The 25-year-old is making his first NFL start, but he's not afraid of the bright lights. "I'm very excited," he said. "First time getting a chance to start, it's always a dream come true."
Before the 2021 season, he carried the ball 37 times for 187 yards and zero touchdowns. He also caught nine passes for 85 yards. Kevin Stefanski will probably utilize a committee approach, but Johnson will see plenty of opportunities.
For D'Ernest Johnson, it's just next man up. "I've learned a lot," he said. "We all have confidence. We just have to go out there and execute. That's every week. Nothing changes."
All stats courtesy of Pro Football Reference
RELATED: Broncos Star Von Miller Delivers Frightening Warning to Baker Mayfield and the Browns: 'I Don't Know Who the Tackle Is, but I'm Going to Kill Him'