Browns GM Andrew Berry's Refusal to Commit Is Jarvis Landry's Saving Grace
The Cleveland Browns enter a pivotal offseason after a disappointing 8-9 finish in 2021. The team has several questions to answer, from Baker Mayfield's future to draft strategy. Jarvis Landry's status with the organization has emerged as a major storyline, though.
Landry recently aimed at the Browns front office in a series of tweets, expressing his frustrations with Cleveland's noncommittal attitude toward him. The five-time Pro Bowl wide receiver made it clear that he wants to stay with the team and build on what they have. However, a nasty split could be on the horizon at this pace.
Leaving Cleveland wouldn't be so bad, though, would it?
Browns GM Andrew Berry refuses to commit to Jarvis Landry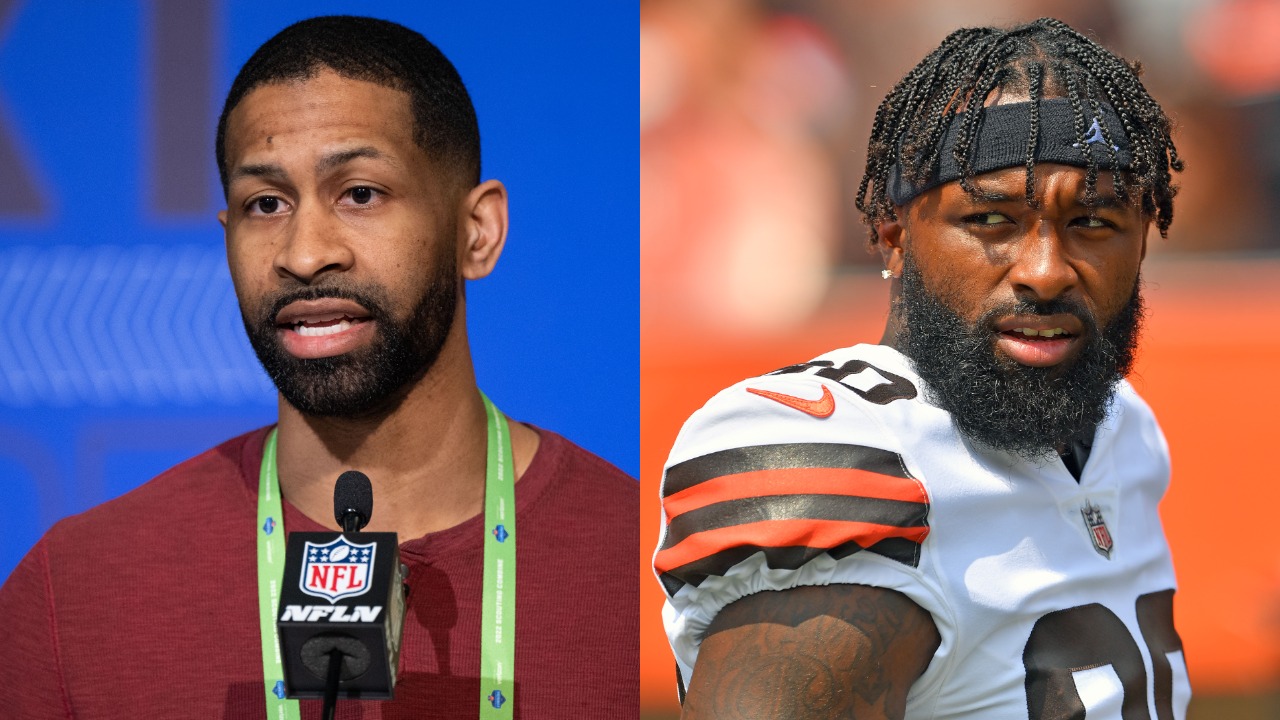 Browns general manager Andrew Berry and the scouting department are in Indianapolis for the 2022 NFL Combine, assessing the next wave of prospects. Still, Berry couldn't avoid the elephant in the room.
Media members asked Berry about Jarvis Landry's future in Cleveland, and his response was par for the course.
"Jarvis, he's been a productive player for us the past four years, a big part of helping us turn the tide, and everything like that," Berry said per Marla Ridenour of the Akron Beacon Journal. "The next couple weeks are big for us in terms of assessing the entirety of the roster. But Jarvis has been a key veteran for us, a key producer, and we're really grateful for all that."
Reporters pushed a little harder to pull more from the Browns GM, but he didn't indicate that the veteran wideout would be back in 2022.

"I'm not going to any of our specific planning or anything along those lines," Berry added. "But Jarvis has been a key veteran for us for a number of years."
Berry's vague response is part of the reason why Jarvis Landry is annoyed. He's given his all to the organization for the past four seasons, even playing through injuries. However, the front office's unwillingness to commit could be a blessing in disguise for Landry.
Getting traded or released would be best-case scenario for the Pro Bowl wideout
Jarvis Landry signed a five-year, $75.5 million deal with the Cleveland Browns in 2018 after spending four seasons with the Miami Dolphins. He's still under contract through 2022, but the team has an incentive to move on from the LSU product.
The Browns will save $15 million on the salary cap if they cut Landry in the offseason. Cleveland wouldn't be the only winner here, though. The 29-year-old receiver would get the opportunity to start fresh elsewhere.
Kevin Stefanski's squad was a massive disappointment in 2021. Many people saw the Browns as a potential threat in the AFC, especially in the AFC North. Well, things didn't go according to plan. Cleveland finished with an 8-9 record and missed the playoffs entirely.
Andrew Berry and the front office loaded up on talent on both sides of the ball. Still, it wasn't enough to make real noise. There's no guarantee that the Browns will turn it around in 2022, either. Baker Mayfield's future is up in the air after a rough fourth season. His performance and the rift with Odell Beckham Jr. dominated headlines more than football itself.
Jarvis Landry could want more at this stage of his career. A release would allow him to join a potential contender heading into his ninth NFL season. Reaching the top of the conference is a long shot for this football team. Landry tried loyalty with the Browns. Now, it could be time to put himself first.
How could Cleveland replace Landry?
Losing Jarvis Landry would be a massive hit for the Cleveland Browns. He's been a reliable weapon despite his recent dip in production. The Metairie, Louisiana native has recorded 288 receptions, 3,560 receiving yards, and 15 touchdowns in four seasons with the team. Beyond the numbers, the Browns would miss his veteran leadership.
If Andrew Berry and company decide to trade or cut Landry, the depth chart will look pretty skimp at wide receiver. Cleveland was already down Odell Beckham Jr. after releasing him midseason. Landry's departure would leave an even larger void. Donovan Peoples-Jones and Anthony Schwartz are promising young players, but it's not enough.
So, how could the Browns fill their biggest need in the offseason?
The team would undoubtedly have its fair share of options in free agency. Several notable wideouts will be available, including Davante Adams, Chris Godwin, Allen Robinson II, and Mike Williams.
Cleveland has over $28.8 million in cap space, which means they could pay one of these guys. However, the player would have to agree to the deal, and catching passes from Baker Mayfield isn't exactly trendy right now.
The Browns could pursue mid-level receivers or attack the position throughout the 2022 NFL Draft. Two big names are in their backyard in Ohio State's Garrett Wilson and Chris Olave. Either player would be a massive addition to this offense.
Moving on from Jarvis Landry could be a passing of the torch at wide receiver in Cleveland.
All stats courtesy of Pro Football Reference 
RELATED: Top 5 Landing Spots for Jarvis Landry if Browns Cut or Trade Him