Browns Insider Suggests Team Could Part Ways With WR Jarvis Landry
The Cleveland Browns are entering the 2022 offseason in a solid position financially. They currently have just over $24.8 million in cap space, well above the NFL average ($13.4 million). Still, expect general manager Andrew Berry and the front office to be busy. According to a Browns insider, Jarvis Landry could be one of the biggest decisions.
Landry has been in Cleveland since 2018, but his on-field production has dipped over the past couple of seasons. The wide receiver position is a glaring weakness for the Browns. Cutting ties would make the need even more dire, but it could potentially free up space to bring in a game-changer.
Browns writer believes the team could cut Jarvis Landry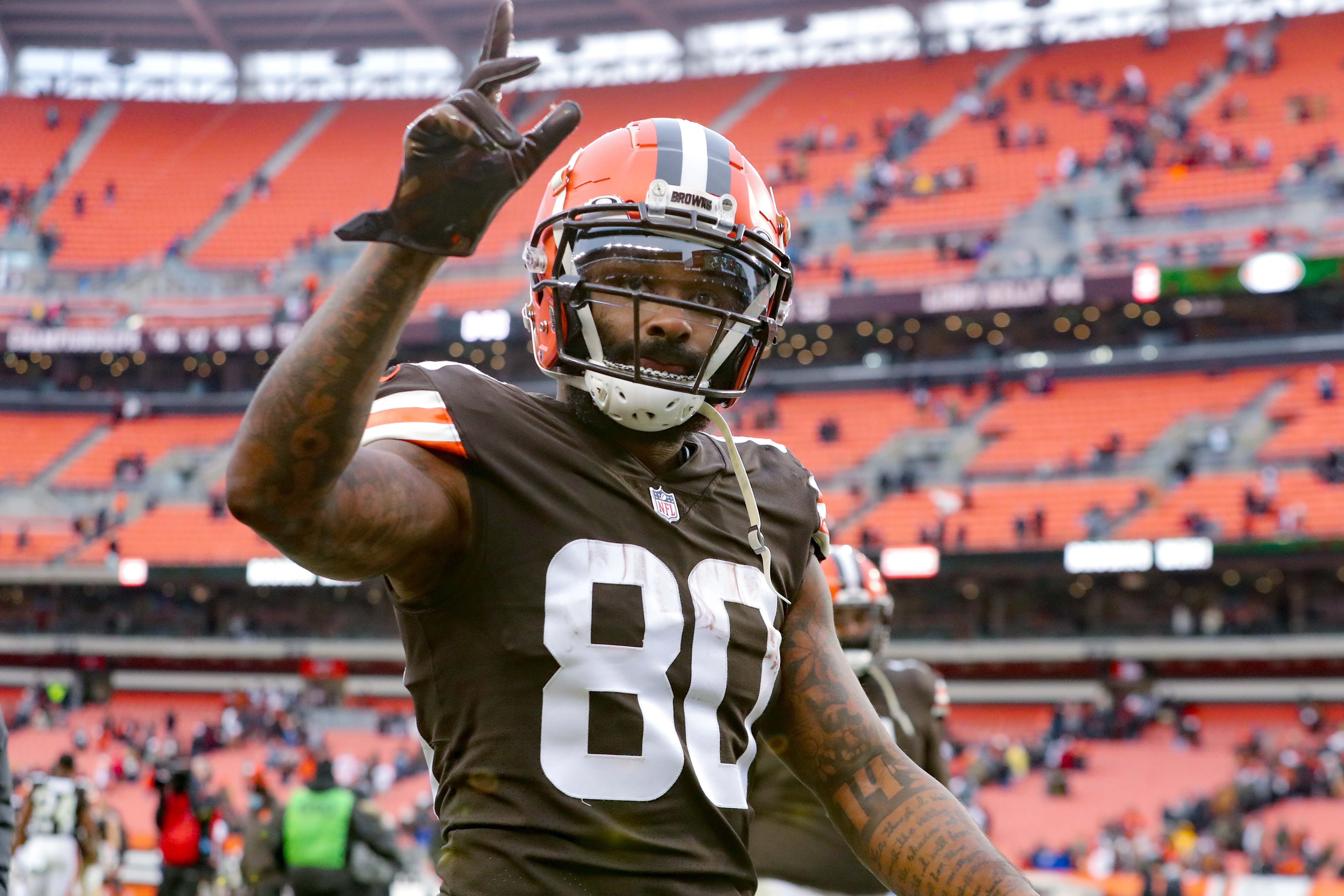 Jarvis Landry found himself right at home when the Miami Dolphins traded him to the Cleveland Browns after the 2017 season. The LSU product posted three Pro Bowl campaigns during his tenure in Miami, but his relationship with the organization eventually soured.
Since arriving in Cleveland, Landry has served as a security blanket for quarterback Baker Mayfield. He's recorded 288 receptions for 3,560 receiving yards and 15 touchdowns in four seasons with the Browns. The 29-year-old dealt with a few injuries in the past two seasons, though. As a result, Landry has seen a dip in production lately.
The eighth-year wideout is under contract through the 2022 season. However, the Browns could choose to part ways with him to prepare for the future. According to The Athletic's Zac Jackson, Cleveland might consider cutting Landry in the offseason.
"Though a restructure is possible, and the Browns might want Landry back, they'll save around $15 million on their 2022 cap if they cut him," said Jackson. "Strictly looking at the financial numbers, that's a no-brainer."
Given Jarvis Landry's recent numbers, it should not be shocking to see the team move on from him as a salary cap casualty.
Cleveland would have an ever larger void at wide receiver
While releasing Jarvis Landry would put the Cleveland Browns in an ideally comfortable position financially, it might not make the most sense from a football perspective.
"In looking at the Browns' passing game, Landry's departure would create another void," Zac Jackson added.
The Browns insider is right — losing Landry would not necessarily be a good thing for the offense. Cleveland already struggled at moving the ball through the air. The offense averaged only 195.2 passing yards per game and scored just 21 touchdowns on the season.
The lack of chemistry between Baker Mayfield and Odell Beckham Jr. was on full display early in the 2021 season. Head coach Kevin Stefanski couldn't find a way to make it work, resulting in the Browns releasing the disgruntled wideout.
Jarvis Landry isn't a No. 1 receiving option at this stage of his career. Still, he's usually reliable, and his experience is invaluable. Cleveland's other options are Rashard Higgins, Donovan Peoples-Jones, and Anthony Schwartz. While all three have shown flashes at one point or another, none of them project as a No. 1 receiver.
If the Browns do cut ties with Landry, it would allow the front office to bring in a big-time playmaker (if one would agree to go to Cleveland).
Potential landing spots for Landry
Suppose the Cleveland Browns do release Jarvis Landry in the offseason. Several teams would likely be in the market for the veteran receiver. It's unclear if he can return to Pro Bowl form, but he could certainly help a contending team.
These squads could make a run at Landry should he hit the free-agent market:
Tampa Bay Buccaneers
Tennessee Titans
New Orleans Saints
Kansas City Chiefs
Indianapolis Colts
Most of those teams aren't necessarily wide receiver-needy. However, each could certainly use a player with Landry's skillset. He can run the entire route tree but excels in the short to intermediate range. The 2014 second-rounder is a possession receiver who is good at racking up yards after the catch.
The Saints desperately need some help at wide receiver, and Landry would make plenty of sense. He's from Louisiana, so the opportunity to go back home could appeal to him.
Whether or not the Browns would cut Jarvis Landry before his contract is up remains to be seen. Still, he'll become an unrestricted free agent in 2023, and it wouldn't be surprising to watch him walk anyway.
All stats courtesy of Pro Football Reference and contract figures courtesy of Spotrac.
RELATED: NFL Free Agency: Ranking the 6 Players the Cleveland Browns Must Target During the 2022 NFL Offseason