Browns DE Myles Garrett Hilariously Trolls MVP Candidate Kyler Murray and Other Quarterbacks, Sending a Clear Message That He's Coming
The Cleveland Browns are coming off of a crushing loss to the Los Angeles Chargers. Now, they will try to rebound against the Arizona Cardinals. Myles Garrett is ready for the matchup with Kyler Murray.
In the spirit of Halloween, the All-Pro defensive end sent a spooky message to Murray and other NFL quarterbacks, which could spell trouble.
Browns DE Myles Garrett leads NFL in sacks
Myles Garrett is a beast. He's been terrorizing opposing quarterbacks since the Cleveland Browns selected him with the No. 1 overall pick in the 2017 NFL Draft.
The Texas A&M product entered the 2021 season with 42.5 sacks under his belt through his first four seasons. He's off to a hot start in 2021 and is setting himself up for his best season yet. Garrett has recorded 21 tackles, eight tackles for loss, and seven sacks through the first five games.
The 25-year-old has already firmly entrenched himself near the top of the NFL's pass-rusher hierarchy. Creating chaos is what he does best. Even when he's not registering a sack, he's still making life difficult for opposing quarterbacks.
Garrett has recorded 23 quarterback pressures, 16 QB hits, and another seven hurries. Other than Dallas Cowboys cornerback Trevon Diggs, the Browns defensive star has to be the favorite to win Defensive Player of the Year right now.
Garrett set up tombstones in his yard for opposing quarterbacks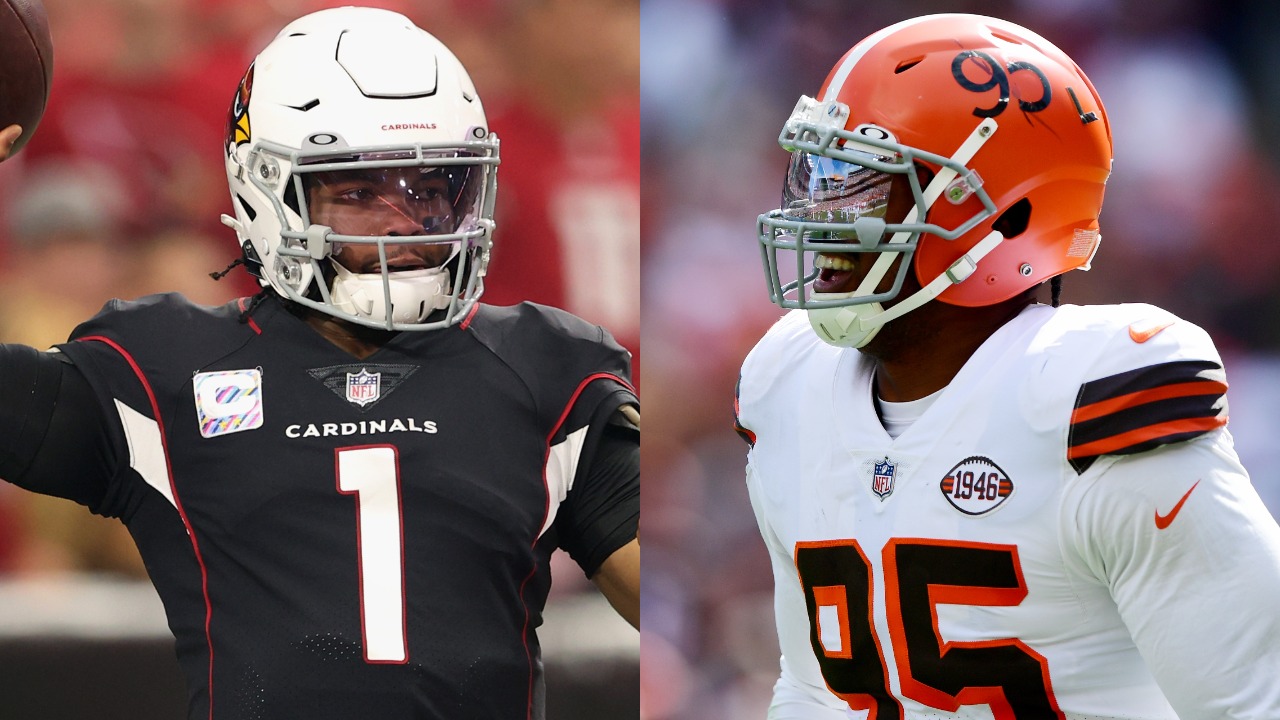 Myles Garrett evidently takes Halloween very seriously. He trolled several notable NFL quarterbacks with the decorations at his house.
The two-time Pro Bowler got into the spirit by decorating his front yard with gravestones. They're not just any gravestones, either. Each features the name and jersey number of a quarterback that he's faced already in 2021 or will face in the coming weeks.
The biggest names represented were Lamar Jackson, Kyler Murray, Joe Burrow, and Justin Herbert.
Chicago Bears rookie Justin Fields already played against Garrett and is probably still having nightmares about that game. The Browns sacked him nine times, 4.5 of which were by Garrett.
Standing 6-foot-4, 272 pounds, the Arlington, Texas native is one of the most physically imposing players in the league. His physical tools and high football I.Q. make him a dominant force for Cleveland's defense.
Browns need Garrett to get to Kyler Murray in Week 6
The Cleveland Browns are taking their 3-2 record into a tough Week 6 matchup against the 5-0 Arizona Cardinals. The Cardinals are the only remaining unbeaten team in the NFL and will present yet another stiff test for the Browns.
Kyler Murray is one of the leading MVP candidates through the first five weeks. He's thrown for 1,512 yards and 10 touchdowns while completing 75.2% of his passes. Murray has also picked up 110 yards and three touchdowns on the ground.
Garrett and Murray were teammates for one season at Texas A&M, so they're very familiar with one another. The Browns defensive end will look to wreak havoc for his former college teammate in this one, though.
The Browns need another big game from their defensive leader. Murray's dual-threat ability makes him difficult to stop. He has a cannon for an arm but is dangerous with his legs in the open field.
After losing close games to the Kansas City Chiefs and LA Chargers, Cleveland could use a statement win against one of the NFL's best.
Myles Garrett must deliver on his Halloween declaration.
All statistics courtesy of Pro Football Reference.
RELATED: After Suffering Serious Injuries in an ATV Accident, Getting Sued by the Seahawks for $799,238, and Spending Nearly a Year in Jail, Browns DT Malik McDowell is Suddenly in the Spotlight For All the Right Reasons