The Browns Are Playing a Risky and Dangerous Game With Baker Mayfield in 2022
The Cleveland Browns' 2021 season did not go according to plan. Despite making it to the AFC Divisional Round the year prior, the Browns could not capitalize on their momentum. They finished the year 8-9 — out of the playoff picture and in third in the AFC North.
At the center of the Browns' struggles this past season was quarterback Baker Mayfield. He battled a nasty shoulder injury all season long, which led to some seriously regressed play. His passer rating dropped 20-plus points, and his quarterback rating dropped a whopping 30-plus points compared to 2020.
Just how bad was Baker Mayfield in 2021?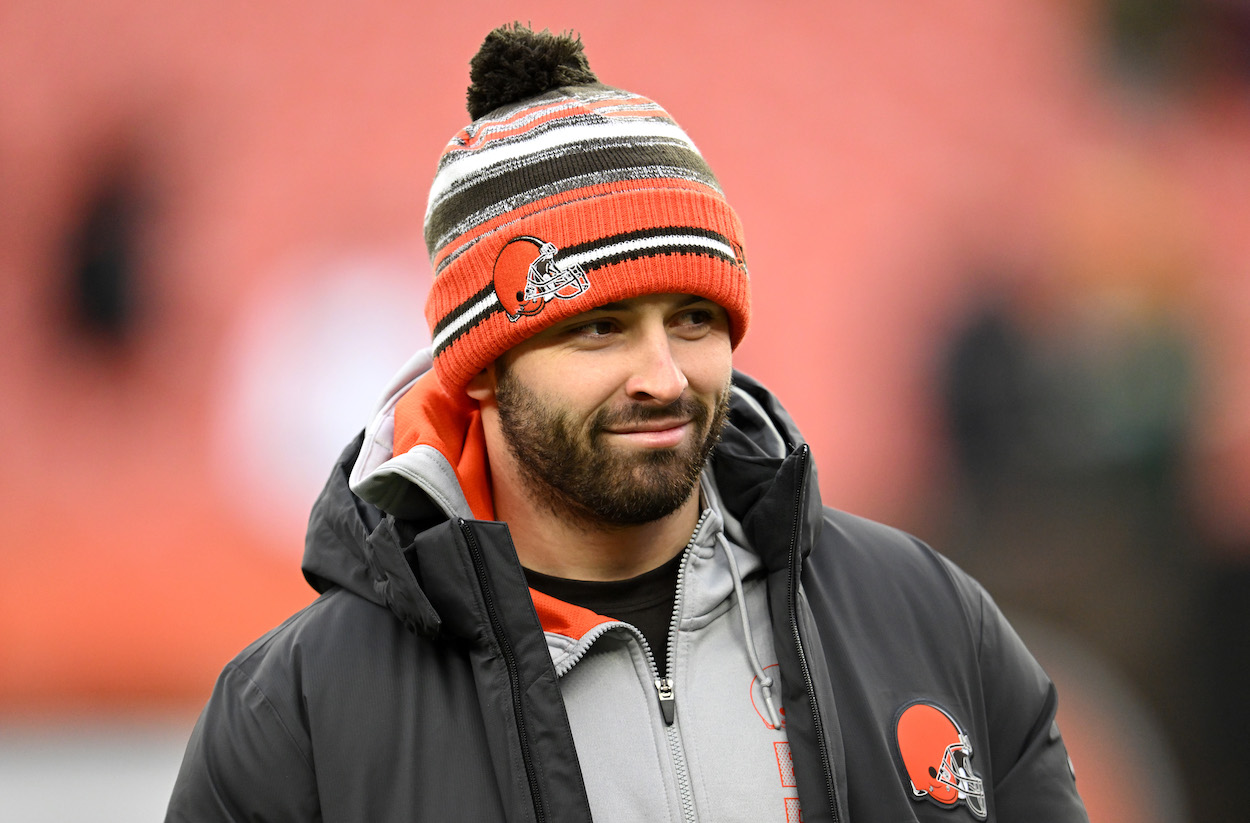 Whether you're a Baker Mayfield fan or not, it's impossible to ignore the struggles the fourth-year quarterback experienced this past season. He passed for a measly 3,010 yards on a 60.5% completion rate, and his TD-INT ratio was not comparable to some of the other elite passers around the NFL.
Mayfield threw 17 touchdowns and 13 interceptions — hardly a ratio that can lead to success in today's NFL.
Many hopeful Browns fans blamed Mayfield's struggles on the presence of wide receiver Odell Beckham Jr. However, this theory was promptly killed off following OBJ's departure to the Los Angeles Rams, where he became an extremely reliable WR2 alongside Cooper Kupp. The Rams are going to the playoffs as a top-four seed, while the Browns are already planning their offseason vacation.
Again, it's foolish to talk about Mayfield's 2021 season without mentioning the shoulder injury. It was a severe injury that Mayfield will undergo surgery to repair. Still, a lot of quarterbacks play through injuries these days. The Browns clearly felt it wasn't serious enough at the time to hinder Mayfield's play.
The Browns don't want to hand Baker Mayfield a new contract … yet
To make matters even more confusing for the Browns this offseason, the time to hand Mayfield a new contract has arrived. He's currently set to play the 2022 season under his fifth-year option — not something franchises typically allow star quarterbacks to do these days. General managers usually jump at the opportunity to pay valuable players early in an attempt to get them at a discounted price.
The Browns, on the other hand, have no such interest in a possible discount. Current reports state they are more interested in letting 2022 play out with Mayfield on his fifth-year option.
The Browns and quarterback Baker Mayfield have yet to strike a long-term deal, more than a year after the window for doing so opened. With Mayfield having a down year in 2021, both sides are preparing for Mayfield playing the 2022 season with no contract beyond it.

Browns G.M. Andrew Berry told reporters on Tuesday that the Browns have no qualm about proceeding with Mayfield without a commitment beyond next season.

Mike Florio, Pro Football Talk
The Browns are banking on their QB bouncing back in 2022, or are they?
To put it relatively simply, the Browns haven't made a long-term decision on Mayfield. They would have already paid him if they fully believed in his ability to be a franchise QB.
Instead, the Browns are playing the wait-and-see game. If Mayfield bounces back to his 2020 self next year, they'll (presumably) hand him a long-term extension comparable to other starting quarterbacks around the NFL. If Mayfield struggles, the Browns will simply part ways with him at the end of the year.
It's a dangerous and risky game that Cleveland is playing, and it could quickly put the franchise into quarterback purgatory. However, it's the game that general manager Andrew Berry is deciding to play. Only time will tell if the gamble pays off in the long run.
All stats courtesy of Pro Football Reference.