Browns Pro Bowler Myles Garrett Desperately Wants to Spoil Ben Roethlisberger's Final Steelers Home Game: 'Send Him Off With a Bang'
Ben Roethlisberger has enjoyed a long 18-year career as the quarterback of the Pittsburgh Steelers. That career could be coming to an end after the 2021 NFL season. Big Ben's last home game is fittingly against the Cleveland Browns on Monday Night Football. Myles Garrett is looking forward to the opportunity to spoil the party.
Ben Roethlisberger is likely playing his final game at Heinz Field
Ben Roethlisberger's decline has been evident. At 39 years old, he's certainly no longer the player he once was. Still, it's been quite the career for the Pittsburgh Steelers' quarterback.
According to ESPN's Brooke Pryor, Roethlisberger revealed that "all signs" point to the Week 17 matchup against the Cleveland Browns being his last at Heinz Field.
"This could be it," said Roethlisberger. If that is the case, it's only right that it takes place under the bright lights on Monday Night Football against an AFC North rival.
Pittsburgh will also have something to play for, as this game will have long-shot AFC playoff implications.
Win or lose, Big Ben will likely leave with his head held high. He's given everything to this franchise, and the city adores him for his effort and loyalty.
The 6-time Pro Bowler and 2-time Super Bowl champion has nothing left to prove. It sounds like he's going out on his own terms.
The crowd at Heinz Field is sure to be electric, but Myles Garrett and the crew won't go down without a fight.
Browns star Myles Garrett wants to send the Steelers QB into retirement the right way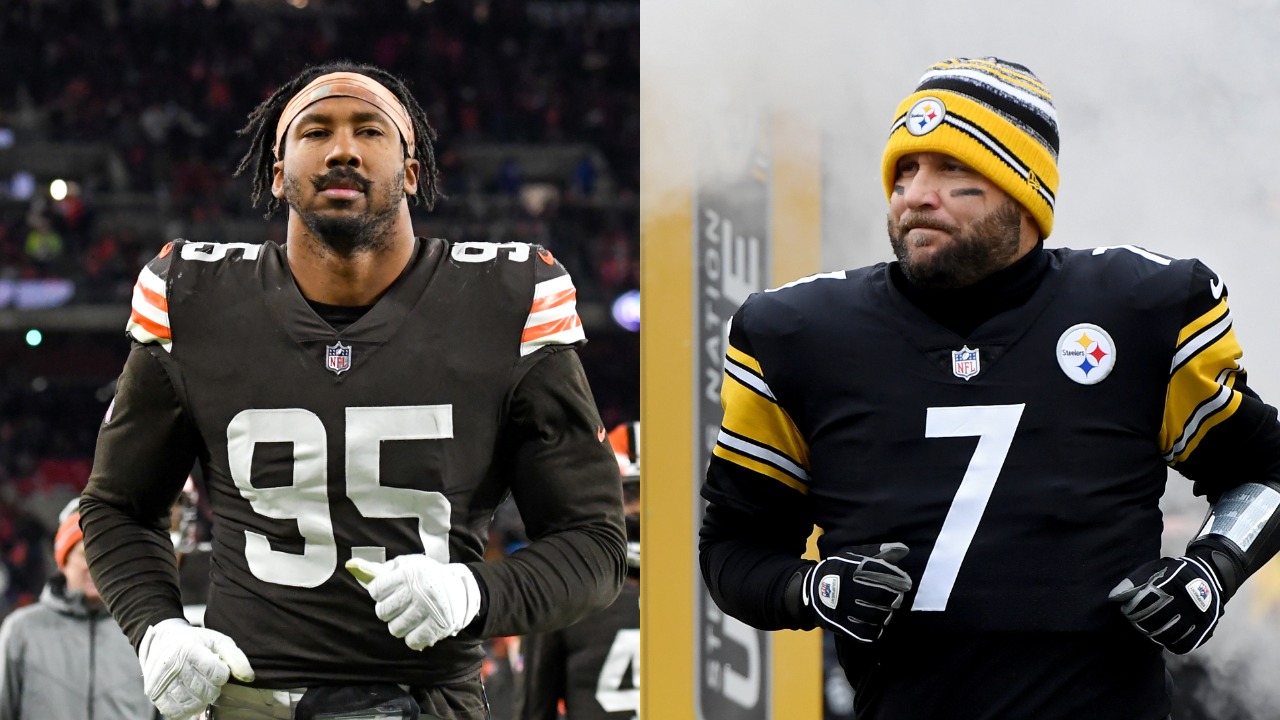 Ben Roethlisberger and the Pittsburgh Steelers will undoubtedly have their work cut out for them against the Cleveland Browns. Bookends Jadeveon Clowney and Myles Garrett could be bearing down on Big Ben all night long.
This is Clowney's first season experiencing the AFC North rivalry, but Garrett is very familiar. The All-Pro defensive end has been on the Browns' roster since 2017, and this will mark the eighth time he's played against the Steelers.
Garrett recently weighed in on Roethlisberger's impending retirement and the upcoming matchup.
"I like the challenge of it, going against a guy of his caliber and a guy of his prestige," he said per NFL.com. "I will just try to keep it cordial and send him off with a bang."
Even though Garrett will be aiming to inflict punishment on Big Ben, the 2-time Pro Bowler admits he has a great deal of respect for the Steelers' signal-caller.
"As far as quarterbacks, he is one of the greats," said Garrett. "He is one of the best Steelers quarterbacks that they have ever had, and he might be the best. Just going back and forth with him has been fun over the years. Always having good interactions and good gamesmanship when we are out there."
A monster performance from Garrett could end the Steelers' season
After a hot start to the 2021 season, Myles Garrett has since cooled off over the past few weeks. The Texas A&M product has registered 49 tackles and 15 sacks through 15 games.
The 26-year-old edge rusher hasn't recorded a sack since Week 14 against the Baltimore Ravens. As a result, he's lost some ground to T.J. Watt and Micah Parsons in the Defensive Player of the Year race. Garrett will need to regain his form if the Cleveland Browns want to ruin Ben Roethlisberger's going away party.
Historically, the fifth-year defensive end has played well against Pittsburgh. He's recorded six sacks and 10 quarterback hits across seven games.
The Browns are officially out of playoff contention. Still, Garrett, Jadeveon Clowney, and company can play spoiler for their AFC North rivals.
The Steelers are 7-7-1 and must win out and get some help to secure a wild-card spot in the AFC playoffs. It starts with a win over Cleveland on Monday Night Football.
Winning out won't be an easy task for Mike Tomlin's squad. Pittsburgh has been up and down all season, thanks to inconsistent play from Big Ben and the offensive line.
If Ben Roethlisberger struggles once again, Myles Garrett will feast and send the potential future Hall of Famer off with a bang.
All stats courtesy of Pro Football Reference