Is Browns Running Back Nick Chubb the NFL's Most Underrated Player in 2019?
The Browns' season has been a disaster on many fronts. Baker Mayfield hasn't just struggled, he's been a bad quarterback all year. The receiving corps of Odell Beckham Jr. and Jarvis Landry, perhaps due to Mayfield's struggles, has not shown the promise that they had when they were brought together, and the team can't win any games. There is, however, a silver lining to this season of disappointment.

Running back Nick Chubb, who was entering his second season with the team coming into the season, is showing that he is one of the best quarterbacks in the NFL, but the team can't capitalize as he does so.

Nick Chubb's rise with the Browns
When the Browns drafted Nick Chubb in the second round of the 2018 draft, they thought he would be a complementary piece with Mayfield as the grand prize. He impressed scouts across the league during his four years at Georgia. During his stint as a Bulldog, he rushed for 4,769 yards, 44 touchdowns, and he did so on one of the premier teams in college football.

Chubb started his NFL career on the bench, but by midseason, he was the Browns' starting running back, and he wasted no time showing the NFL that he was going to be a force to be reckoned with. He rushed for just under 1,000 yards during his rookie season, scoring eight touchdowns in the process. With a potential superstar receiving corps and the number 1 pick of his draft, however, he got outshined in many circles going into 2019.
While Mayfield continues to struggle with his throwing and the receivers being largely wasted, Chubb has had one of the best seasons of any running back. He has led the NFL in rushing yards off and on throughout the season, coming in third behind Dalvin Cook and Christian McCaffrey after 10 games with 1,011 yards. He's also rushed for six touchdowns, 101.1 yards per game, and five yards an attempt.

Is Nick Chubb underrated?
The NFL conversation for the 2019 season has revolved around quarterbacks Lamar Jackson, Russell Wilson and Tom Brady, but Nick Chubb isn't brought up nearly as much. The modern sports world often equates individual talent with the success of a team, and the Browns cannot capitalize on the great season Chubb is having unless his teammates can rise to his level. Unlike a quarterback, the entire game isn't on Chubbs's shoulders.

Mike Jones of USA Today broke down why Chubb has been so underrated by NFL fans:

"He's overlooked because the rest of his team is such a disappointing mess, but Chubb is quietly having a very good season, and the Browns would be in even worse shape if it weren't for him," Jones wrote. "[…] What makes Chubb's production even more impressive is the fact that he's doing this despite running behind a line that has a lot of underperforming pieces."
Unfortunately for Chubb, he will be viewed as being as good as his teammates this season, but it doesn't take away from what he's doing.

Can the Browns fix it?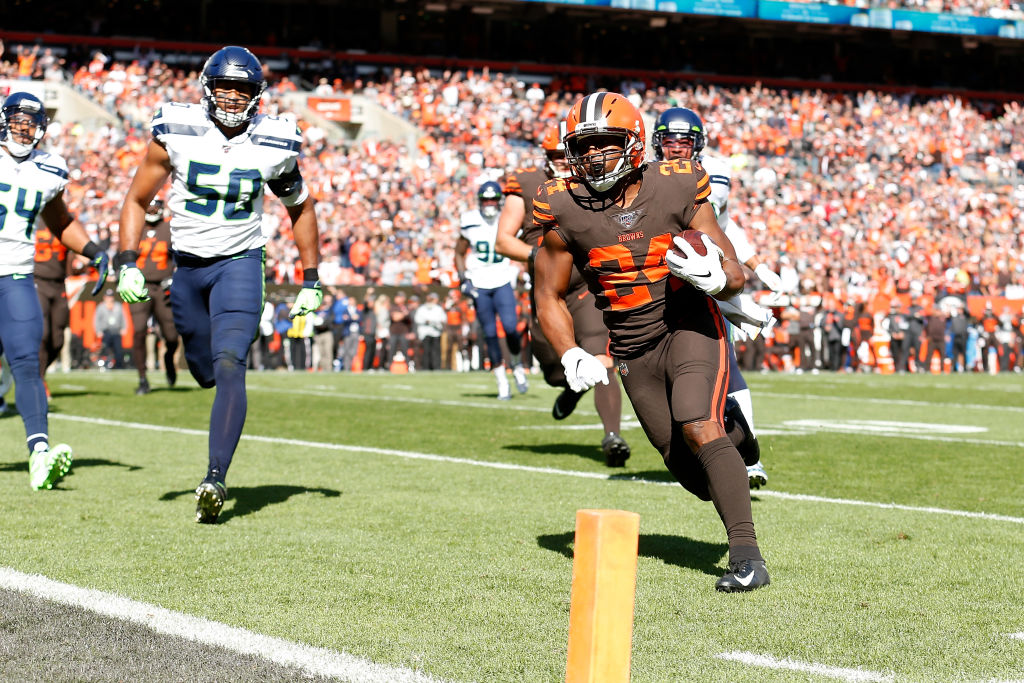 At 4-6 after a win against Pittsburgh, the Browns could theoretically sneak into a playoff berth if they win out, and with several games against many of the NFL's worst teams, that could be attainable. In only his second year, however, Chubb doesn't need to hang his hat on one season. Whether the Browns break everything up and start over next year or take the proper steps to improve what they already have, Chubb can have his time to shine in the future.

The sports world can be unforgiving for good players in unfortunate situations, but Nick Chubb has nothing to be ashamed of and is proving that he could be among the league's best running backs for many years to come. Unfortunately for him this year, his individual performance may very likely be the only thing that he can hang his hat on.