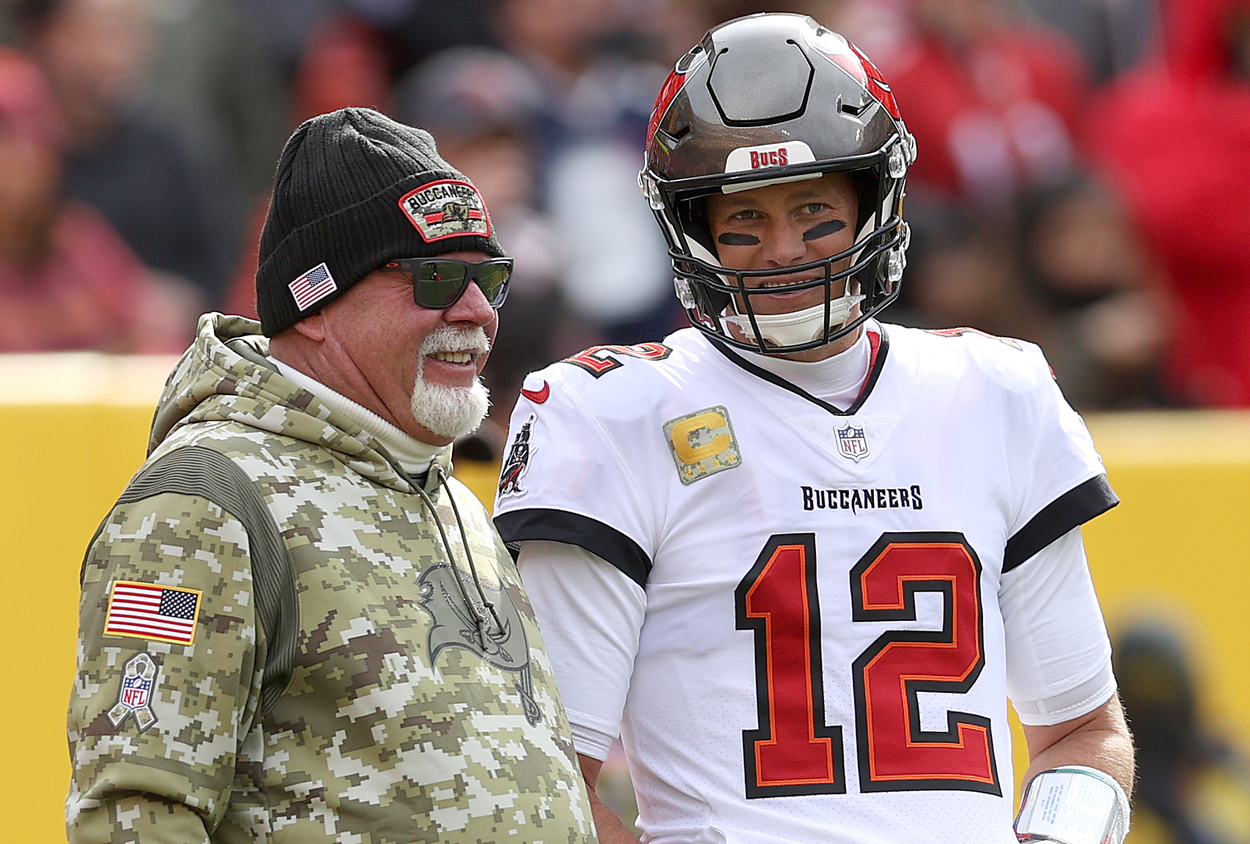 Bruce Arians Never Gave up Hope on Tom Brady Returning to the Buccaneers: 'Had Fingers Crossed the Last Few Weeks'
Tampa Bay Buccaneers head coach Bruce Arians says he never doubted Tom Brady's return, although he did have his fingers crossed.
Article Highlights:
Tampa Bay Buccaneers head coach Bruce Arians said he never gave up hope that Tom Brady would return
The veteran offensive mind said he had his fingers crossed in recent weeks
Arians would have been silly to write Brady off considering the quarterback's constant hints about unretiring
Tom Brady is back, and Tampa Bay Buccaneers head coach Bruce Arians is ecstatic and unsurprised.
The ecstatic part shouldn't surprise anyone. Brady played at an MVP level in 2021 and fought until the end in a crushing NFC Divisional Round loss to Matthew Stafford and the Los Angeles Rams. Although the seven-time Super Bowl champion will play the entire 2022 campaign at 45 years old, he's shown no signs of slowing down thus far.
As for being unsurprised? Arians trusted his gut, which proved to be the correct move.
Bruce Arians said he never gave up hope that Tom Brady would return for the 2022 season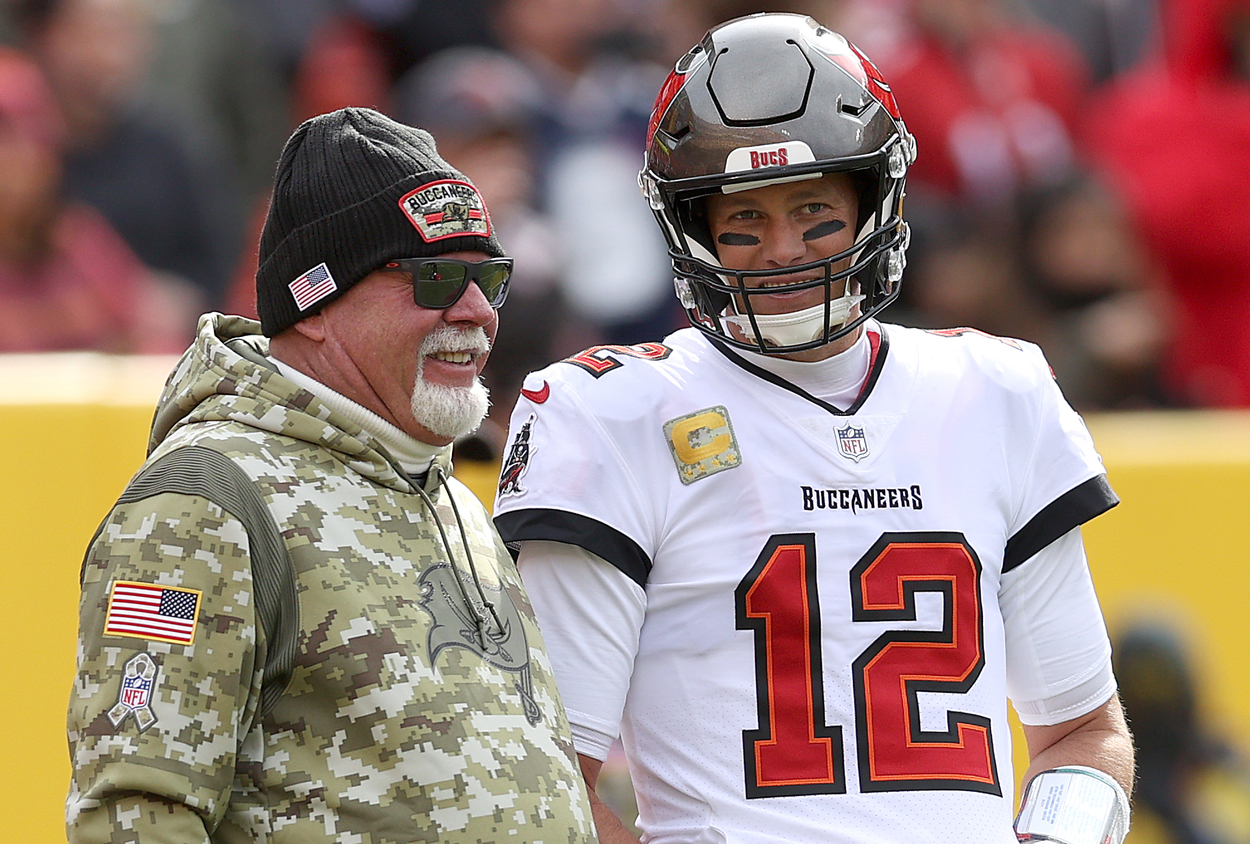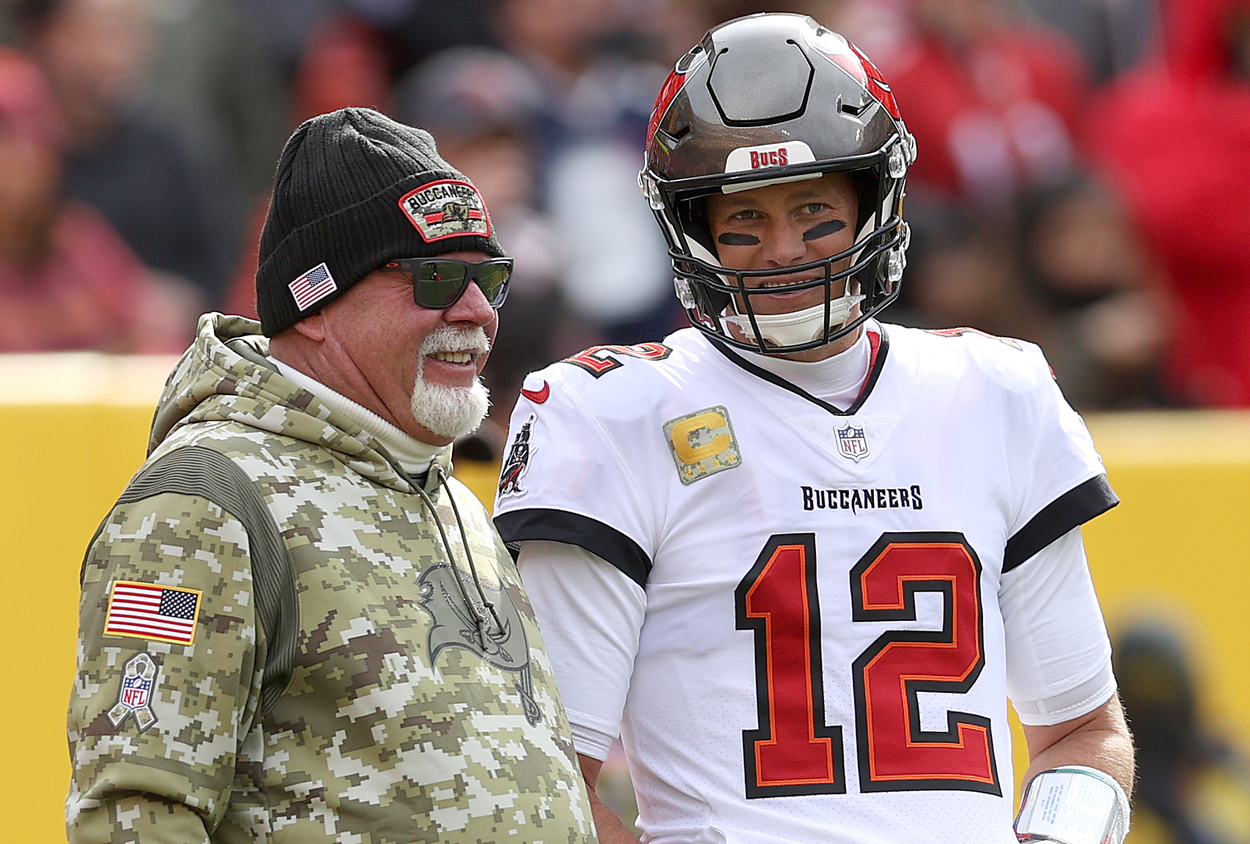 Less than a week after the Buccaneers' NFC Divisional Round loss, ESPN first reported Brady was expected to retire. The three-time NFL MVP confirmed the report three days later and, at 44 years old, prepared to walk away from the game he'd spent most of his life playing.
So much for that one.
Brady announced on Sunday, March 13, that he had "unfinished business" and intended on returning to the Buccaneers in 2022. Suddenly, Arians had his starting quarterback for next season, and the Super Bowl 55 champions became the immediate favorites to repeat as NFC South winners.
In the March 14 edition of Football Morning in America, NBC Sports' Peter King said he exchanged texts with Arians following Brady's announcement. The 69-year-old head coach admitted he wasn't fully surprised the legendary quarterback ended his retirement after 40 days.
"Always thought there was a chance. Slim, but had fingers crossed the last few weeks."

Bruce Arians
As of publication, Brady and the Buccaneers had not worked out a new deal for the 2022 season. Although he is under contract for over $10 million, he is expected to receive a pay raise in the coming weeks.
Arians would have been silly to give up hope considering Brady's constant wavering
There would have been far greater shock upon his unretirement if Brady had mainly stayed quiet throughout the last six weeks. Instead, football fans would be wrong if they compared his tweet to Michael Jordan's infamous fax.
Brady spent much of those 40 days teasing his intention of returning to the NFL. He told golf legend Fred Couples on Tuesday, March 1, he wished he "had a clear vision of what the future holds" and never sounded committed to retirement. Then came the viral video of soccer star Cristiano Ronaldo asking Brady, "You're finished, right?" on Saturday, March 12.
Rather than say, "I'm done," or something along those lines, Brady winced and appeared to mouth, "Probably."
Brady might as well have worn a giant sign attached to his TB12 hat with the words, "I'm coming back" written in neon lights, which begs the question of why he even retired in the first place. Had he changed his mind in October or even August, it'd be far more understandable than a 40-day stint in retirement.
Then again, could anyone really blame Brady if he quickly tired of needing to help clean around the house or hear Gisele Bündchen complain about him leaving his car parked too close to the grass?
Brady's return immediately raised the Buccaneers' 2022 expectations, as it should have
The Buccaneers almost certainly would have needed to find a quarterback if Brady hadn't unretired. With respect to veteran journeyman Blaine Gabbert and 2021 second-round pick Kyle Trask, neither are exactly inspiring options right now.
But, Brady is back, and the sports world certainly noticed. According to the Barstool Sportsbook's official Twitter account, the Buccaneers' Super Bowl odds sat at +2200 on Monday, Feb. 14. As of publication, the odds had increased to +800.
As for the NFC South, there is no reason to believe any of the other three teams stand a realistic chance at taking the Buccaneers down. The Atlanta Falcons appear to be a team in transition as they try creating a succession plan for Matt Ryan. Although the Carolina Panthers and New Orleans Saints are reportedly interested in acquiring Houston Texans quarterback Deshaun Watson, his presence likely won't be enough to propel either team over the Buccaneers.
Arians crossed his fingers, and the football gods listened to his prayers. We'll see how merciful they're feeling if the Buccaneers face Aaron Rodgers' Green Bay Packers in the playoffs next season.
How to get help: In the U.S., contact the National Council on Problem Gambling helpline at 1-800-522-4700. Text HOME to 741-741 to connect with a trained crisis counselor at the free Crisis Text Line.