Bruce Arians Reportedly Doesn't Want Jameis Winston Reunion on the Bucs
After Tom Brady retired from the NFL, he left the Tampa Bay Buccaneers with a massive void at quarterback. Now, general manager Jason Licht and head coach Bruce Arians could be looking to add some talent to the roster in free agency. Several veterans will be available, including former Bucs starter Jameis Winston.
Winston has spent the past two seasons with the New Orleans Saints but could be looking for a new opportunity in the 2022 offseason. Thanks to his familiarity with the offensive system, the veteran quarterback could be a seamless fit. However, Bucs reporter Rick Stroud says not so fast.
Bruce Arians unlikely to pursue Jameis Winston in free agency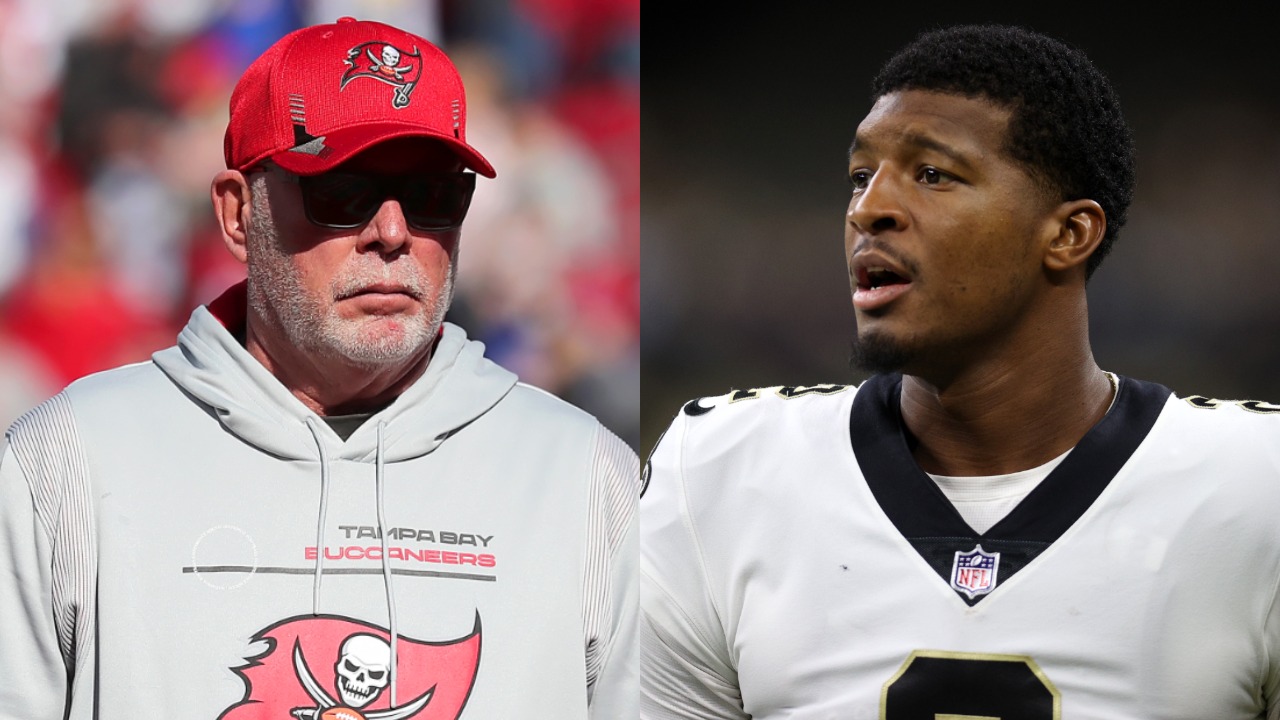 The Tampa Bay Buccaneers enter the 2022 offseason as one of the most quarterback-needy teams in the NFL. Replacing Tom Brady is an impossible task, but Bruce Arians and company should hope to be a playoff contender once again.
Journeyman Blaine Gabbert appears to be the frontrunner to replace Tom Brady under center. However, it's hard to consider him a lock to start in 2022. There could be other options available in the offseason, including Jameis Winston.
Rick Stroud of the Tampa Bay Times believes a Winston-Bruce Arians reunion is highly unlikely, though. He explained why in a recent interview on The Rich Eisen Show.
"I've asked that, and I think I would've picked up a lot more vibe," said Stroud. "I don't think Bruce Arians is fine with it. Been there, done that. There was a time they were 7-7 his one year here under Bruce. He [Winston] threw for 460-something two games in a row. Then they played Houston and Atlanta, and he threw both those games away. I saw on Bruce's face that day. He had reached his limit with Jameis Winston."
Stroud also wonders about the public perception if Winston returns and struggles early on. "What's everybody writing? What's everybody saying? Would he even have a chance here with the fan base? I just don't think they would go that direction."
Byron Leftwich reportedly would welcome the veteran QB back
While it doesn't sound like Bruce Arians will be campaigning to get Jameis Winston back in Tampa Bay, other members of the Buccaneers coaching staff might. Rick Stroud suggests offensive coordinator Byron Leftwich would love to reunite with the New Orleans Saints quarterback.
"There's two coaches there that would have him tomorrow," said Stroud. "One is Byron Leftwich, who wishes he had more than eight months with him. The other one is Clyde Christensen, his quarterback coach. Both those guys, I think, would be fine with Jameis. And Jameis is looking for work."
Winston played under Arians, Leftwich, and Christensen in 2019. The Florida State product threw for 5,109 yards, 33 touchdowns, and 30 interceptions while completing 60.7% of his passes. Even though he led the NFL in passing yards, he also led the league in interceptions.
Leftwich, a former starting quarterback himself, saw the potential in Winston in the short time he was around him. Unfortunately, the 28-year-old's inconsistency led to the Bucs moving on from him in 2020.
Winston seems like a better option than Blaine Gabbert
Jameis Winston's NFL career has been a bit of a roller coaster ride. He entered the league with a tremendous amount of hype after winning the Heisman Trophy in 2013. The Buccaneers selected the former Seminoles standout with the No. 1 overall pick in the 2015 NFL Draft.
Winston spent his first five seasons in Tampa Bay. He threw for 19,737 yards, 121 touchdowns, and 88 interceptions during that span. For all the criticism he received, the Bessemer, Alabama native had his fair share of good moments.
The New Orleans Saints signed Winston before the 2020 season. He played sparingly that season but got the chance to start in 2021. He threw for 1,170 yards, 14 touchdowns, and three interceptions in seven games. Unfortunately, a torn ACL cut his season short.
Not having the entire season under his belt could cap Winston's earning potential in free agency. Still, if Bruce Arians could put history aside, the veteran wouldn't be a bad fit in the current Bucs offense. Arians raves about Blaine Gabbert, but there's a reason he hasn't been a full-time starter since his first two seasons in Jacksonville.
Winston was having a decent season with fewer weapons in New Orleans. He could step in and give the Bucs a chance to win games. Gabbert hasn't proven he can do that.
If Tampa Bay wants to be a contender in 2022, all options must be on the table.
RELATED: Sorry, Bruce Arians: Blaine Gabbert Has No Business as Bucs' Starting QB