Bruce Arians Sounds Ready to Move on From Jameis Winston
In his fifth season in the NFL and the final year of his rookie contract, Jameis Winston led the league in passing yards with 5,109 and finished second in the league in touchdown passes with 33. These stats would be celebrated if it wasn't for the baggage that they came with; Winston also led the NFL in interceptions by a wide margin with 30, finished fourth in the league in sacks with 47, and sixth in fumbles with 12. The Tampa Bay Buccaneers missed the playoffs with a 7-9 record this season.
In a press conference on Monday after the 2019 regular season came to a close, Buccaneers head coach Bruce Arians wasn't too keen on defending his quarterback's issue with turnovers. On the contrary, he sounded more than willing to find a replacement for Jameis Winston this offseason to move the team in a different direction.
Arians doesn't hesitate to say the Bucs can win without Winston
When a reporter asked about Jameis Winston's struggle with turnovers, Bruce Arians admitted that he wasn't able to fix the issue this year. He said that this was something he was going to have to sit down and discuss with his quarterback and coaching staff this offseason.
"I think that's where you sit down with him, and you talk it all over," Arians said. "All of us collide, Byron [Leftwich], myself, Jameis [Winston]. And look at it, and evaluate it."
The head coach went on to say that the team would need to decide if Winston's upside was enough to win a championship with, or if his tendencies to turn the ball over were what was going to prevent the Buccaneers from becoming a contender. And then the bombshell came when Arians was asked if this team was good enough to win with another quarterback.
"With another quarterback? Oh yeah," Arians answered without hesitation. "If we can win with this one, we can definitely win with another one too. We're going to have a defense."
Tampa Bay has a decision to make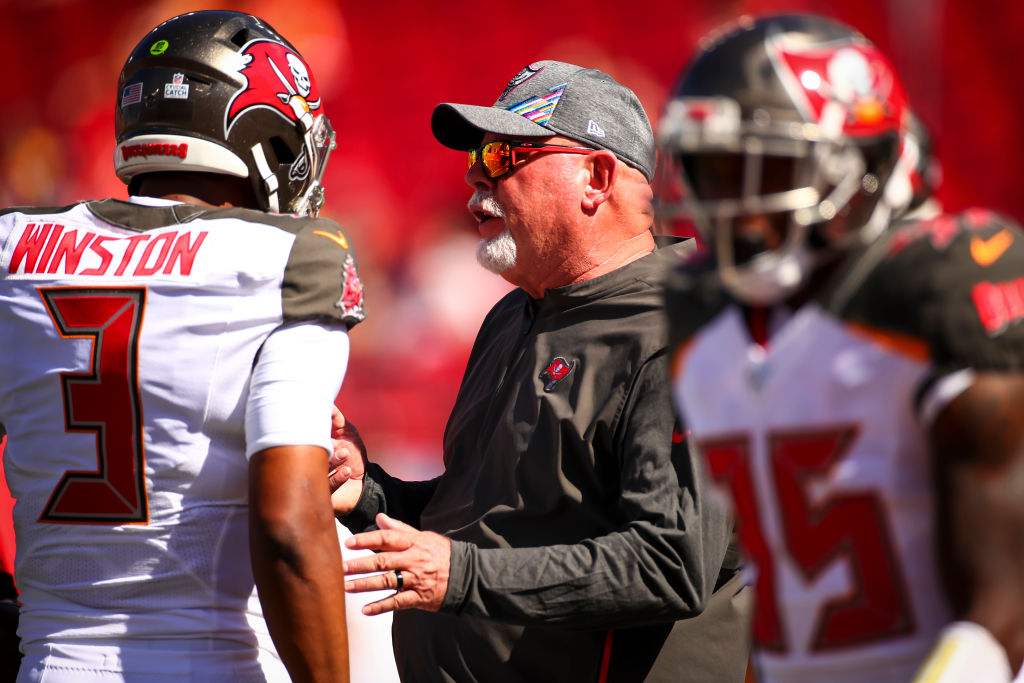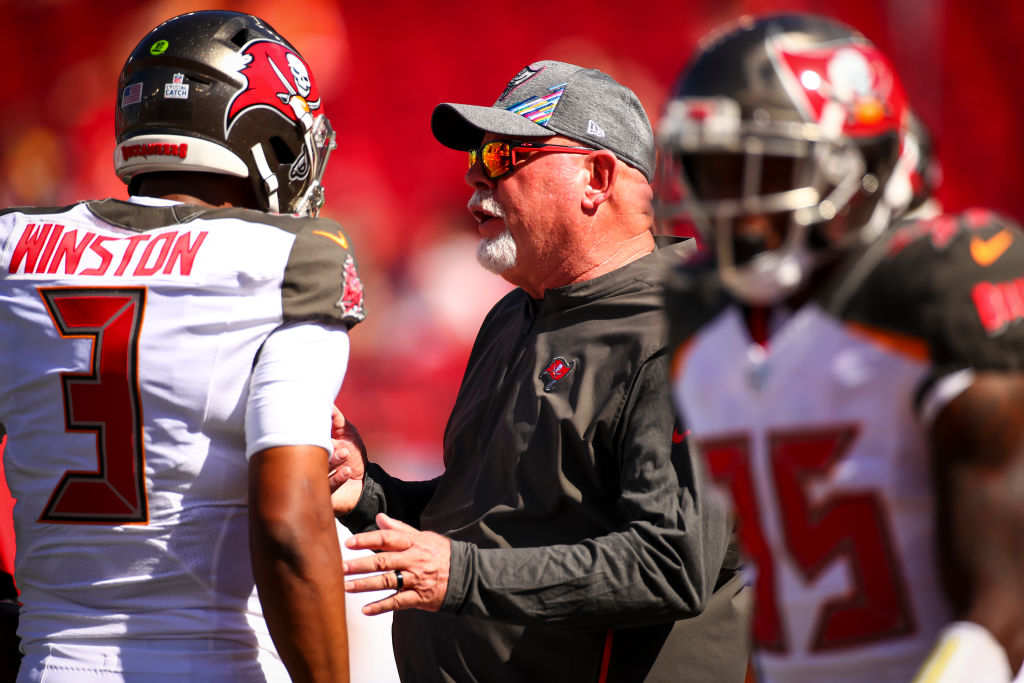 Bruce Arians said that the team had not made any decisions in regards to its future with Jameis Winston yet. Per a report from CBS Sports, the team has not had contract negotiations with Winston yet, so Arian's claims appear to be true.
"Free agency, who's available? What's behind Door No. 2? I think that's the first question," Arians said. "And as you evaluate for the draft, that's another question. Are they better than what you have? And then you evaluate, and that's when you make your decisions."
With over $85 million in projected cap space, Tampa Bay will have plenty of room to make a splash on a free-agent quarterback should one become available that the team believes is a better fit than Winston moving forward. The Buccaneers also have the 14th overall pick in a 2020 draft that has some promising quarterback prospects.
If Winston does return, he won't have as much leeway
If the Buccaneers aren't ready to part ways with Jameis Winston or to sign him to a long-term extension, they could opt to franchise-tag him in 2020 to have one more year with him to see if he improves in a second year under Bruce Arians. If Tampa Bay goes this route, Winston won't have as much leeway as he did this season.
"A big part of it was Blaine [Gabbert] getting hurt, and we had to find out if this was the franchise [quarterback]. We had to find out," Arians told the press.
With no legitimate options behind him on the depth chart and the desire to see what he was made of, Jameis Winston was given free rein to start every game even during times that he played poorly. Next season, Tampa Bay will turn its attention to trying to end a postseason drought that dates back to 2007. If Winston returns and isn't playing up to the standard the team needs him to, it sounds like Arians wouldn't hesitate to send him to the bench in 2020.