Bruce Arians Willing to Go to Extreme Measures to Keep the Buccaneers Healthy This Season: "There's League Rules and Then There's My Rules'
Bruce Arians is coming off a spectacular season with the Tampa Bay Buccaneers.
Arians joined forces with none other than Tom Brady during last year's offseason, and the pair had one crystal clear goal in mind: win the Super Bowl. The Buccaneers obviously accomplished said goal, knocking off Patrick Mahomes and the ever-stacked Kansas City Chiefs during Super Bowl 54. It's the first Super Bowl win for the Buccaneers since 2003 and the first for Arians as a head coach.
While some may be expecting Arians to ease off after such a successful season, that isn't the case, specifically when handling coronavirus (COVID-19) in the Buccaneers locker room.
Bruce Arians is playing zero games when it comes to the safety of his players this year
In 2020, the NFL imposed a very long list of strict rules regarding COVID. Players weren't allowed to go out when traveling for road games, outside visitors weren't allowed into hotels, and players were subject to frequent testing. Games were postponed and rescheduled if a player tested positive for COVID or an outbreak occurred within a team facility.
As vaccines have started to roll out and more and more NFL teams are reaching the 85% vaccinated threshold, restrictions around the league are starting to loosen up. However, for Arians and his Buccaneers, that is not going to be the case.
"For us, life is not normal," said Arians. "We're pretty much under the same protocols as last year, just because that's the way it is…Even this weekend, our guys are going to make a bunch of sacrifices that you have to make now. Families at the hotel, all those things are all out the window. There's league rules and then there's my rules."
Arians continued:
"They ain't going anywhere…I don't give a crap if they're vaccinated or not, they ain't going anywhere" (Sports by Tampa Bay Times).
Arians' strict COVID protocol was a big part of the Tampa Bay Buccaneers' success in 2020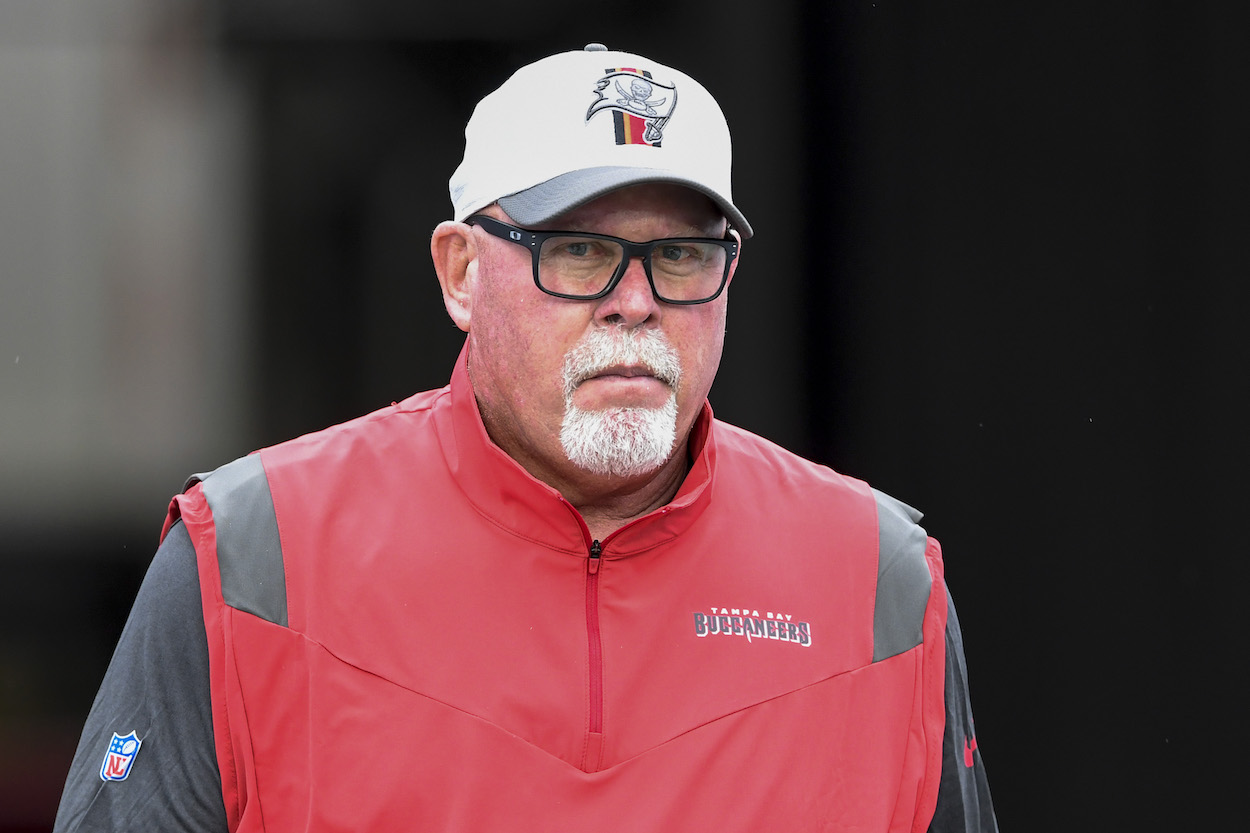 At the end of the day, there's only so much players and coaches can do when it comes to preventing personnel from contracting COVID. However, the strict rules Arians imposed last year played a role in the Buccaneers' great success.
Tampa Bay only had one starter miss time due to COVID in 2020 and wasn't forced to reschedule any games (Tampa Bay Times).
Arians' stern COVID-19 guidelines have been widely credited as a significant factor in the Bucs' championship run last season. Tailback Ronald Jones was the only starter to spend more than one game on the reserve/COVID-19 list, and the team wasn't forced to reschedule a contest.

Joey Knight, Tampa Bay Times
The Tampa Bay Buccaneers are set up to repeat this year
Arians and the Buccaneers are in an excellent position heading into 2021.
They were able to retain all of their key starters from last year's championship-winning team, and of course, Brady is still running the show at quarterback. They also added Virginia pass-rusher Joe Tryon via the draft, who has already made a few highlight-reel plays during the preseason.
Arians taking a strict stance on COVID protocols for the second year in a row makes sense. It helped keep the Bucs healthier than most teams last year, ultimately leading to a Lombardi Trophy.
Like Sportscasting on Facebook. Follow us on Twitter @sportscasting19.
RELATED: Tom Brady Criticizes Fellow NFL Players as Franchise Value Rises Around the League: 'NFL Players Are Ignorant'