Bryce Harper Has No Fear, Will 'Live Life' as Usual Amid Coronavirus
The COVID-19, commonly known as coronavirus, has quickly made an impact on sports. Numerous leagues at all levels have canceled games or adjusted access, both for media members and the general public. Philadelphia Phillies outfielder Bryce Harper is undeterred by coronavirus and said he plans to "just live" his life during the outbreak.
Coronavirus has already had an impact on all levels of sports
Multiple leagues and levels of athletic play announced cancellations or security changes because of the coronavirus this week. The University of Cincinnati canceled its spring football game, set for April 10. The Ivy League canceled all remaining athletic events Wednesday.
The NCAA announced Wednesday that both the men's and women's NCAA basketball tournaments will be played without fans.
Both the Korean Baseball Organization and Nippon Professional Baseball, Japan's major leagues, postponed the starts of their respective seasons. Major League Baseball has said it intends to play the remaining spring training games before Opening Day on March 26.
Instead of canceling their basketball tournaments, the Big West Conference and Mid American Conference plan to keep their events closed to the general public. The MAC's tournament is in Cleveland, while the Big West's is in California. Ohio governor Mike DeWine recommended indoor sporting events be held without any fans.
Bryce Harper isn't worried about coronavirus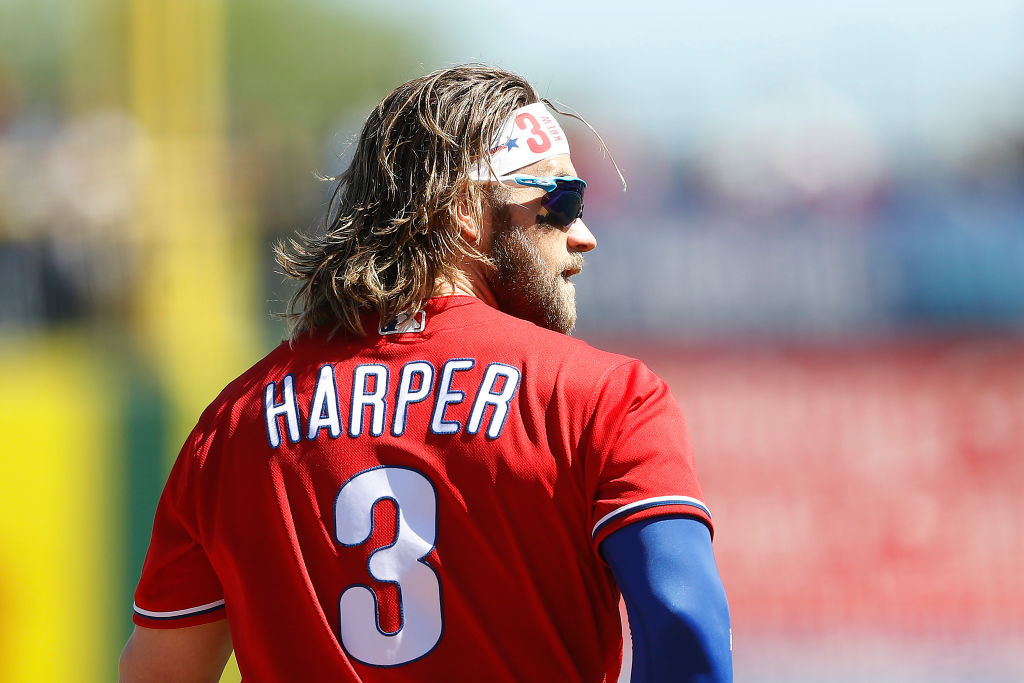 Long known for his unique personality and carefree attitude, Harper is remaining calm about the coronavirus. Harper told reporters Tuesday he isn't afraid of the virus.
"I live, man," Harper said. "I don't worry about a disease or a virus. I live my life. I'm doing everything the same. I'm shaking people's hands, I'm high-fiving. I'm healthy. I'm 27. The people that are affected, it's a lot of older and maybe some young, as well. But I just live my life."
Harper said he hasn't changed any aspects of his life so far and went grocery shopping last week. Despite concerns about people making too much contact with one another, Harper also offered to hug a journalist.
Coronavirus-related changes are coming to Major League Baseball
Major League Baseball joined the NBA, NHL, and MLS in restricting locker room access Monday. Only players and essential personnel are allowed to enter locker rooms and clubhouses. Harper was required to speak with reporters outside the Phillies' clubhouse and keep a distance of about eight feet.
"I think we're all in uncharted territory," Harper said. "We've never seen this. We've never done this. I think everybody is trying to do what is right, I guess you could say."
The Seattle Mariners are working with Major League Baseball to find a new home for their first seven games. Washington governor Jay Inslee announced an order restricting large group events through March.
If the Mariners are unable to host Opening Day on March 26 in Seattle, the team may instead play the Texas Rangers at the Mariners' spring training complex in Peoria, Ariz., according to The Athletic.
Yankees catcher Gary Sanchez tested positive for the flu Tuesday. Sanchez was not tested for the coronavirus and will remain away from the team until Friday.The Athletic reported Tuesday that Major League Baseball is making contingency plans so the Mariners can begin their season on time.