MLB
3 Reasons the Phillies Should Worry About Bryce Harper (And 3 Reasons They Shouldn't)
The Bryce Harper era in Philadelphia is already off to a roller coaster start. After making headlines with his record-breaking contract during spring training, many predicted Harper to have an immediate superstar impact on his new squad. His play on the field, however, has been sub-par when compared to the $330 million contract that is one of the largest in baseball history.

On the one hand, the concerns are valid, and there is no guarantee that he will recover. On the other hand, however, there's still time to right this ship.
Why the Phillies should worry about Bryce Harper
Harper struggled to hit last year
If it held, Harper's .235 batting average through 50 games would be the worst of his career, and his .367 on-base percentage would be his worst since 2014. He is hitting home runs at a relative pace to his past few years, but he is struggling to reach base when he does not hit it out of the park. Without injuries, there is cause for worry if he does not soon right this ship.
Whether it is mental, physical, or somewhere in between, a star in his mid-twenties slumping this bad could mean that the wear and tear of the baseball life are wearing on him early. Time will tell if this is the case.

He won't be easy to move
In a worst-case scenario where Bryce Harper doesn't work out in Philadelphia, his contract will not be an easy one to move. Sure, a team with deep pockets, such as the Dodgers or Yankees, may take on a large chunk of the deal, but if they don't want to, the Phillies could be forced to either move him for a fraction of his worth or take the entire loss. On top of the contract, Harper has a reputation for being hot-headed, and that could wear on the team if he isn't performing.

This is absolutely a worst-case scenario move that could be rendered meaningless if Harper can get back to the superstar form he made his name with.

His fielding is concerning
Harper's defensive numbers were extremely concerning going into his free agency period, and while they are getting better, with Harper even having some highlight-worthy plays throughout the season so far, you cannot necessarily say that they are great. His defensive Wins Above Replacement is still a negative (0.1), but it's not historically bad by any stretch.
Sub-par fielding can be forgiven if the offense is there, but if neither is justifying a deal, then it is a definite concern.

Why the Phillies shouldn't worry
Slumps happen
Harper isn't the first player to have a sub-par season or two. With many players having careers that last decades, they are bound to have a year or two where, for whatever reason, they just can't find their bat or catch the ball. Harper's slump is fine if it ends up being just that.

Harper is a former MVP and is a superstar for a reason. Even if this year doesn't end the way he wants it to, don't be surprised if he returns to form next season.

He's still young
While Harper slumping at such a young age is a legitimate concern, it is worth taking a step back and realizing that he could figure it out and still have many years as a superstar talent. Many slumps are mental instead of a sign of regression, and even if they last a long time, players often break them with the smallest display of brilliance.

It's still early in the season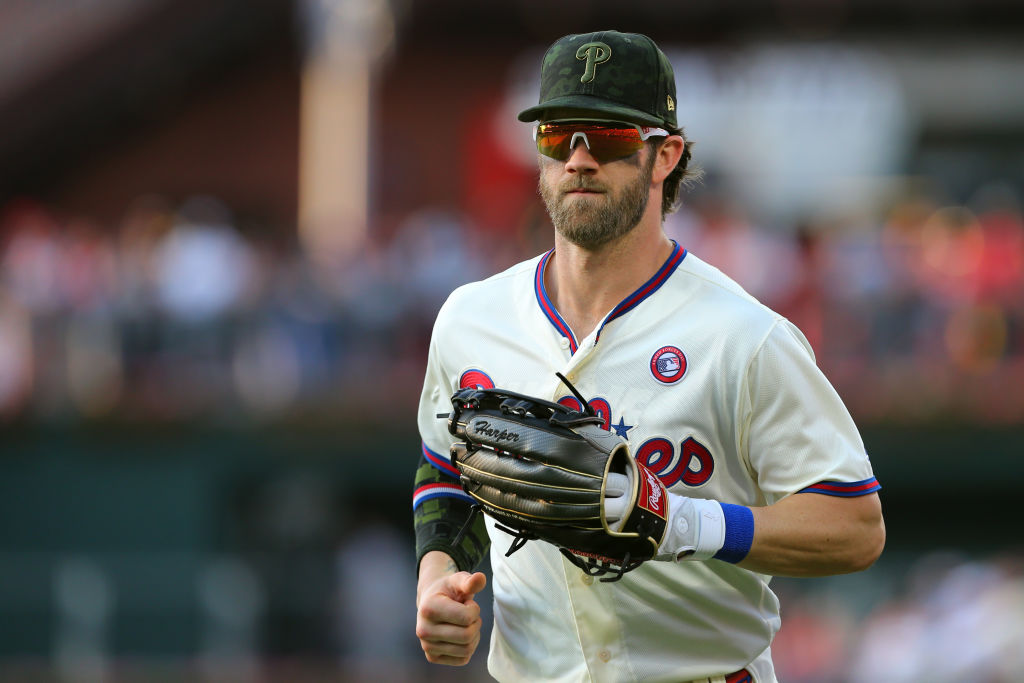 As we talk about Bryce Harper, his slump, and what it means for his future, we have to remember it is less than a third of the way through the first season of a 13-year contract. It's 1/39th of the overall deal he signed with the Phillies.

Maybe he doesn't figure it out and it becomes one of the worst deals in history. However, there is also a chance that he is still getting used to a new team, a new field, and a new role right now. Getting comfortable takes time, and there is a good chance we are laughing at this in years to come.

Even if Harper struggles throughout the 2019 season, he impacts the Phillies in other ways both on and off the field. His cache helps sells tickets and merchandise, and as a lightning rod for attention, he can take some of the pressure off his teammates.