Bryce Harper Should Be Ashamed He Was 'Hurt' the Nationals Offered Him $244 Million
Bryce Harper can't get his divorce with the Washington Nationals off his mind even all of this time later.
Over a year after Harper signed with the rival Philadelphia Phillies, the six-time All-Star revealed how upset he was with the Nationals' contract offer.
The problem, though, is that Washington offered Bryce Harper a massive contract. Harper's comments about being "hurt' by a $300 million contract are offensive and inexcusable.
Bryce Harper thought the Nationals did him wrong in free agency
Like LeBron James before him, Bryce Harper was the subject of free-agency talks for years. Harper entered the open market after a mixed 2018 season and eventually signed a 13-year, $330 million contract with the Philadelphia Phillies.
Bryce Harper had long said he hoped to stay with the Washington Nationals. To their credit, Washington offered Harper a 10-year, $300 million contract before the 2018 season ended.
Harper and agent Scott Boras declined the Nationals' offer. In a recent interview on Barstool Sports' "Starting 9" podcast, Harper admitted he felt "hurt' by the Nationals' offer.
"I thought we had a really good meeting. I walked out of there and said, 'Scott [Boras], get it done.' I got back an offer and it hurt. So we kind of just turned the page on to the new year."
Bryce Harper hit .260 with 35 home runs and a career-high 114 RBIs last year. Philadelphia finished 81-81 and out of the playoffs, while the Nationals won the World Series.
Harper's comments are ridiculous and insulting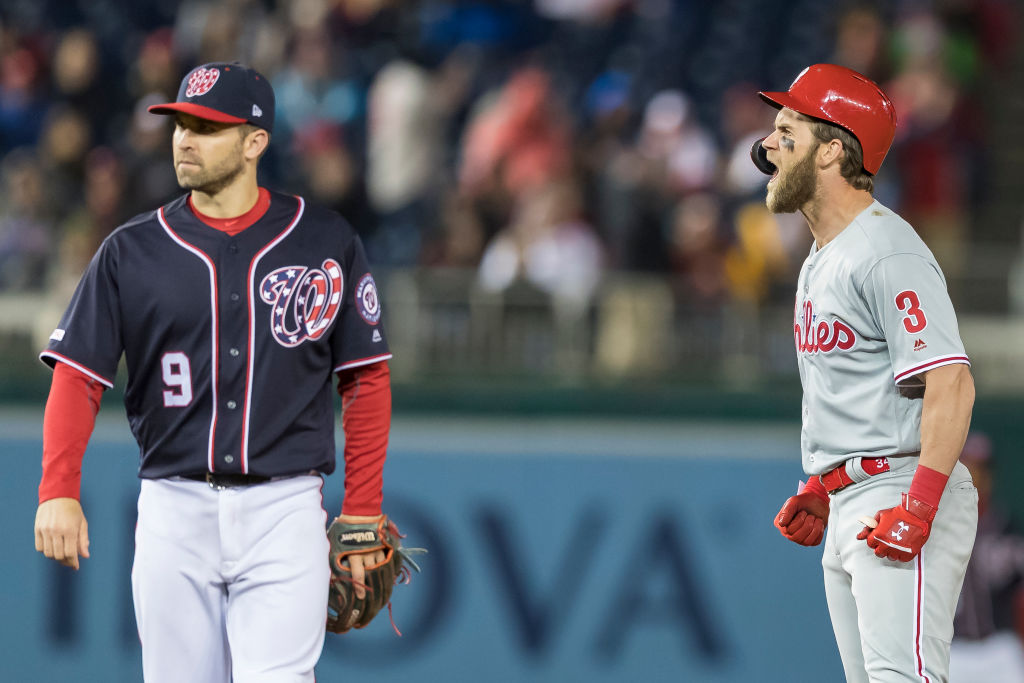 The first problem with Bryce Harper's comments is the timing. Harper's complaints about the Nationals not offering enough were extremely tone-deaf and ignorant.
Over 33.5 million Americans are currently unemployed, according to CNBC, and Harper felt "hurt" about potentially earning $244 million?
It is also worth noting how much the Nationals put on the table in their negotiations with Harper. The Nationals offered $300 million — although a sizable chunk would come in deferred money — for an inconsistent and injury-prone player.
The Nationals' offer came when Harper closed his Washington stint with a down year. Harper was worth 1.5 Wins Above Replacement in 2018 according to Baseball-Reference's WAR system.
Harper also was worth 1.5 WAR in 2016.
In the era of advanced analytics, a player who posted a WAR that low when playing over 140 games each year isn't worth record-breaking money.
Bryce Harper needs to grow up
Bryce Harper had every reason to believe he deserved more money. He doesn't turn 28 until October and is a fearsome hitter when healthy.
But enough is enough with Bryce Harper. Even after the Phillies gave him more money than he deserved, Harper has continued acting immaturely and it needs to stop.
This isn't the first time in recent months Harper said something extremely questionable. Harper told reporters in March he planned to continue "doing everything the same" despite the Coronavirus outbreak.
The NBA delayed its season a day after Harper's comments. Baseball shut down two days later.
Bryce Harper is the fun-loving puckish rogue that Major League Baseball needs. But there is a line between find and immature, and Harper needs to find that line before it's too late.