Bryce Harper's New Job Could Make Him Even Richer Than He Already Is
Bryce Harper is one of the most exciting players to watch in the MLB. His play, especially during his time on the Washington Nationals, has also made him one of the wealthiest players in the league. Now, Harper has a new job in addition to playing baseball for the Philadelphia Phillies. It could ultimately make him even richer than he already is too.
Bryce Harper has been exciting to watch during his MLB career
RELATED: In 2019, Bryce Harper Made Close to $45,000 For Every Time He Stepped to the Plate
After making his debut at only 19 years old, Bryce Harper has been one of the most exciting players to watch in the entire MLB. Harper earned the Rookie of the Year award in his first season in 2012. He ultimately hit .270 for the Washington Nationals to go with 22 home runs and 59 RBIs. Harper also earned an All-Star selection that season.
Harper was then an All-Star again in 2013 as he hit .274 to go with 20 home runs and 58 RBIs. Then, after only appearing in 100 games in 2014, Harper had the best season of his career in 2015. Harper hit .330 that season. He also led the National League with 42 home runs in 2015. That's in addition to leading the NL in on-base percentage, slugging percentage, and runs scored with 118. This all led to Harper winning the NL MVP award that season. 
From 2015 through 2018, Harper earned four straight All-Star selections. In 2019, Harper played for the Philadelphia Phillies. He went .260 at the plate last season to go with 35 home runs and 114 RBIs. 
He is already a very rich man
RELATED: Bryce Harper Should Be Ashamed He Was 'Hurt' the Nationals Offered Him $244 Million
During his time with the Nationals, Harper earned an estimated $52.35 million, according to Spotrac. However, in 2019, Harper agreed to a 13-year, $330 million deal with the Philadelphia Phillies, according to Bleacher Report. So, after the 2031 season, Harper will have earned over $382.3 million while playing baseball, according to Spotrac. He earned an estimated $30 million with the Phillies in 2019.
Due to COVID-19, his pay this year could be slightly less than the $26 million he is supposed to get, but it should not affect his career earnings too much. Because of all of the money that Harper has made so far in his career, Harper's net worth is an estimated $70 million, according to Celebrity Net Worth.
He is clearly already very rich.
Harper now has a new job that will make him even richer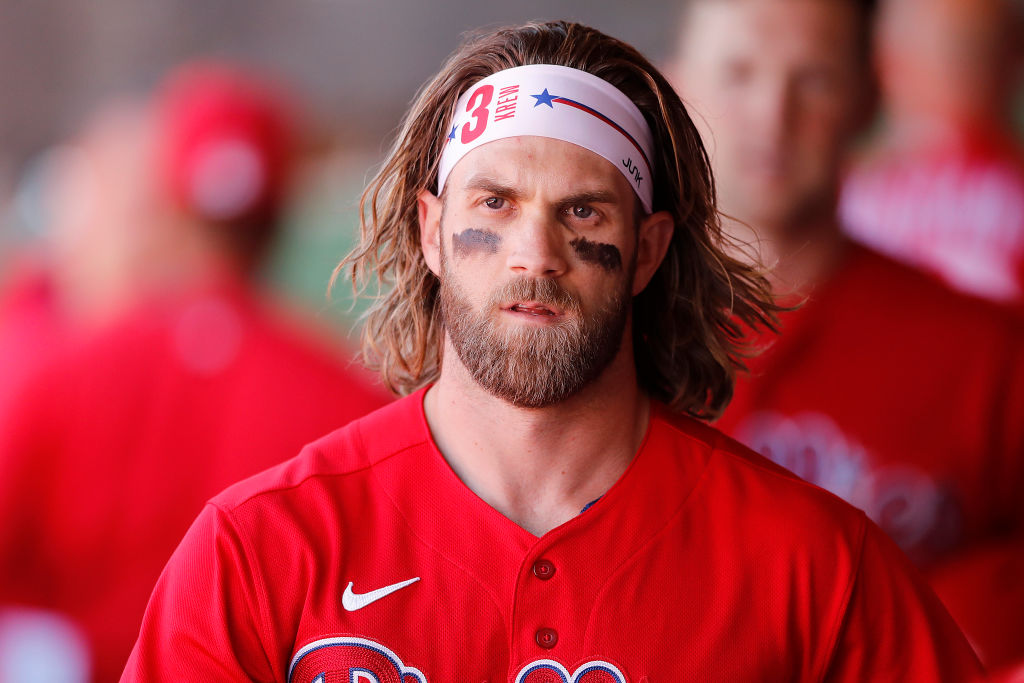 RELATED: How Is Bryce Harper a Winner in the Houston Astros Scandal?
With the MLB season being suspended, almost every day during May, Bryce Harper has streamed himself playing Fortnite on Twitch, according to NBC Sports Philadelphia. Now, he is taking his gaming career seriously.
Loaded, a gaming management company, agreed to a deal with Boras Corporation, according to Sports Business Daily. Boras Corp. is Scott Boras' agency, according to Forbes. Boras is Harper's agent. The two agencies will work together to build out Harper's gaming presence, according to Sports Business Daily.
Loaded also represents the popular professional gamer, Tyler "Ninja" Blevins, NBC Sports Philadelphia reported. Blevins is worth an estimated $20 million, according to Celebrity Net Worth.
"Baseball will always be my number one priority," Harper said in a release, according to NBC Sports Philadelphia. "but gaming gives me a fun competitive outlet to uniquely connect with friends, peers and fans. This partnership will help further fuel my passion for gaming, allowing for opportunities to grow my community and streaming presence."
Obviously, playing baseball will be Harper's No. 1 job and No. 1 priority. With how talented he is at swinging a bat, Harper is going to make a lot more money doing that compared to playing video games. Seeing how wealthy Ninja has become as a professional gamer, though, proves that Bryce Harper can become even richer than he already is by also having a gaming career.
All stats courtesy of Baseball Reference