Bryce Young Won the Heisman Trophy, but Cincinnati's Ahmad 'Sauce' Gardner and Coby Bryant Could Steal His Thunder
Despite an up-and-down season where they didn't look like their typical dominant selves, the Alabama Crimson Tide are back in the College Football Playoff, and quarterback Bryce Young is a major reason why they are there.
Young has had a terrific season thus far and recently won the Heisman Trophy. But his biggest test is still ahead of him, as the Tide will take on the Cincinnati Bearcats in the CFP semifinals. Sure, the playoffs are always challenging given the greatness of the elite football teams that play in it, but Cincinnati's star award winners could make things pretty difficult for Young.
So who are Cincy's award winners? They are Ahmad "Sauce" Gardner and Coby Bryant, and they are the two best corners in college football.
Bryce Young has had a Heisman season for the Alabama Crimson Tide
It was unclear whether Alabama was a true playoff team for most of the season. The Crimson Tide lost to a mediocre Texas A&M squad and struggled with other average to below-average teams in LSU and Auburn.
But through all their struggles, Bryce Young and his talent have never been a concern.
Young has dominated opposing defenses this year, throwing for 4,332 yards, 43 touchdowns, and four interceptions. He has also had massive games, like against Arkansas, where he completed 31-of-40 passes for 559 yards and five touchdowns. He has easily been the best quarterback and player in the country this season, and that's why he won the Heisman Trophy.
But now, Young could have his hands full in Bama's College Football Playoff semifinal against the Cincinnati Bearcats. It could be his toughest test of the season.
Cincinnati's Ahmad "Sauce" Gardner and Coby Bryant are the best corners in college football
Not many teams can confidently say they have the best cornerback in college football, and only generational teams can say they have the two best. But the latter has been the case for Cincinnati this year.
Quarterbacks actually fear junior Ahmad "Sauce" Gardner, as they simply don't throw the ball his way. He has only allowed 117 yards all year, and he has never allowed a touchdown pass in his three years at Cincinnati, even with his 1,000 career snaps in coverage.
Overall this season, Gardner has racked up 35 total tackles, 3.0 sacks, three interceptions, and a forced fumble. He also returned a blocked field goal 60 yards for a touchdown during a game against East Carolina.
So far, Sauce has earned first-team All-American honors from several different organizations, and he's expected to become a consensus All-American. He also won the American Athletic Conference's Defensive Player of the Year Award. 
But even with his stellar play, Gardner didn't earn the recognition for the nation's best defensive back. That went to his teammate Coby Bryant.
Bryant won the Jim Thorpe Award, which is given to the country's top DB. He has 41 total tackles this season, three interceptions, 14 passes defended, and three forced fumbles.
None of this sounds great for Bryce Young.
Ahmad "Sauce" Gardner and Coby Bryant could steal Bryce Young's thunder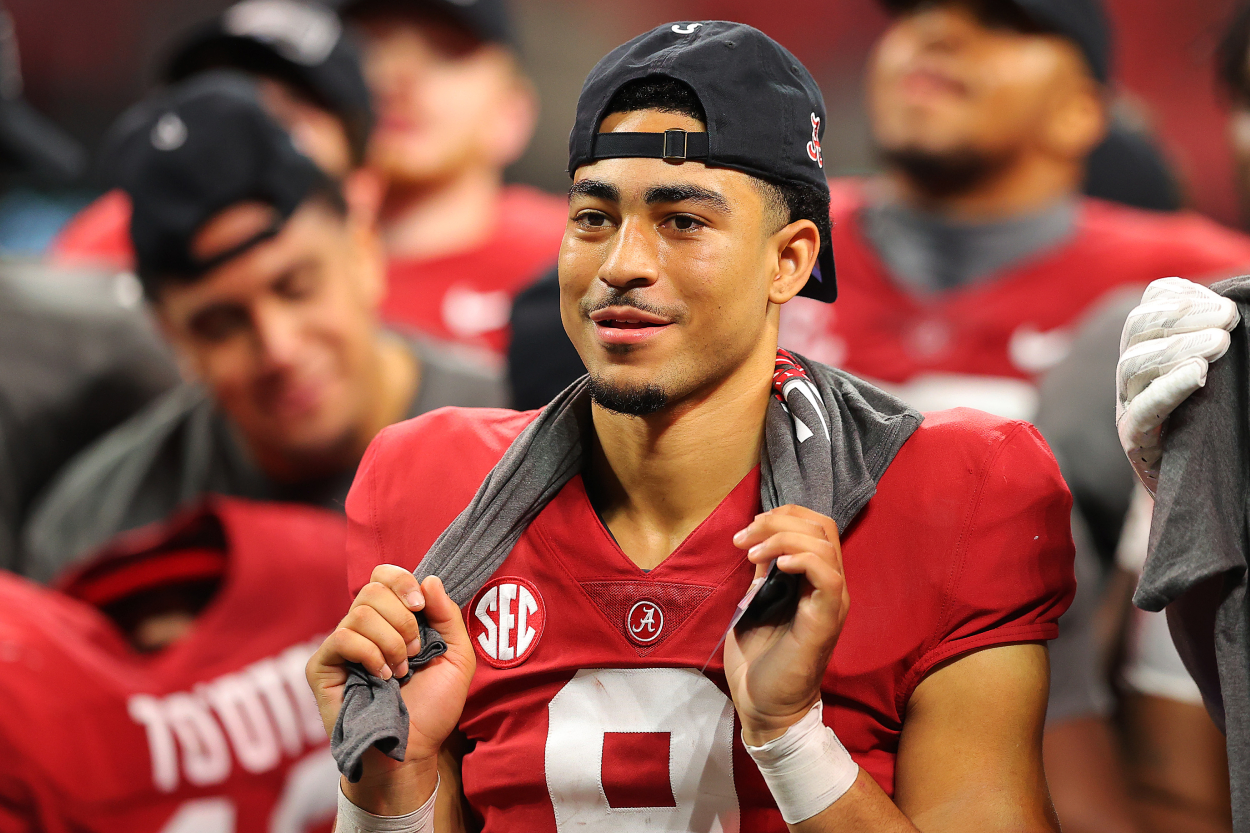 Bryce Young and wide receiver Jameson Williams have had a stellar connection all season. Williams has caught 68 passes for 1,445 yards and 15 touchdowns. But he will likely line up across from Sauce Gardner in the semifinals, who, again, has only allowed 117 yards all season. 
Something has to give.
If Young wants to get the ball to Williams against Cincinnati, he will likely have to throw on an NFL cornerback and a projected first-round draft pick in Gardner. That sounds hard enough.
But he will also be without his next-best receiver in John Metchie, who's down with an injury. So, if he can't throw it to Williams, Young will not only have to settle for someone like Slade Bolden or tight end Cameron Latue, who both have under 340 receiving yards this season, but he will also have to try to throw on the nation's best defensive back in Bryant.
How will that even work?
All in all, Bama head coach Nick Saban will likely have Bryce Young ready for the Bearcats, but Cincinnati's cornerback talent might just be too much and could make it a long day for the Heisman winner in the CFP.
Stats courtesy of Alabama athletics and Cincinnati Athletics