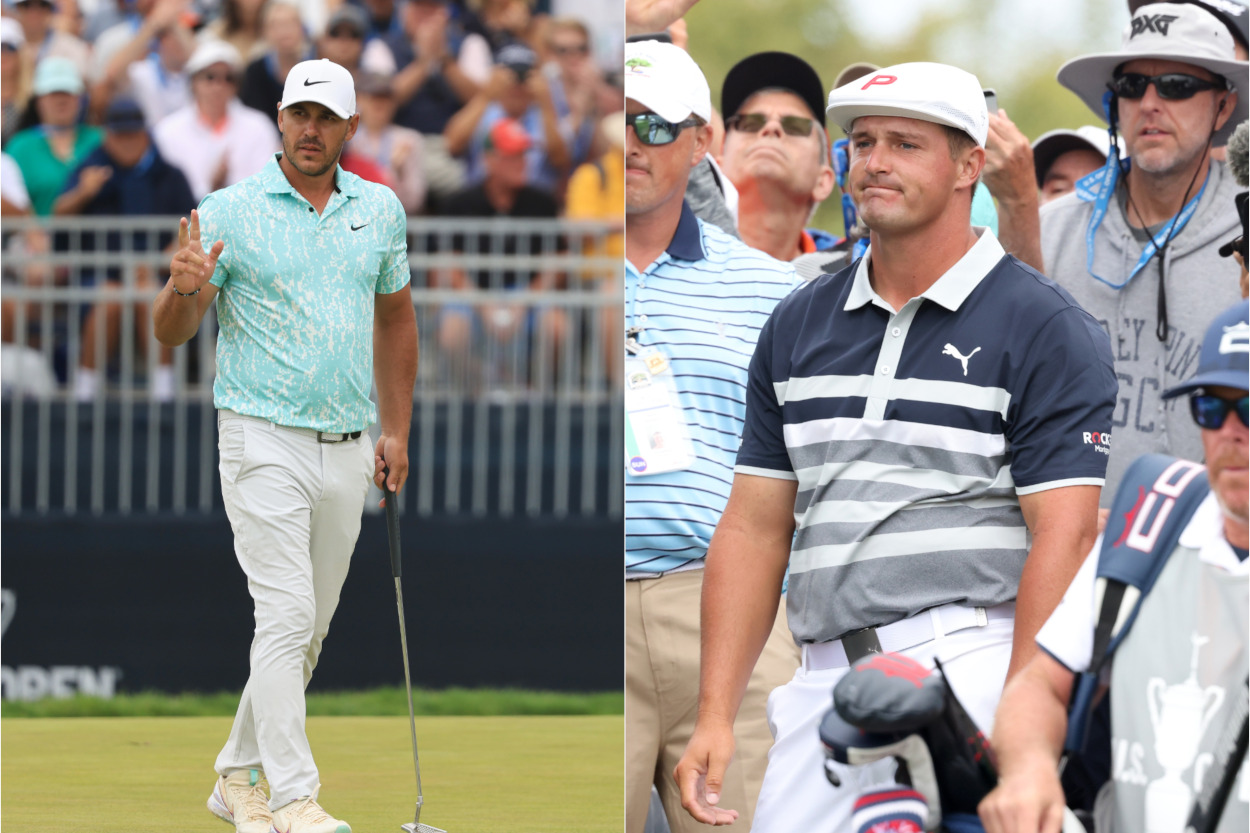 Bryson DeChambeau-Brooks Koepka Rivalry Missing One Key Piece
Golf has had some additional entertainment in recent weeks as Brooks Koepka and Bryson DeChambeau started jousting on social media. They definitely have a feud brewing, but is it accurate to call it a rivalry at this point?
Thanks to the USGA and the vagaries of weekend pairings in professional golf, we were denied an opportunity to see Bryson DeChambeau and Brooks Koepka take their beef to the golf course. The pair has done plenty of talking over each other since a video of Koepka reacting to a DeChambeau comment surfaced at the PGA Championship.
DeChambeau had a rough back nine in Sunday's final round at the U.S. Open. He came off the green at the ninth hole at 5-under for the tournament and holding a one-shot lead. Nine holes and 44 strokes later, DeChambeau was off the first page of the leaderboard. And the second. The 8-over performance over the final nine holes dropped him into a tie for 26th place. It also cost him a chance to go back-to-back in the USGA's signature event.
What happened to DeChambeau on Sunday at Torrey Pines? That depends on who's talking.
Did Bryson DeChambeau have a meltdown?
Golf is a frustrating game at times. An inch or less can be the difference between a perfect shot and an approach caroming off the green into a hazard. But how much depends on tough breaks, and how much is player error? That is where the perspective splits wildly.
Bryson DeChambeau insists he didn't have a meltdown over the final nine holes in San Diego. He claims his 8-over 44 over that stretch was simply a matter of him not getting the breaks. While not trying to spin in circles doing the math on the probability all of what happened was terrible luck, DeChambeau was quite insistent, per ESPN.
"I didn't get off the rails at all. It's golf. People will say I did this or did that, and it's just golf. I've had plenty of times where I hit it way worse than today, and I won. It's just one of those things where I didn't have the right breaks happen at the right time. I could have easily gotten to 7-, 8-under today. I just wasn't fully confident with the golf swing and just got a little unlucky in the rough and a couple of other places."

Bryson DeChambeau
If by "a couple of other places" you are referring to "the golf course," then sure, Bry, just a couple of bad breaks derailed the whole thing. But the tournament's leaderboard does at least bring up a question regarding the Brooks and Bryson Show.
Is a rivalry actually a rivalry if only one side is doing the winning?
Brooks Koepka has had the better of it on the course
As DeChambeau staggered to the finish Sunday, Brooks Koepka completed a nifty 2-under 69 in the final round and finished in a tie for fourth place. The four-time major winner is a two-time U.S. Open champion and a four-time major winner. DeChambeau has his single major. That Koepka went back-to-back at the U.S. Open in 2017 and 2018 probably sticks in DeChambeau's craw a bit as well.
But as Golf Digest's Daniel Rapaport pointed out on social media, the Koepka-DeChambeau feud is one thing. But a rivalry isn't it. The two players have been in the field together at 17 majors. Sunday made it 15 times Koepka has finished ahead of DeChambeau in those 17 tournaments.
That's not a rivalry. No, that's New York Yankees-Boston Red Sox from the 1920s through the rest of the 20th century. Or the Miami Dolphins winning all 20 meetings against the Buffalo Bills in the 1970s.
What started the Koepka-DeChambeau feud?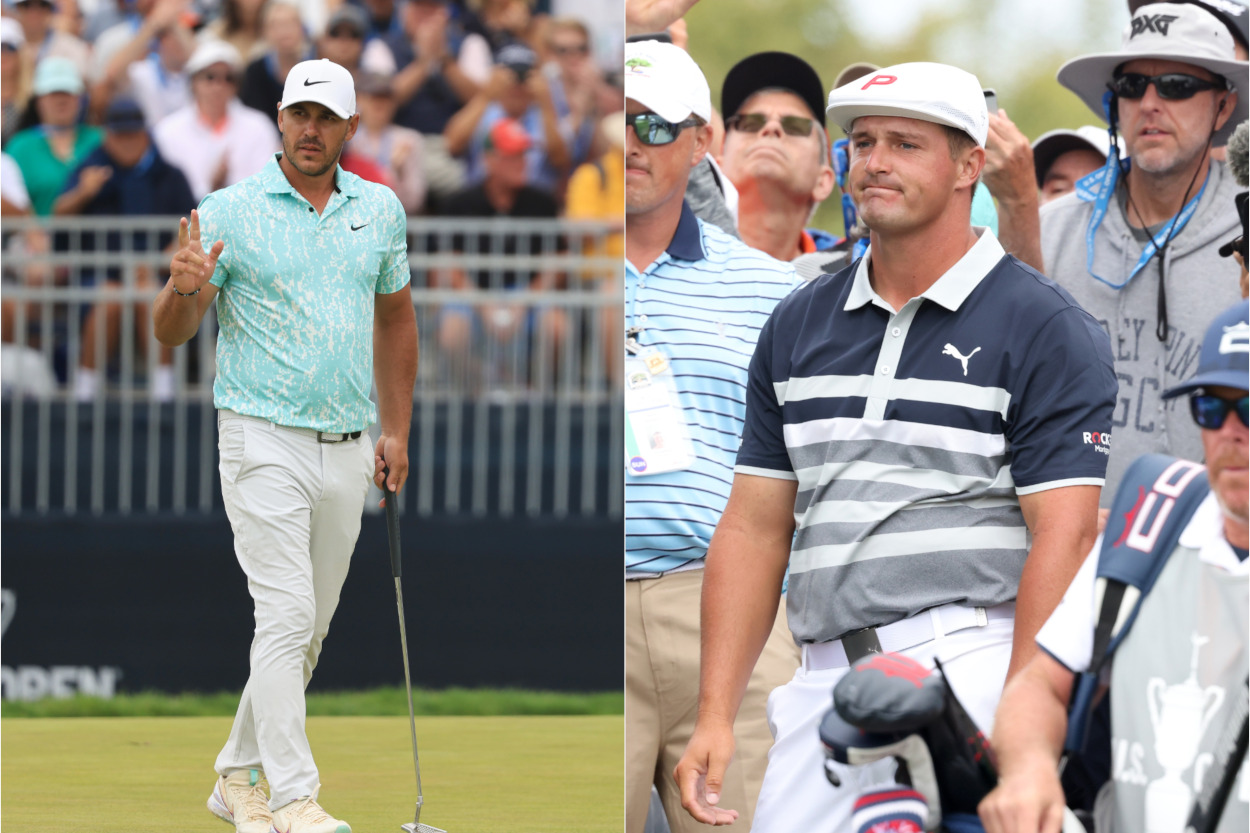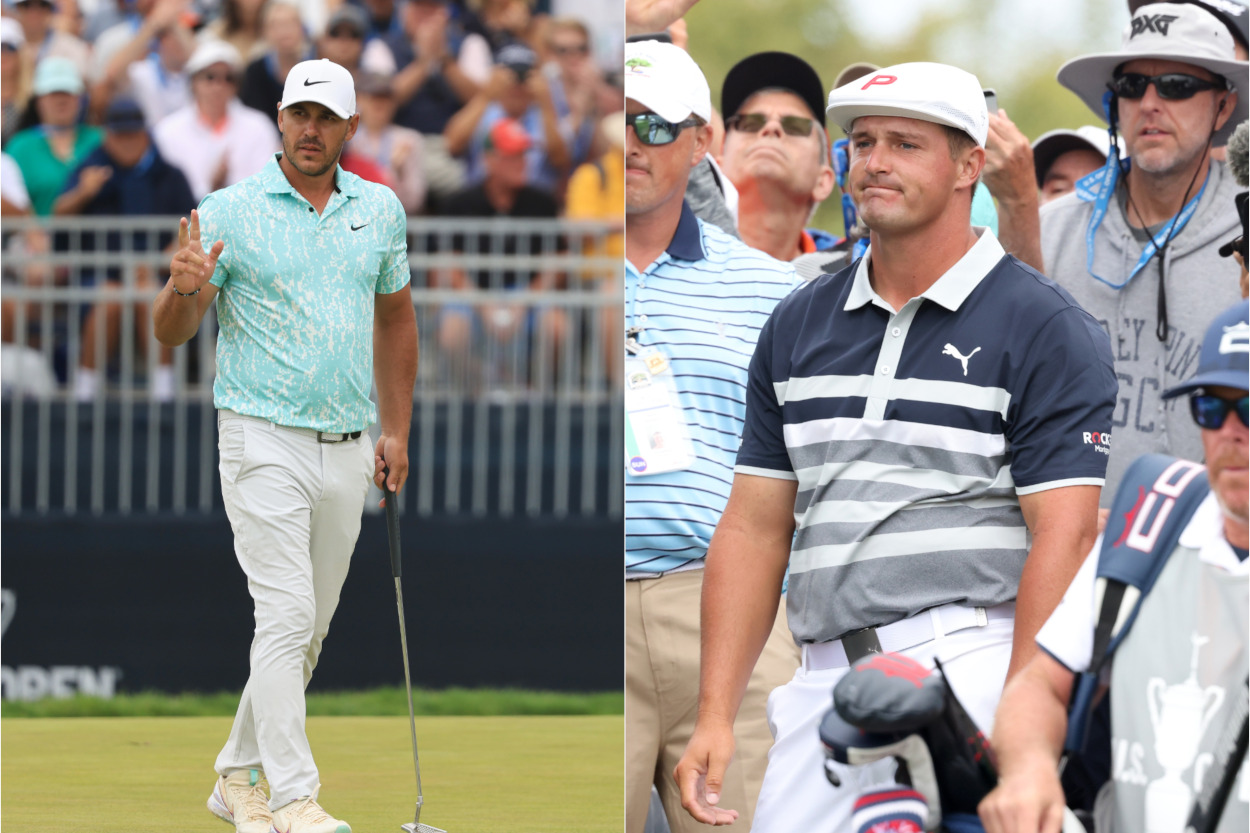 The genesis of whatever is going on lately between Brooks Koepka and Bryson DeChambeau appears to be a snide comment by one while another was in the middle of an interview.
That was at the PGA Championship in May 2021. In a video that leaked but was never aired by The Golf Channel, Koepka had an extreme reaction to DeChambeau walking behind him. Upon closer examination, the audio picked up DeChambeau dismissing Koepka's talk about his difficulty reading the greens at Kiawah Island.
Koepka was coming off a knee injury and said that was affecting his ability to gauge putts. In any case, the weeks since that kerfuffle have been entertaining; DeChambeau pokes Koepka on social media, and Koepka pokes back. One might think the feud was purely marketing, except the distaste the two seem to share for each other comes off as quite honest.
Those hard feelings could become a thing later this year. Both players are on track to be automatic qualifiers for the U.S. Ryder Cup team. After the U.S. Open, DeChambeau is second on the points list. Koepka is fifth. The top six players automatically earn bids, with the other half of the squad selected by team captain Steve Stricker.
Nothing says team spirit, after all, quite like red-hot hatred.