Bubba Wallace and 2 Other NASCAR Drivers with the Most to Prove Entering the Clash at the Coliseum
The gimmicky quarter-mile Clash at the Coliseum will not be short of drama. Hollywood-style drama.
For those who love to have their entertainment senses overloaded, the NASCAR exhibition at the Los Angeles Memorial Coliseum on Feb. 6 will be Must See TV. 
The winner of NASCAR's high-profile demolition derby will not acquire points for the drivers' standings. Still, three drivers, Bubba Wallace, Christopher Bell, and William Byron, enter the 2022 opener with something to prove. 
No. 1 Bubba Wallace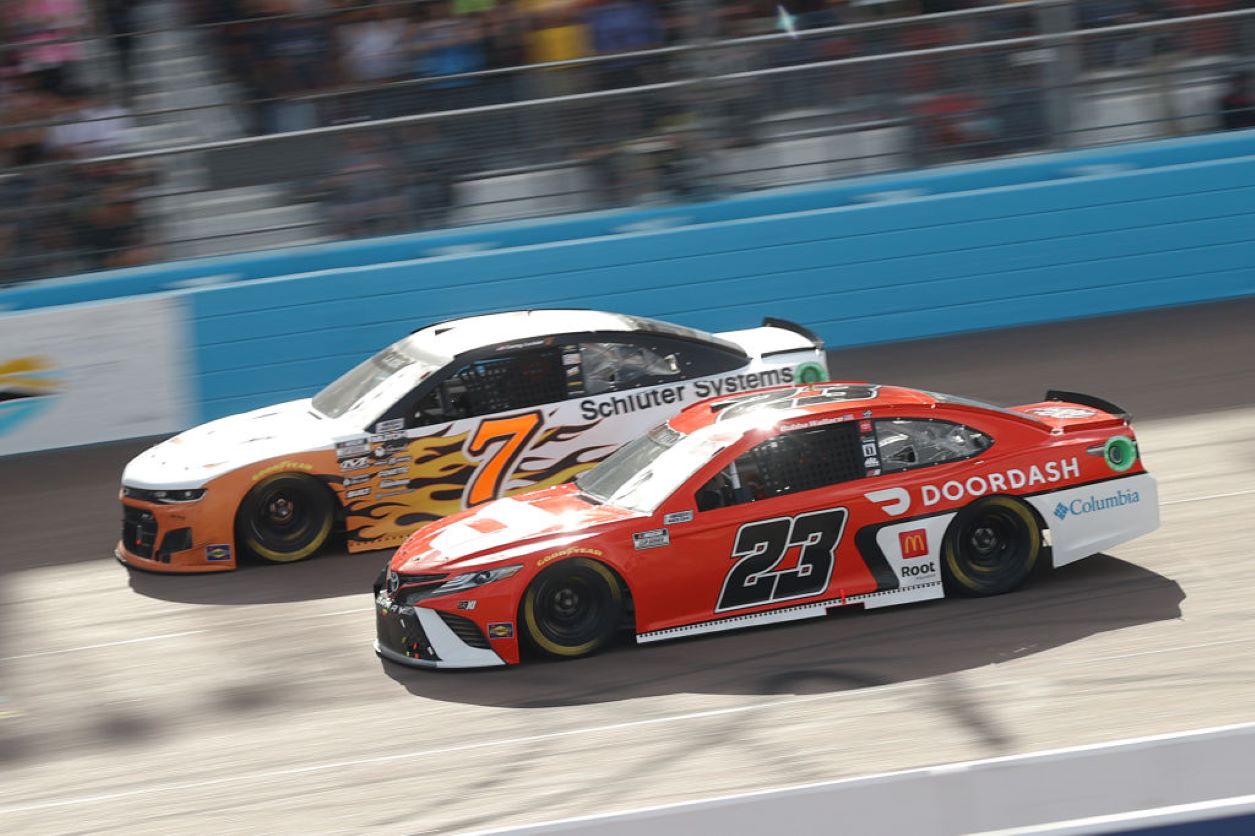 Is there a driver with more internal pressure?
How would you respond to co-owner Michael Jordan constantly looking over your shoulder, analyzing the bottom line of each performance? How will Wallace ever measure up to his boss unless he suddenly evolves into a modern version of Richard Petty?
The last time NASCAR fans saw Wallace in action, he battled Corey LaJoie and Ricky Stenhouse Jr. for 21st place on Lap 7 of the Championship 4 race at Phoenix Raceway. Running three-wide, LaJoie tapped Wallace. The No. 23 Toyota spun out, and the car struck the retaining wall hard. He attempted to drive off, but it stalled, and race officials summoned a tow truck.
While recovering from offseason shoulder surgery, Wallace missed all but one Next Gen car testing session. Considering Wallace secured only three top-10s last season and placed 21st in the driver points, the fact that he missed extra seat time was a big deal.
Wallace saved his 2021 season by becoming just the second Black driver in NASCAR history to win a race after claiming the checkered flag during the fall race at Talladega Superspeedway. Still, Jordan expects him to battle Cup champ Kyle Larson for track position, not Stenhouse.
With 23XI Racing adding a second car for the upcoming season, Wallace is getting a former premier series champion, Kurt Busch, as a teammate.
Is there a driver with more to prove?
No. 2 Christopher Bell 
In his 38th career Cup Series start, Bell overcame an otherwise dominating performance by Chase Elliott to secure his maiden checkered flag. The sophomore pilot for Joe Gibbs Racing made a statement on the Daytona Road Course during the season's second event.
But consistency eluded Bell.
Over the next 29 events, he finished 20th or worse 14 times. A solid outing or two in a row generally followed one or two poor runs. He crashed four times.
Fans started to ask if this was the same driver who captured 15 Xfinity Races during the 2018 and '19 seasons. Yes, but, despite the points he racked up with the checkered flags, he still placed fourth and third, respectively, in the drivers' standings.
How?
Well, he crashed six times in '18, placing no higher than 29th each time.
Bell needs to prove he can keep his car intact, which will be especially challenging during the Clash's close-quarters racing.
No. 3 William Byron
Byron needs to prove he can drive more competitively – under a yellow flag. 
Yellow?
The No. 3 driver in Hendrick Motorsports' powerhouse garage, Byron lost 106 positions during caution periods last season. While that falls a lot of then-rookie crew chief Rudy Fugle, Byron needs a better tactical game plan during all race phases. 
That certainly contradicts Byron's green-flag racing and passing ability. According to NBC Sports, he was credited with surplus positions of plus-94.37 last season. 
Entering his fourth season driving the iconic No. 24 Chevrolet, Byron is coming off his second-straight playoff appearance. But a rash of opening-round DNFs ended his title bid. 
With career-highs in top-five finishes (12) and top-10s (20), Byron placed 10th in the final drivers' standings.  
With the past two Cup champs, Larson and Chase Elliott, setting the tempo in the team garage, Byron must learn to maintain his pace under green conditions – and yellow.
Like Sportscasting on Facebook. Follow us on Twitter @sportscasting19.
RELATED: NASCAR Cup Series Driver Ryan Blaney Falls to 0-for-4 Attempting to Advance to Championship 4: 'Losing is Losing … It Sucks'