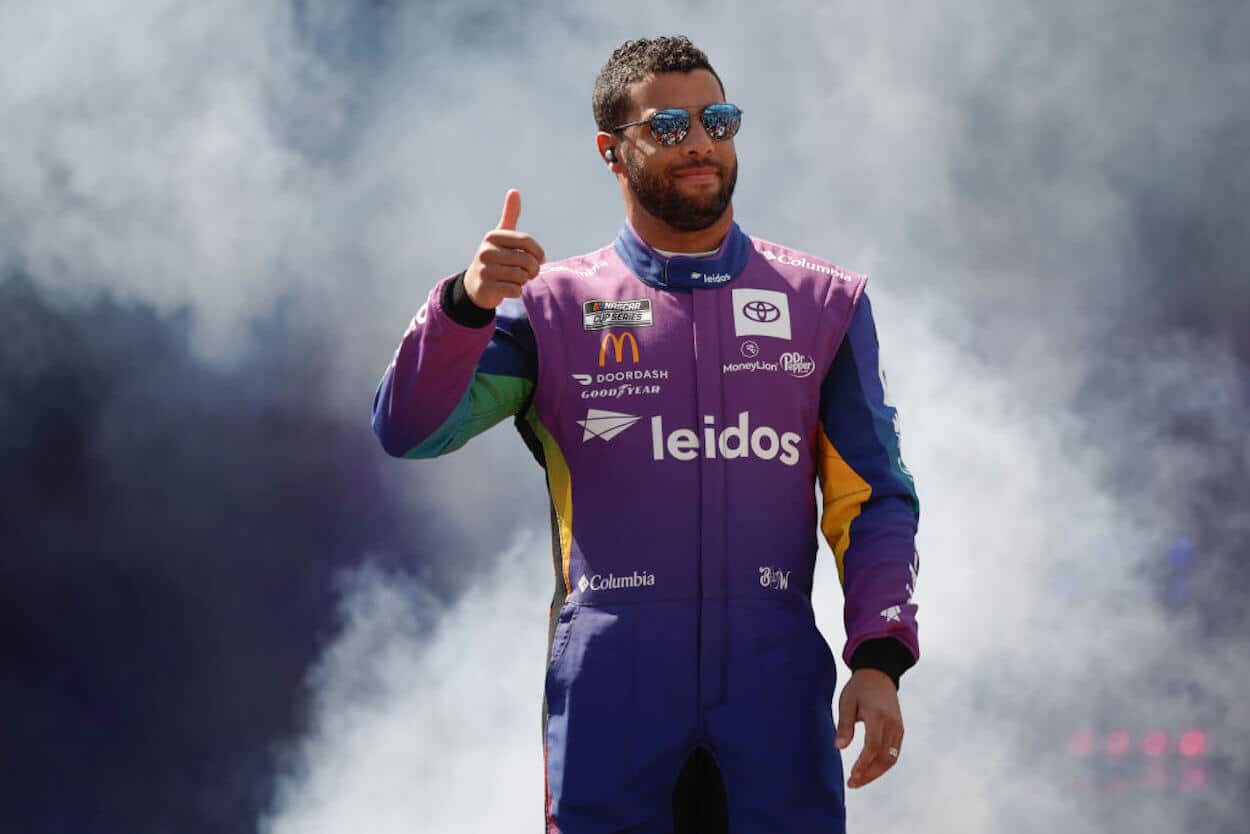 Bubba Wallace and the 5 Drivers With a Better-Than-Average Chance of Celebrating at Always-Unpredictable Talladega
While it's always tough to predict what will happen at Talladega Superspeedway, here are five drivers worth watching.
Of all the tracks on the NASCAR Cup Series schedule, Talladega Superspeedway is probably the biggest "wild card" of them all.
Due to the ever-present draft that keeps drivers bunched together in one or two tight packs all race long, picking a favorite to win is darn near impossible because the driver in Victory Lane will, in all likelihood, be the driver who gets the best push in the draft at the most opportune time.
Not to mention, a strong possibility exists that many contenders will get swept up in one of Talladega's infamous multi-car wrecks, aka "the big one," which are an unavoidable by-product of this style of racing.
Nevertheless, it never hurts to at least try to pick a winner or devise a list of favorites, so that's what we're here to do. Next up are five drivers with — let's just say — a better-than-average chance to celebrate a win on Sunday afternoon at the high-banked 2.66-mile Alabama track.
5. Joey Logano
Looking for a driver with a proven history of success at Talladega? Look no further than Joey Logano, the reigning NASCAR Cup Series champion.
Logano owns three wins at Talladega, all since joining Team Penske in 2013 after a mediocre four-year stint with Joe Gibbs Racing. 
Although Logano also tends to run well at Daytona — Talladega's sister track, where he won the 2015 Daytona 500 — Talladega has traditionally been kindest to him between the two superspeedways.
4. Brad Keselowski
A six-time winner at Talladega, Brad Keselowski has long possessed a knack for navigating the high-speed facility. After all, it was at 'Dega in 2009 that Keselowski captured his first career Cup Series triumph in equally shocking and sensational fashion when the then-part-time Cup Series driver tangled with veteran Carl Edwards entering the trioval on the final lap.
Edwards' car went airborne in a violent crash that has since been replayed countless times, while Keselowski held on to secure the win in just his fifth Cup Series start. 
Keselowski has since added five more Talladega trophies to his collection and would love nothing more than to add another one Sunday when he'll be looking to snap a winless streak dating back almost exactly two years — to his last victory at Talladega.
3. Chase Elliott
Sunday will mark just Chase Elliott's second race back in the saddle after spending six weeks away from the track while nursing a broken leg he suffered in a snowboarding accident.
Although it might seem farfetched to suggest that Elliott is ready to return to Victory Lane, he finished a solid 10th in his comeback race last weekend at Martinsville and is a two-time winner at Talladega — one of the tracks where he's most adored by his legions of fans. 
In fact, Elliott — NASCAR's perennial most popular driver — is the most recent wheelman to conquer Talladega, having prevailed here in last fall's playoff race. The second-generation driver from Dawsonville, Georgia, captured his first 'Dega trophy in the spring of 2019.
A return to the Talladega Winner's Circle this weekend would punch Elliott's ticket into the playoffs, which he'll need to do with a victory somewhere since he's so far behind in the standings after missing a half dozen races.
2. Ryan Blaney
Easily one of the NASCAR Cup Series' best and most consistent superspeedway racers, Ryan Blaney grabbed back-to-back wins at Talladega in the fall of 2019 and spring of 2020. 
The Team Penske driver and son of former Cup Series veteran Dave Blaney is also customarily stout at Daytona, where he finished P1 in the fall of 2021 and finished second in the 2020 Daytona 500.
The only knock on Ryan Blaney? That victory at Daytona in late August 2021 was his most recent points-paying win (he did take last year's All-Star Race exhibition at Texas Motor Speedway, though).
1. Bubba Wallace
Bubba Wallace's chorus of critics is quick to point out that the 23XI Racing driver has only two Cup Series wins in nearly 200 starts at NASCAR's highest level.
It's important to remember, however, that one of those wins — the first of those wins, in fact — came in the fall of 2021 at Talladega, albeit in a rain-shortened event.
Rain or no rain, critics or no critics, the reality is that Wallace is always a factor at Talladega and Daytona, and this Sunday should be no different. One could plausibly even argue that the 29-year-old Mobile, Alabama native is the favorite — if such a person exists — to go to Victory Lane at the track in his home state.