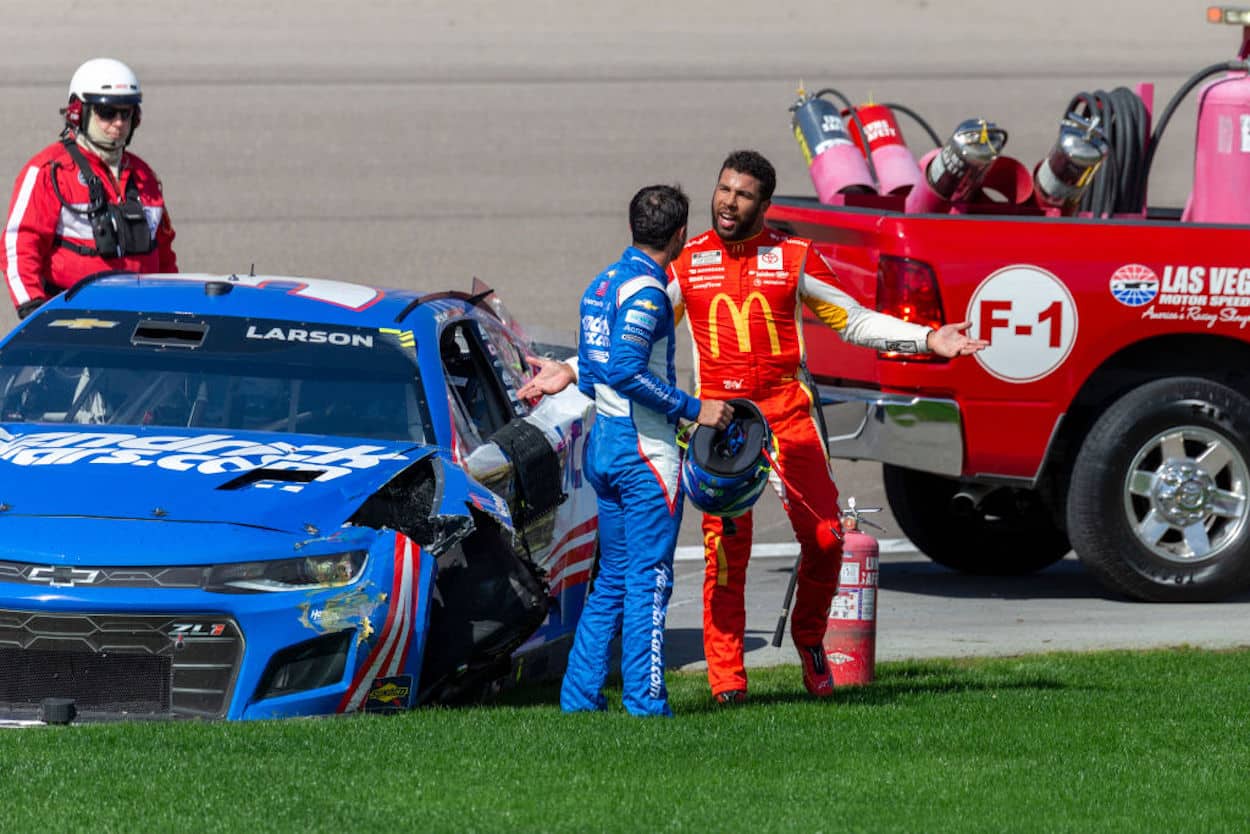 Bubba Wallace and the 7 Drivers Who Need to Make Serious New Year's Resolutions for 2023
Everyone can afford to set a goal for the new year. These seven NASCAR drivers are no exception to that reality.
Well, it's that time of year again: the time when everyone decides the areas in their lives where they want to make self-improvements in the 365 days to come.
NASCAR, of course, is no exception to this tradition, and many throughout the NASCAR world will set ambitious New Year's resolutions with the hope of making positive changes in 2023.
Up next, let's consider seven Cup Series drivers and the goals they should carry into the new year.
Ricky Stenhouse Jr.: Stop wrecking so much
Nicknamed "Wrecky Stenhouse" in some circles, Ricky Stenhouse Jr. is totally deserving of the unflattering moniker. It seems that practically every race weekend, Stenhouse runs into something or someone — and it's been this way for years. 
Stenhouse stayed true to form in 2022, joining Ty Dillon with a Cup Series-high nine DNFs in 36 races. If math isn't your strong suit, that means Stenhouse failed to finish exactly one-fourth of the time. 
Maybe 2023 will be the year when Stenhouse finally learns how to keep his nose clean and steer clear of trouble on the race track. If so, you can rest assured his competitors and fans will thank him.
Chase Elliott: Cut out the complaining
To basically have it made, Chase Elliott sure did whine a lot in 2022.
Despite leading the Cup Series with five wins, capturing the regular season championship, and qualifying for the Championship 4, the second-generation driver almost always seemed to find something to gripe about — whether it was teammate Kyle Larson's on-track aggression, the passing difficulties associated with the Next Generation Cup Series car, his belief late in the season that he didn't have cars capable of winning, or a cameraman getting too close to him for his personal comfort. 
If Elliott hopes to remain NASCAR's perennial most popular driver for the foreseeable future, he should probably stop the incessant complaining pronto.
Kevin Harvick and Denny Hamlin: Continue holding NASCAR accountable
When it became obvious in the second half of the season that the Next Generation Cup Series car had some major issues that NASCAR wasn't actively addressing, veterans Kevin Harvick and Denny Hamlin became the loudest critics of the car and the most consistent advocates for change at a time when many of their peers seemed far less inclined to speak up. 
Thankfully, as Harvick and Hamlin continued to pile on by expressing their concerns and complaints through the media and social media, NASCAR finally heeded the call. 
Due in large part to the demands of Harvick and Hamlin, NASCAR has vowed to make the 2023 version of the Next Generation car much safer than the one drivers used in 2022 — when Kurt Busch and Alex Bowman both suffered a season-altering concussion from a high-speed impact to the rear end of their vehicle.
Ross Chastain: Make fewer enemies
Let's be honest: No one rubbed more people the wrong way in 2022 than Ross Chastain. Oh sure, Chastain had his great moments, too — like winning two races and executing the now-famous video-game style move that vaulted him into the Championship 4 — but the Trackhouse Racing driver's success was somewhat tainted by the run-ins he had with multiple drivers, in some cases on multiple occasions. 
Among those whom Chastain tangled with at least twice in 2022 were veterans Denny Hamlin, Chase Elliott, and Martin Truex Jr. 
Chastain also ruffled Kyle Busch's feathers, leading the two-time Cup Series champion to cynically declare after the fall Richmond race that he had been "Chastain'd."  
If Chastain can clean up his act a bit in 2023, he'll likely be in an even better position than he was in 2022 to compete for a championship.
Bubba Wallace: Keep his temper in check
Despite enjoying his best season as a Cup Series driver, Bubba Wallace struggled on more than one occasion to harness his emotions in 2022. In one such instance, the 23XI driver shouted profanities over his in-car radio at crew chief Robert "Bootie" Barker after Barker mistakenly ordered Wallace to stop on pit road, resulting in the driver being hit in the rear by another car. Though justifiably upset, Wallace failed to take team morale into account when he lit into Barker — an action that team co-owner Denny Hamlin later condemned. 
Then, much later in the season, Wallace deliberately wrecked Kyle Larson at high speed in a vicious act of retaliation at Las Vegas. Wallace then promptly jumped out of his car and began shoving Larson, even though Larson wasn't the one who caused the two to wreck. NASCAR later left no doubt about where it stood on Wallace's hard-left hook into Larson's right-rear quarter panel, suspending the driver for the next weekend's race. 
Starting now, Wallace needs to get control of his temper before he hurts someone or jeopardizes his future in the sport.
Brad Keselowski: Stop with the cheating
Brad Keselowski's team was busted for cheating on two separate race weekends in 2022, costing the group a bucketload of points and making an already difficult season for them even harder.
For team co-owner/driver Keselowski and his No. 6 Roush Fenway Keselowski Racing bunch, their primary mission for 2023 should be to stop bending the rules, so they're not disqualified or hit with a heavy penalty for issues discovered on their car in post-race inspection.