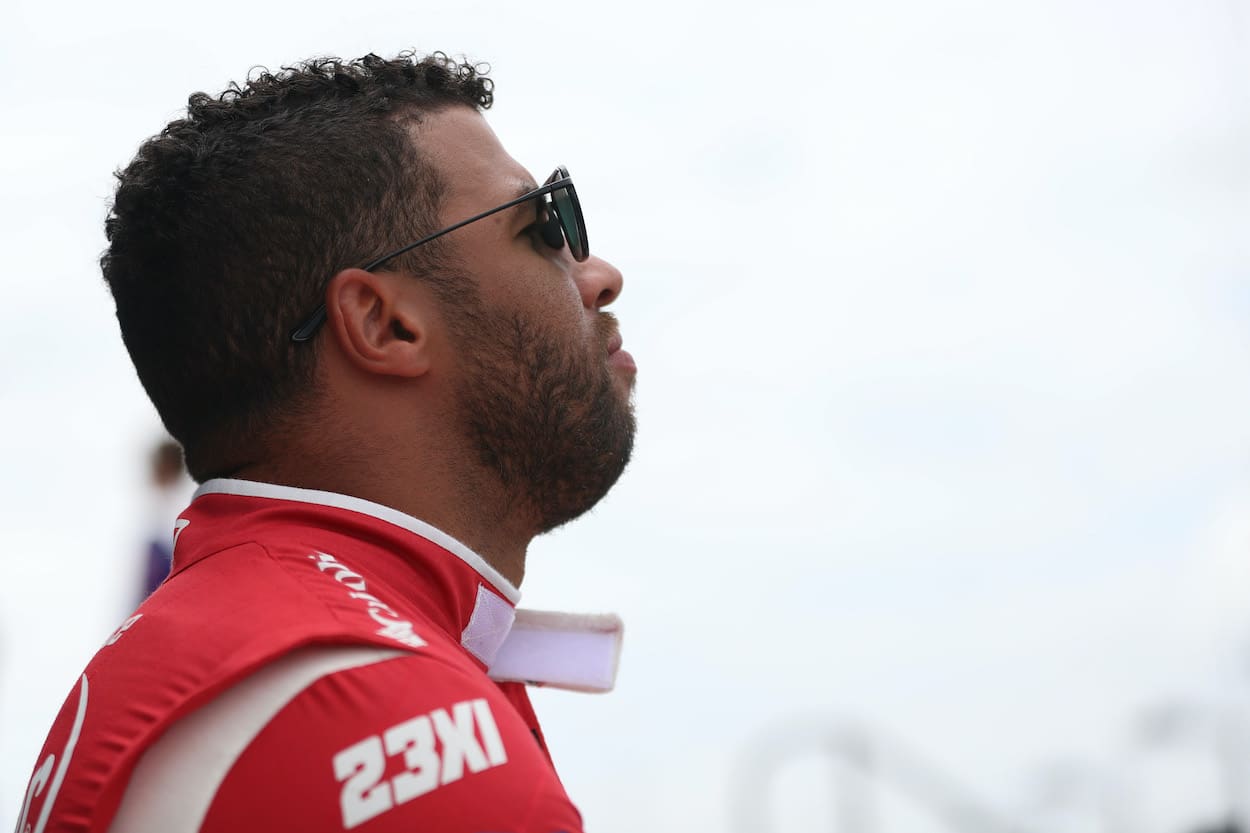 Bubba Wallace Calls Out Fans Criticizing Him for Flashing the Middle Finger, but Promises to Stop Going Forward 
Bubba Wallace said it's "BS" that fans are criticizing him for flashing the bird lately because it's been part of the sport for years, but vows to stop going forward.
Bubba Wallace has been one of the best NASCAR Cup Series drivers over the last month, recording four top-five finishes, including a runner-up result in the All-Star Race. Unfortunately, his name has been in the headlines not only for his performance but his tendency to use the middle finger.   
He flashed it once on national TV following the North Wilkesboro race, and then a week later, the 23XI Racing driver found himself being confronted by Aric Almirola in a rain delay at the Coke 600 for directing the sign at the SHR driver earlier in the race. Some have criticized Wallace for the move. 
SiriusXM NASCAR Radio reporter Claire B. Lang caught up with the driver last weekend, where he called "BS" on fans for their criticism while acknowledging it wasn't a "good look" and vowed to change going forward.
Bubba Wallace making headlines for flipping bird
After Bubba Wallace finished second at North Wilkesboro Speedway in the All-Star Race behind a very fast Kyle Larson, he joked about the No. 5 car using cheated-up parts. That remark was noteworthy on most occasions, but most fans didn't pay any attention to it because they were too focused on the middle finger he had flashed at the beginning of the interview with Fox's Jamie Little. 
The following week at Charlotte, it happened again. But this time, no one but Aric Almirola witnessed the gesture, and he revealed what happened after the race when asked about confronting the 23XI Racing driver during a weather delay.  
"Early in the race, I felt like I was giving Bubba a lot of room when we were racing around each other," Almirola said. "And when he got by me, he shot me the bird so I just went to go ask him, why he shot me the bird and he started mouthing off and cussing at me and I told him I wasn't gonna have that. So yeah, disappointing. That's him. I know that."
Wallace has flipped off other drivers for years
Almirola's experience was not a unique one. That was made quite clear this week on SiriusXM NASCAR Radio when Claire B. Lang tackled the subject of drivers and their reaction when given the No. 1 sign and went back a few years to 2020 when she asked the question. The responses varied, with numerous mentioning retaliation. 
What became evident from the interviews was that Bubba Wallace is No. 1 when it comes to showing the No. 1 sign. Martin Truex Jr. talked about how the 23XI driver flashed the finger at him earlier in his career, and they had a conversation about it, including how he told the young driver one day another driver is going to break it off and shove it you know where. After that chat, flipping off each other became a regular thing.
"It's fun now because we do it back and forth and you don't know if it's serious or not, so you can't get mad," Truex said. "Everybody else gets mad at him for it."
Daniel Suarez shared a similar experience on the first time it happened with Wallace and conveyed that where he comes from, that sign could get your butt kicked. 
Jimmie Johnson didn't have any firsthand accounts with Wallace, but did share of a time in his career when the middle finger was commonly used.
"For me, for a long time, me and my buddies would just flip each other off on the track, just saying hi," Johnson said. "And then that has left and now the bird is really when somebody's mad at you. So I don't care."
Johnson also brought up the dichotomy of how cursing over the radio, which fans can hear, is not offensive as the finger signal is to some.
"We're racing," the seven-time champion said. "Those helmets go on people get mad. It has slowed down a lot because this moment in time, I'm not sure if it's generational or what but the bird is very offensive, but we can tune into whatever that show is with all the — Radioactive — and man there's plenty of cussing. So I guess nobody really pays attention to the show."
Vows to stop
Wallace's 23XI Racing co-owner Denny Hamlin agrees with Johnson about the decline of using the middle finger, and said as much on his podcast after Wallace's confrontation with Almirola, calling the gesture "out of style" and "childish." 
Last weekend at WWT Raceway, Lang caught up with 29-year-old driver and talked about his usage of the bird. 
"People think that I love to stay in the headlines for different reasons and I actually hate it," Wallace admitted. "It's funny how it all works out. How the finger has become such a big thing when Bubba Wallace does it, but you have guys that get wrecked and get dumped on the track and they walk out on the track and shoot one bird, shoot the double bird and we laugh about it, move on, and we tell them that they're number one. 
"But when Bubba Wallace does it, we got to shut the whole state down, shut the whole series down, kick him out, suspend them. So on that side of things, it's complete BS. But it is what it is."
After talking about how often he uses the gesture, including adding Corey LaJoie and Ross Chastain to his list of regulars who give and receive the bird, the reporter asked if he needed to be careful or even stop in the future.  
"Oh, 100 percent," he said. "I need to stop doing it. It's not a good look, right? And we all get that, but what I'm getting at is it's been going on for years."
Wallace plans to stop using the middle finger going forward. At least until one of his buddies fires a single-finger salute his direction.
To stay up to date on the latest happenings in NASCAR, including breaking stories you can't find anywhere else, follow Kyle on YouTube and Twitter.