Bubba Wallace Docuseries: NASCAR Driver's Dad Says Carry a 'Gun'
Bubba Wallace's concerned father asked the NASCAR Cup Series driver, "Do you have a gun?" 
Wallace replied he didn't. 
Darrell Wallace Sr. Insisted:
"Well, you need to get one."  
Bubba Wallace's father advised son to carry a gun after discovering a noose in garage
The gun revelation came to light when trailers revealed Netflix's upcoming docuseries, RACE: Bubba Wallace. The six-part series is scheduled for release on Feb. 22 and retraces the NASCAR driver's challenging 2020 season. It also highlights the pressure he feels since signing with co-owner Michael Jordan's 23XI Racing team before last season.  
In the hours after a "noose" was found in Wallace's garage area at Talladega Superspeedway in 2020, those close to the Cup series' lone Black full-time driver feared for his safety. NASCAR officials and FBI agents immediately transcended upon the Alabama community to investigate the potentially racial incident.  
That's when Wallace's father encouraged his son to "arm" himself with a pistol. 
Wallace described in the docuseries of those close to him experiencing authentic, in the moment, fear.
FBI agents, in two days, determined the noose incident was not racially motivated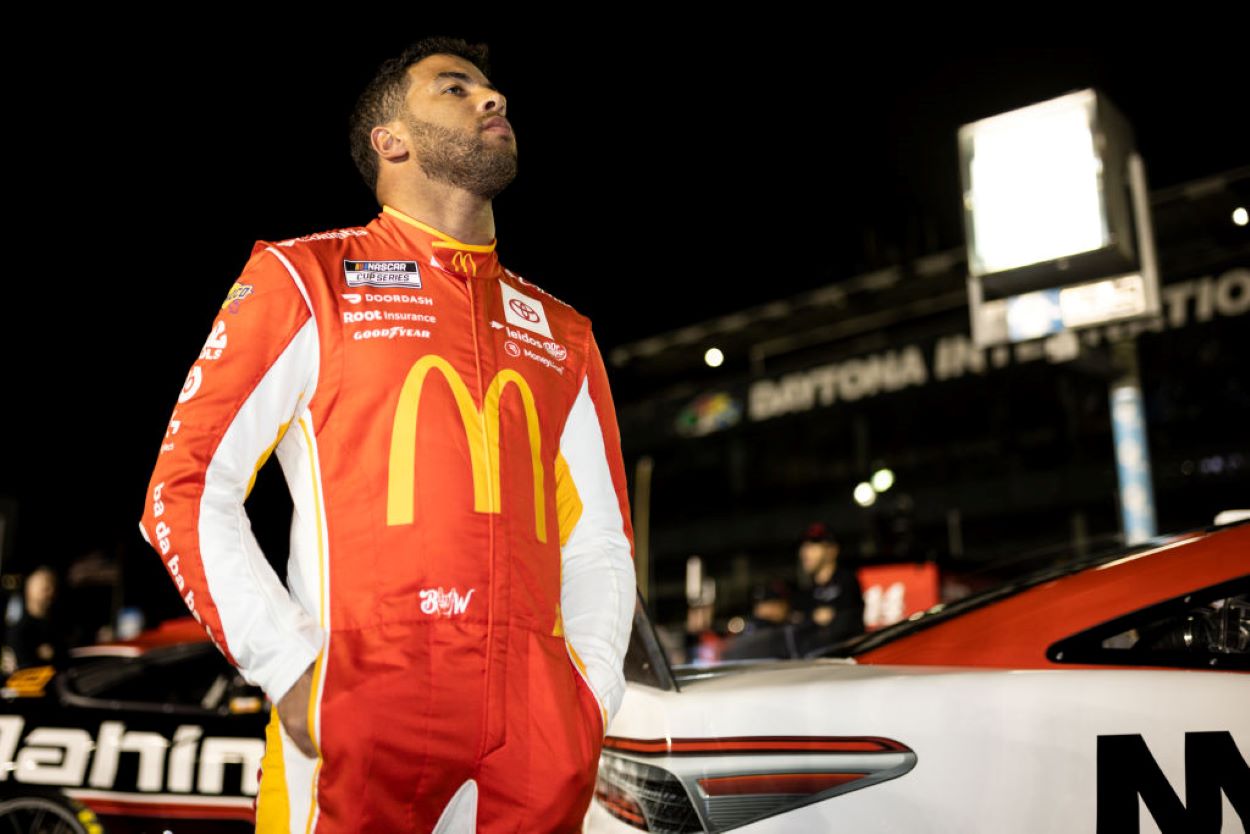 Luckily, the potentially hazardous situation didn't' swell.
Let's put the moment into context. An outspoken supporter of the nation's ongoing racial protests following the 2020 Minnesota police killing of George Floyd, Wallace successfully lobbied NASCAR officials to ban all images of the Confederate flag at racetracks.
Many fans responded, voicing their extreme displeasure. Some protested the ruling outside the superspeedway, insisting the flag remains a vital link to their Southern culture.
Following a 24-hour delay because of heavy rains, Wallace returned to the garage and discovered a noose, a symbol closely related to America's early disturbing history with slavery.
NASCAR officials summoned the FBI, which responded with agents from the Birmingham, Alabama office within a day.
In about 48 hours, the FBI agents determined Wallace was not targeted racially. The noose, apparently, was in the garage area for weeks before Wallace arrived at the venue.
FBI agent Stanley Ruffin: 'It wasn't a hoax – it was real' 
The Netflix series confirmed that Stanley Ruffin, an FBI agent who worked on the case, remained convinced that Wallace did not create the situation for public attention. 
"It wasn't a hoax – it was real," Ruffin said, according to The Sun. "And Mr. Wallace had nothing to do with the placement of that noose – and I'll stand by that." 
During the incident, Wallace attempted to remain composed. He assured those around him that everything was "going to be fine." 
A few months later, it sure was.
Returning to Talladega for the YellaWood 500 on Oct. 4, 2021, Wallace held off runner-up Brad Keselowski for his first Cup series victory.
During his Victory Lane visit, no Confederate flags were present in the stands or campgrounds.
Like Sportscasting on Facebook. Follow us on Twitter @sportscasting19.
RELATED: Why Tony Stewart Needs to Apologize for His 'Ankle Bracelet' Comment During the Daytona 500 Broadcast