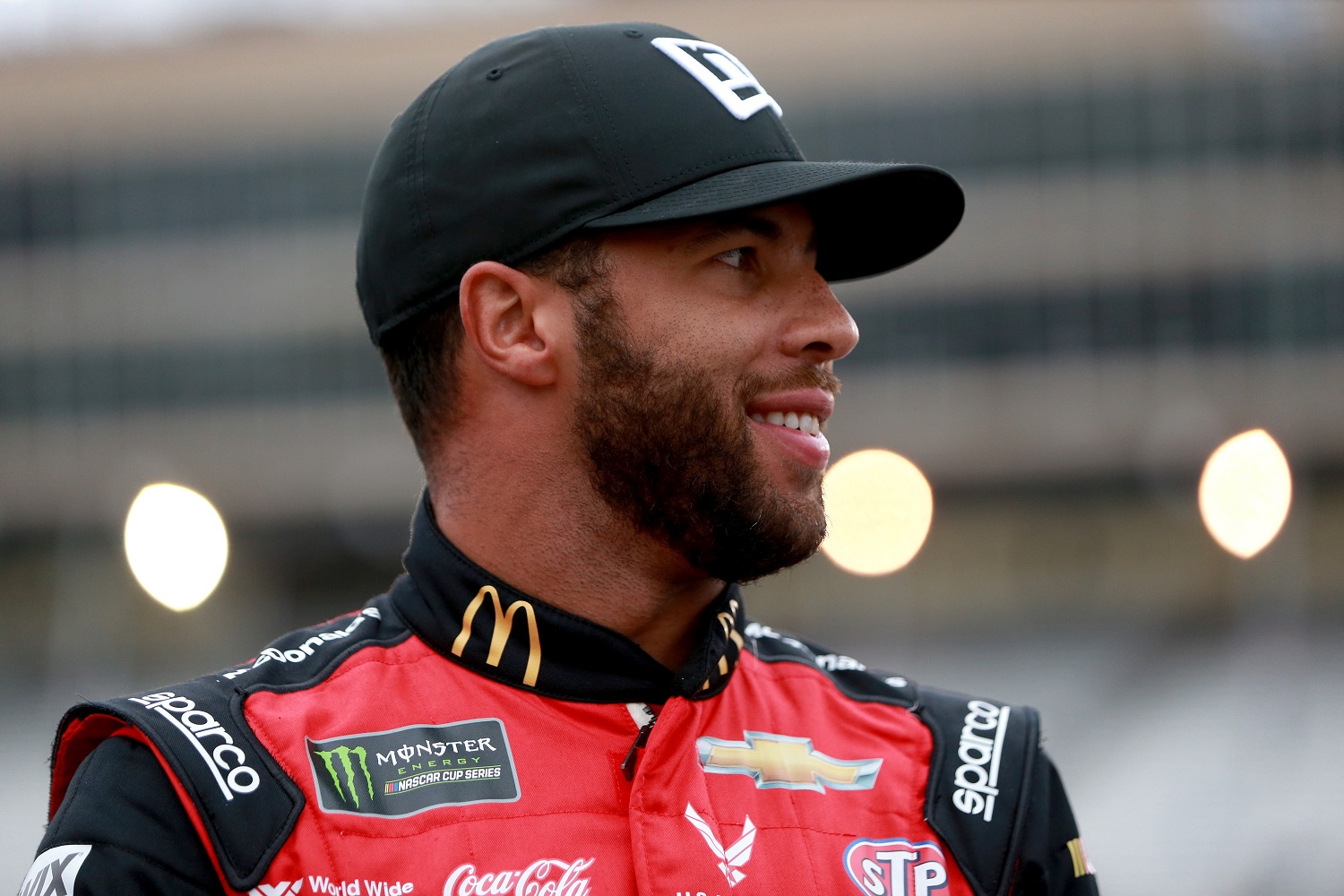 Bubba Wallace's Loyalty to a Crucial NASCAR Sponsor Knows No Bounds
McDonald's followed Bubba Wallace from Richard Petty Motorsports to Michael Jordan's 23XI Racing team. He repays that loyalty by eating there every day.
Racing veterans like Denny Hamlin and Brad Keselowski know how to work the names of sponsors in effortlessly while doing interviews, but Bubba Wallace is taking it a step further. Forget about talking the talk. The driver of Michael Jordan's 23XI Racing Toyota is walking the walk in NASCAR.
Bubba Wallace and other NASCAR drivers keep the sponsors happy
Sponsorships are the lifeblood of motorsports, especially in the year since the pandemic began to fully grip the NASCAR Cup Series and other racing circuits. Without fans in the stands, prize money has dried up. The tracks have been relying largely upon TV money, and the teams have become more dependent than ever on their sponsors.
Some bonds between drivers and sponsors are so strong that even casual fans easily make the connection from a hundred yards away. Kurt Busch decked out in the black and lime green threads doesn't need to be anywhere near his No. 1 Chevy Camaro to be recognized as the Monster Energy driver. And, of course, Kyle Busch and M&M's are even more closely associated with each other.
Meanwhile, other drivers have to forge new relationships and double down in their efforts to promote. That can be especially true when a driver switches teams. One example is Bubba Wallace, who left Richard Petty Motorsports at the end of last season to sign on with the new 23XI Racing team, where Michael Jordan is the majority owner.
DoorDash and Columbia Sportswear remain in the fold after hopping aboard with Wallace in midseason in 2020 as the driver became prominent in discussions about racism and social justice. In a bit of a coup, Wallace was also able to bring full-season sponsor McDonald's along with him to 23XI Racing.
While DoorDash remains his primary sponsor in 2021, Wallace will be debuting his McDonald's paint scheme on March 14 in the InstaCart 500 at Phoenix Raceway.
Bubba Wallace loyalty to a crucial NASCAR sponsor knows no bounds
However much McDonald's is paying 23XI Racing this season for its affiliation with Bubba Wallace is probably too much. That's not a criticism of Wallace's 0-for-112 record in NASCAR Cup Series racing wins entering the season. Rather, it's a reflection of the fact that Wallace might have accepted payment in the form of gift cards.
It turns out that Wallace loves McDonald's food. He may not negotiate the drive-thru lane at 185 mph like he does on the straightaways at Daytona or Talladega, but Wallace recently confessed to being a regular customer.  
Wallace joined ex-NFL players Chad Johnson, Brandon Marshall, Fred Taylor, and Channing Crowder on the I Am Athlete podcast that involved a few serious topics but mostly a lot of hilarity.
The podcast went on for more than an hour. Naturally, that required serving a meal and turning the discussion to the dietary habits of athletes. At that point, Wallace professed his love for the fast-food fare of his sponsor by admitting, "I'm (at) McDonald's every day, bro."
The driver added that he thinks nutrition plays a "very small part" in performance. That won Wallace immediate adoration from Johnson, also a fan of the golden arches.
"I love you," Johnson said, according to PopCulture.com. "You get where I'm going with it? I'm trying not to say the wrong thing because I don't want to offend anybody, but the people (are) telling Brandon what to eat to perform up here -when they've never even f—ing been there."
The 23XI Racing Toyota driver makes a Tom Brady comparison
If you have an hour or so to spare, the I Am Athlete podcast with guest Bubba Wallace is an interesting listen. The NASCAR Cup Series driver responded to questions on numerous topics, including whether drivers should be considered athletes. The debate shaped up as a question of whether Wallace would stand a better chance of making it as a wide receiver than Channing Crowder would as a driver.
When the discussion turned to who are masters of racing in the same fashion as Tom Brady is a master of the NFL, Wallace went both old and new school.
"For sure (Dale) Earnhardt Sr., yeah," Wallace said. "Obviously, you gotta put the greats in there, Richard Petty, a seven-time (champion), Jimmie Johnson, a recent seven-time, just retired last year, and then Dale Earnhardt.
"Nowadays, in no particular order, Kyle Busch, Kevin Harvick and Denny Hamlin. And not because he's my boss. I told him I'd never call him my boss," Wallace added, laughing.
Like Sportscasting on Facebook. Follow us on Twitter @sportscasting19.