The Buccaneers Are Attempting to Save Richard Sherman's Expiring NFL Career With a Last-Effort Position Change
When the Tampa Bay Buccaneers first inked free agent corner Richard Sherman to a contract, they hoped to acquire some much-needed depth in their secondary. Their CB room had been ravaged by injuries to start the season, and they desperately needed bodies to fill in at the position.
Unfortunately for Tampa Bay, the signing hasn't worked out…yet.
Richard Sherman's Buccaneers career is off to a slow start
On paper, the decision to sign Sherman was a low-risk one with an abundance of upside. Sure, he was starting to get up there in age and was dealing with lingering injury issues from the previous season. However, he was still a five-time Pro Bowler and three-time All-Pro with significant postseason experience. Even a regressed version of Sherman would boost the Tampa Bay secondary.
However, such an outcome has yet to materialize. Sherman started just three games before injuring his calf and hamstring. His more recent hamstring injury ultimately saw him placed on injured reserve.
The Buccaneers got a handful of productive snaps out of the veteran cornerback, but they've yet to truly cash in on their investment. A last-ditch position change could see that changed.
The Buccaneers want to move Richard Sherman to safety
Having yet to appear in a game since Week 6, Sherman is finally set to come off the injured reserve. The Buccaneers officially activated his 21-day practice window, opening the door for him to return before the season's end.
However, it sounds like the return won't be happening at the position he's played his entire NFL career at. Bruce Arians and the Buccaneers want to try him out at safety.
The Buccaneers have been without Richard Sherman since he injured his calf while warming up for their Week Seven game, but he may not be away much longer.

Buccaneers head coach Bruce Arians told reporters on Monday that Sherman could return to practice this week and be activated in the near future. Arians also hinted at a potential change to Sherman's role once he is back in action.

Arians said that Sherman could work at safety once he is back on the field. Sherman said in 2018 that "everybody makes the transition to safety" and that it would be a way to keep him in the game until he's 35. Sherman turned 33 earlier this year.

Josh Alper, Pro Football Talk
Can Tampa Bay get some value out of their investment?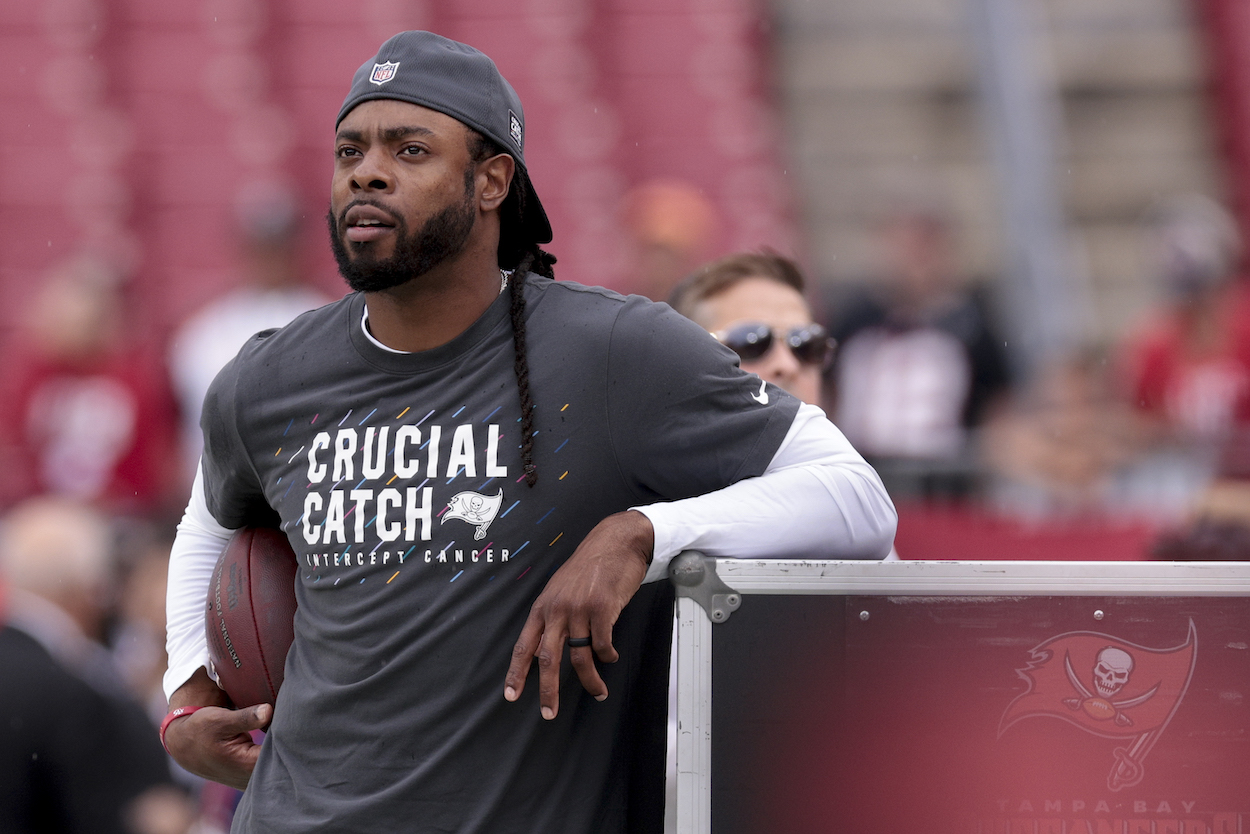 Sherman has been playing cornerback at a high level since 2011. However, it's impossible to ignore age's role in all of this. At 33 years old, coming off multiple lower-body injuries, it's hard to imagine Sherman giving Tampa Bay much value at the position moving forward.
Thus, committing to making Sherman a safety does seem like a reasonably logical plan. He has the brains and the instincts to make plays in the secondary, and moving to safety takes the pressure off him in terms of speed and athleticism. He can simply sit back and read and react.
Sherman was at his best playing in a zone scheme with the Seattle Seahawks for most of his NFL career. Safety shouldn't be too hard of a transition for him.
Only time will tell if the move will work out for Sherman and the Bucs, but they're undoubtedly trying their hardest to make this signing worthwhile.
All stats courtesy of Pro Football Reference.