Bruce Arians Drops Honest Take on Tom Brady's Rushing Attack: 'That's Enough of That S***'
Tom Brady continues to do just about everything for the Tampa Bay Buccaneers. In the latest victory against the Buffalo Bills, Brady connected with Breshad Perriman on a 58-yard game-winning touchdown in overtime to keep Tampa Bay in the race for the top seed in the NFC. Brady finished with a pair of scores and 363 yards in the air. But he also added another score on the ground, and head coach Bruce Arians doesn't seem too thrilled about Brady's new addition to his arsenal.
Tom Brady does it all in victory over the Bills — including running the football
Brady played well once again and continued his dominance against the Bills. But, he also added seven carries for 16 yards and a touchdown — including an impressive 12-yard scamper for a first down.
Arians, however, wasn't entirely thrilled about seeing Brady run the football and gave his thoughts after the game (h/t Rick Stroud of The Tampa Bay Times).
"That's enough of that s***."

Bruce Arians on Tom Brady's running game
Arians has a valid point, and Brady agreed with the Buccaneers head coach when he appeared on the Lets Go! podcast.
"I think that's the first time I've ever heard him swear … I agree with B.A. 'Get my ass on the ground.' That's what I deserve. That's where I should be. They're trying to put me on the ground pretty tough, and they took some good shots yesterday. I think my days of running, they'll be only if necessary at this point going forward."

Tom Brady
For some perspective, Brady rushed for just six yards in 2020 and 34 yards the year before. In 2021 alone, he has rushed for 68 yards on 26 carries and two scores.
Nonetheless, Brady and Arians don't want to see that happen anymore –unless needed.
The Buccaneers quarterback almost set another NFL record but fell just short
Brady was running wild — for his standards — against Buffalo. He was getting pretty close to setting a career-high for rushing yards.
But Brady didn't register a single carry in the second half, and that can't be a coincidence. Arians didn't want to risk anything with Brady, especially at 44 years old.
It's a shame because who knows when Brady will register another game with this many carries or rushing yards. Ultimately, the Buccaneers walked away with the victory and a healthy quarterback as they try and make another run at the Super Bowl and potentially net Brady another NFL MVP.
The Buccaneers are gearing up for another Super Bowl run and need Tom Brady to be healthy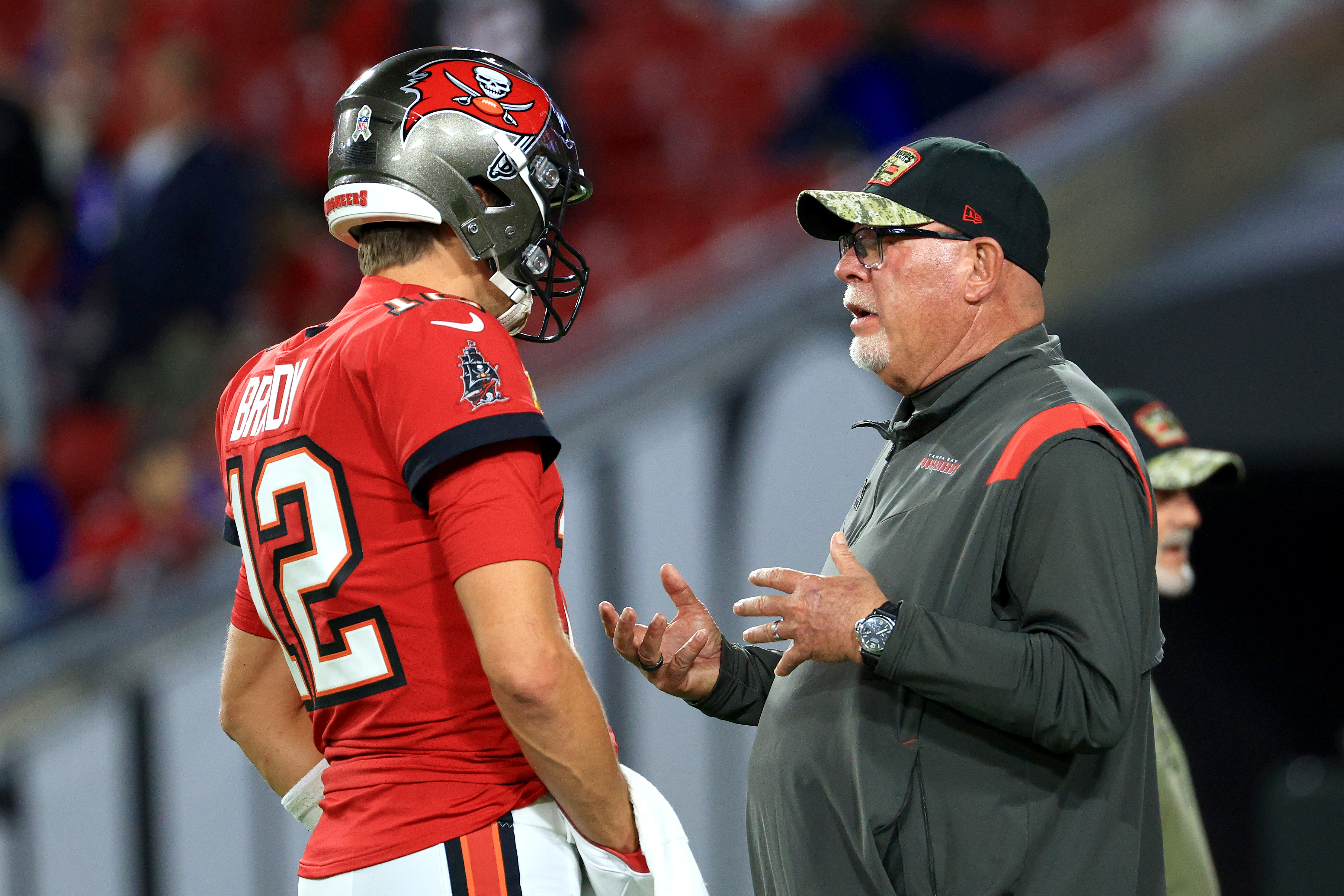 The Buccaneers barely edged out the Bills after Buffalo stormed back. But, a game-winning score gave Tampa Bay the victory.
First things first, Brady must remain healthy if they want any shot of making another trip to the Super Bowl. After defeating the Bills, Tampa Bay sits at 10-3 and mere percentage points behind the Green Bay Packers for the top spot in the NFC.
However, there is some good news for the Buccaneers as they try and pass the Packers over the next few weeks.
Yes, they have the easiest strength of schedule remaining, which bodes well for Brady and the Bucs as they pursue a first-round bye and home-field advantage — something they didn't have last season.
As long as Brady is healthy, there is a good chance that they can repeat as Super Bowl champions and net the GOAT his eighth Lombardi Trophy.
Stats Courtesy of Pro Football Reference