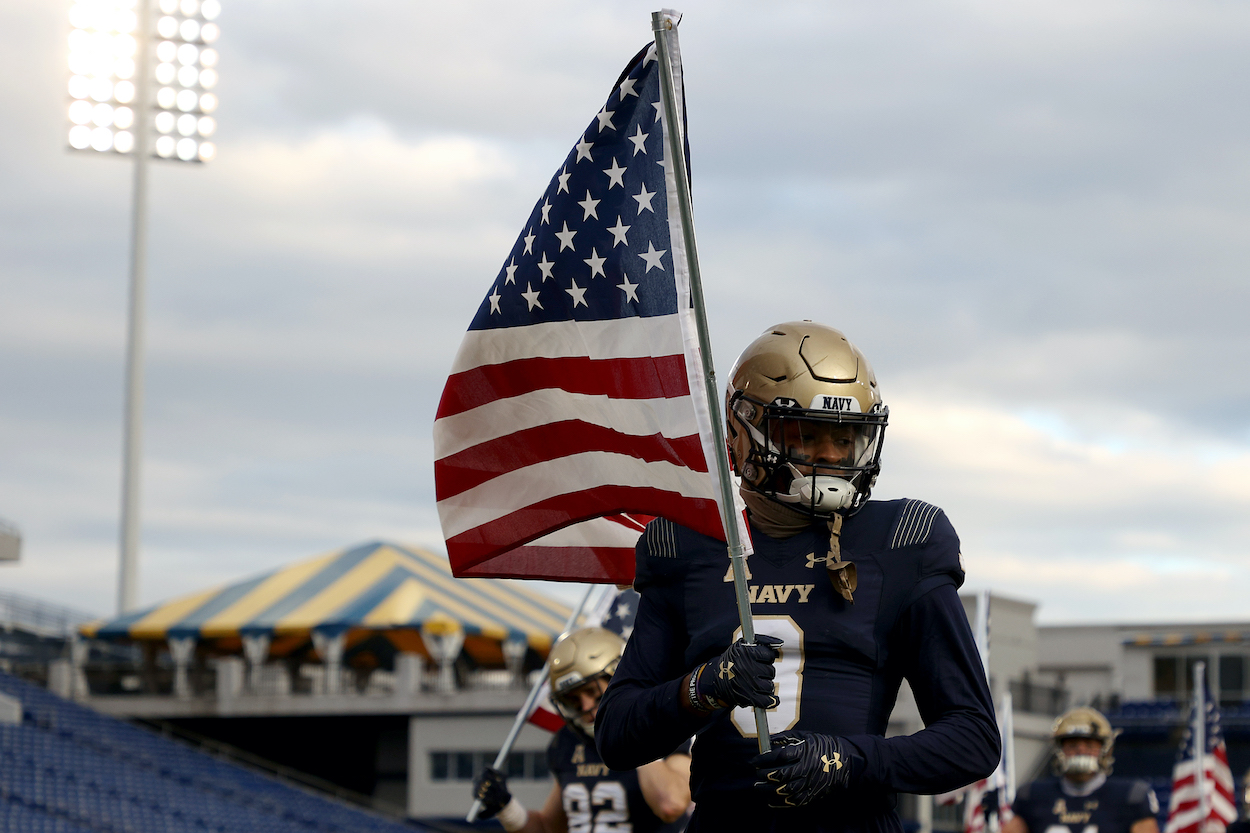 Buccaneers Rookie Cameron Kinley Unfairly Denied a Chance to Live Out His 'Childhood Dream' Due to a Prior Obligation to His Country
Cameron Kinley was about to live out his "childhood dream" of playing in the NFL, but the United States Naval Academy got in the way.
Cameron Kinley always dreamt of one day playing in the NFL. He took the first step of that journey by attending the United States Naval Academy to play defensive back, and following his senior season, he was able to sign with the Tampa Bay Buccaneers as an undrafted free agent earlier this year.
A childhood dream come true. Or so he thought.
In order for Kinley to be able to play with the Buccaneers this season, he needed the Secretary of the Navy, Thomas W. Harker, to sign off on his request to have his commission delayed. But Harker denied his request, forcing Kinley to give up on his NFL dreams unfairly and prematurely.
Cameron Kinley fulfilled his childhood dream by making it to the NFL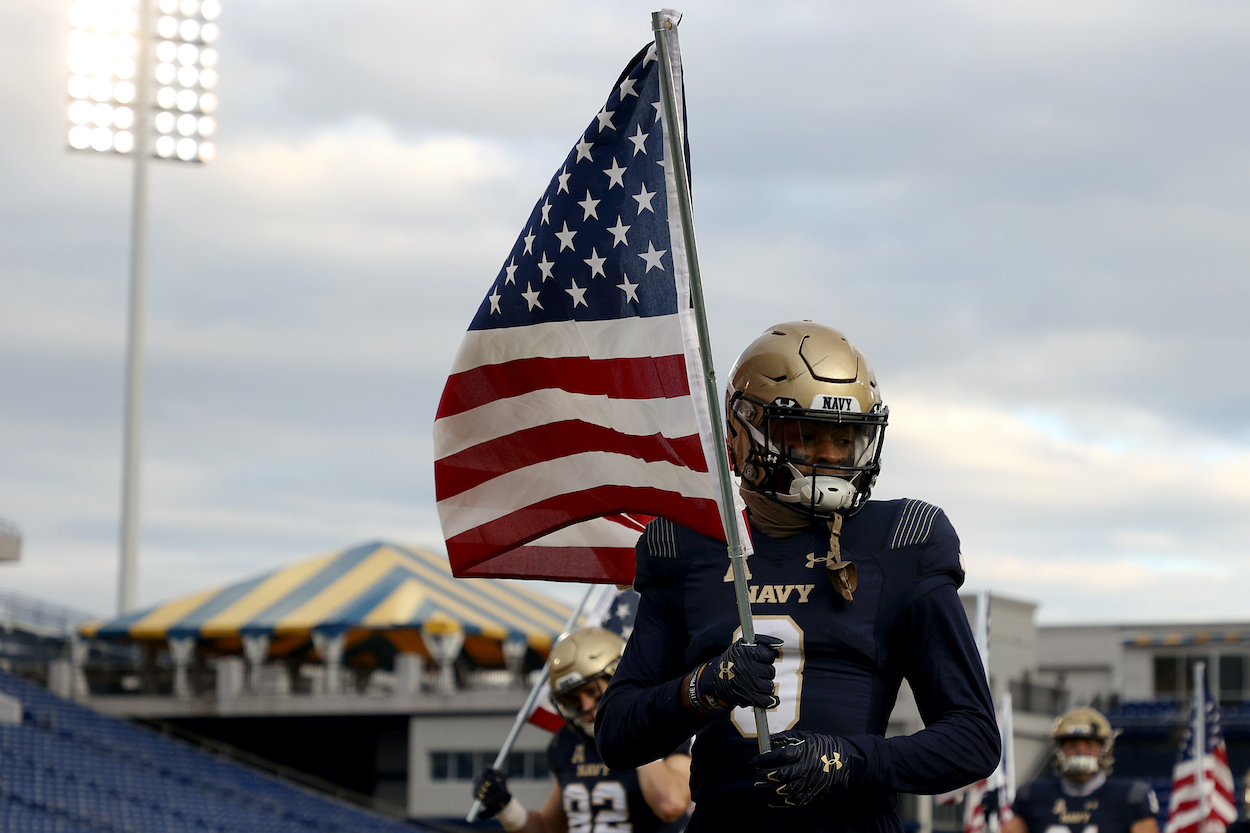 Most Navy football players don't have bigger dreams of making it to the NFL. Their hearts and souls are dedicated to serving their country, and being able to play football at the same time is just an added bonus. But Kinley was different. He decided to attend the Naval Academy on the premise that he would be able to pursue his professional football dreams once he graduated, so that's exactly what he did.
In May, the Buccaneers signed Kinley as an undrafted free agent. He hasn't been with the team very long, but he's already been turning heads at rookie minicamp. Kinley flew all over the practice field in the defensive backfield, and he even picked off quarterback Kyle Trask during a live drill.
Kinley might've ultimately made it onto the 53-man roster ahead of the 2021 season, but now he won't even have that chance.
Navy unfairly denies Kinley his chance to play with the Buccaneers
The Navy allowed Kinley to participate in Tampa Bay's rookie minicamp last month, but the defensive back needed specific permission from the Secretary of the Navy to delay his commission so that he could play a full season with the Bucs. On Monday, Harker denied Kinley's request, and he didn't even offer him a chance to appeal the decision.
Afterward, Kinley's agent and former Navy football player, Ryan Williams-Jenkins, released a statement condemning the decision.
"As a Naval Academy graduate, football player, and decorated combat veteran I understand Cameron's commitment. I also understand there are ways he can fulfill his commitment while representing the Navy and playing professional sports," Williams-Jenkins said. "I played with three-time Super Bowl champion Joe Cardona, who still serves our country as a Navy reservist. If there is a directive and precedent allowing other service academy athletes to pursue this opportunity, what makes Cameron different? It is important to note that this could have a long-term impact on his mental health going forward. He wants to fulfill both of his childhood dreams, playing in the NFL and honorably serving his country."
Kinley emotional after having his dream taken away
Kinley was devastated by the decision to deny his request, and he released a statement himself expressing how hard it was to process the reality that his NFL dreams were crushed by the Navy.
"I have spent the past week processing my emotions, as it is very difficult to have been this close to achieving a childhood dream and having it taken away from me," Kinley wrote.
"I am very aware of the commitment that I made to service when I first arrived at the United States Naval Academy. I look forward to my career as a naval officer in the information warfare community. However, I am deserving of the opportunity to live out another one of my life-long dreams before fulfilling my service requirement."
Kinley mentioned the fact that other members of the armed forces have been granted permission to pursue their NFL dreams, so he doesn't understand why he wasn't given the same opportunity.
"Currently, I have four other counterparts to participate in the NFL: Jon Rahttigan (West Point/Seahawks), Nolan Laufenberg (Air Force/Broncos), George Silvanic (Air Force/Rams), and Parker Ferguson (Air Force/Jets)," he wrote.
"While I acknowledge that these men are from different branches of the armed service, it puzzles me as to why I am the only person to be denied this opportunity."
The Navy needs to make this right.