The Buccaneers' Chris Godwin Might be the Breakout WR of 2019
It's never easy to predict what previously unsung NFL player will become a superstar. Few could have predicted a player as nondescript as Tom Brady having the success he's had. While he may not equal Brady's achievements on the field, there's one player in Tampa Bay who may sneak up on many to move into the league's elite receivers. His name? Chris Godwin.  Here's why the Buccaneers pass-catcher may be the breakout wide receiver of 2019.
Chris Godwin's career numbers
Godwin played for Penn State in college. During his three years at Happy Valley, Godwin performed well. He had 154 catches for 2,421 yards receiving with 18 touchdowns.

Godwin also did well at the NFL Draft Combine. He ran a 4.42 40-yard dash and had a broad jump of 126 inches. His performance there and at Penn State was enough to make him a third-round pick in the 2017 NFL Draft. The Buccaneers selected him at number 84.

Over his first two NFL seasons, he's totaled modest numbers so far:
93 catches
1,367 yards
Eight touchdowns
14.7 yards per reception
150 overall targets
2.9 receptions per game
While Godwin has yet to break out fully, a closer look at his career numbers reveals a sizable improvement from 2018 to 2019. That could bode well for his third year.

Chris Godwin made a big jump in 2018
Last season, Godwin made a big jump in almost all of the major statistical categories.
His receptions went from 34 to 59.
His rookie year he was targeted 55 times. He had 95 targets in 2018.
His receiving yardage jumped from 525 to 842.
His receptions per game went from 2.1 to 3.7 – close to a two reception per game increase.
Those are incremental adjustments, but they're not insignificant. Godwin has slowly but surely become a more utilized part of the Buccaneers offense. The real question is how much the upswing will continue in 2019.

Why he might be the breakout WR of 2019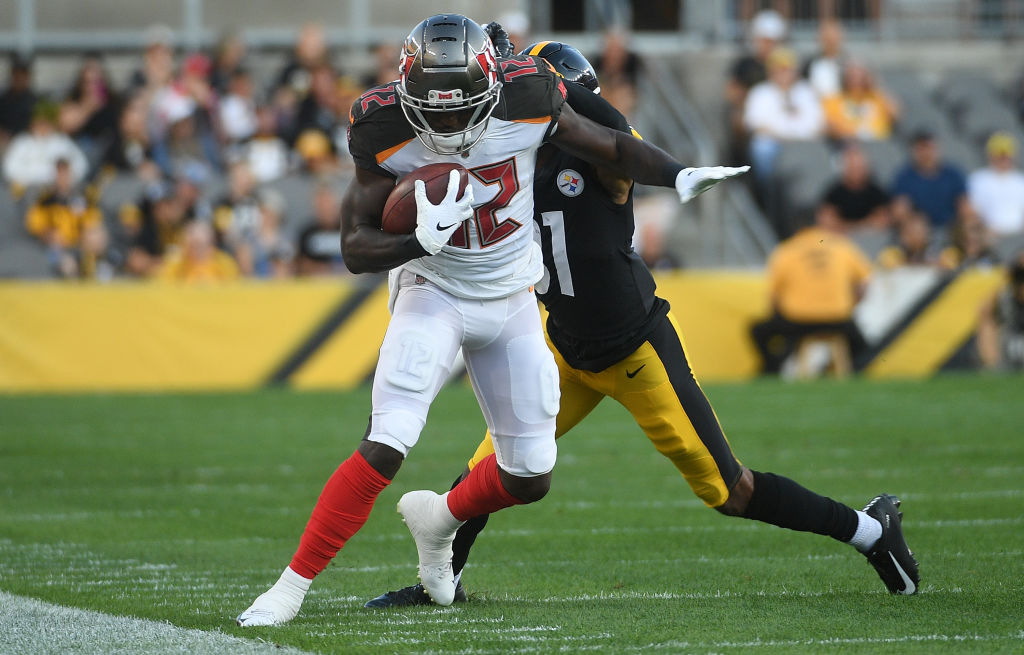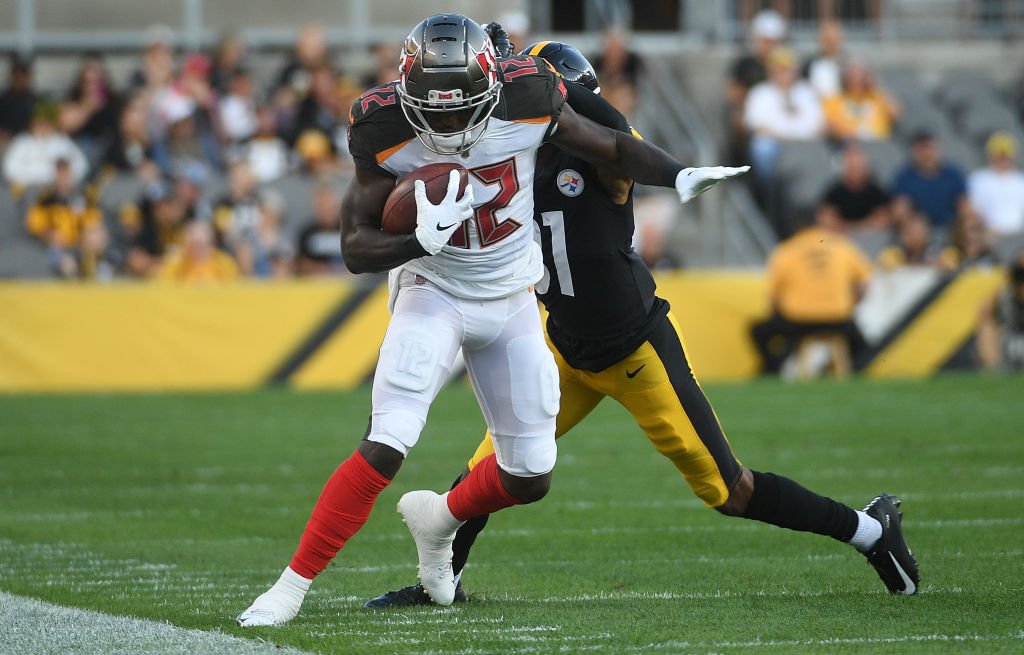 One of the most striking statistical leaps Godwin made from 2017 to 2018 was his touchdown production. After totaling a single score during his rookie year, Godwin had seven last season.

That's one of only a few reasons 2019 may be a banner year for Godwin:
DeSean Jackson and Adam Humphries, both ahead of Godwin on the depth chart last season at receiver, left Tampa. Jameis Winston has to throw to someone, and Godwin has moved up to be the No. 2 receiver spot behind Mike Evans. 
As the number one, Evans will always draw the opposing defense's best corner. He'll also see significant double teams. That should open up the field for Godwin and give him more opportunities to play with single coverage. 
Head coach Bruce Arians has confidence in Godwin, saying he sees him as a "close to a 100 catch guy" in 2019. 
While it's not nearly as prevalent as it once was, one fantasy football theory posited that wide receivers tend to break out in their third year. One study found that while it was much more common in the early 2000s, the trend saw a resurgence in 2016 and 2017. 
All those factors point to the timing being good for Godwin to shine this season. He's going to be a focal point of the Bucs' passing game. He's shown flashes of excellence so far as evidenced by his seven touchdowns last year. And he seems to have the confidence of the Bucs decision-makers. Whether you're a Bucs fan or a fantasy football player with Godwin on your team, it's a good year to support Chris Godwin.