The Buccaneers Have a Hilarious Description for Tom Brady's Commanding Presence in the Locker Room: 'Nobody's a Turd When Tom's Around'
Calling Tom Brady a leader almost feels antiquated at this stage. It's obvious Brady is one of the greatest leaders in the history of team sports. However, Tampa Bay Buccaneers personnel have a more simplistic and humorous way of describing Brady's impact in the locker room.
Tom Brady is taking young guys under his wing in camp
Tom Brady's already got some strong weapons in his receiving corps, but he's working hard to bring one of the rookies up to speed.
Brady has been highly complimentary of fourth-round pick Jaelon Darden and is making a point of coaching him up in training camp. The seven-time Super Bowl champion previously said Darden is "dynamic" and worked hard to learn Tampa Bay's offensive concepts.
The 44-year-old is keeping Darden close by in camp and instructing whenever he feels it's necessary. Buccaneers head coach Bruce Arians lauded Brady's ability to command the attention of young players.
"[Brady] is such an unbelievable coach to younger players," Arians said, via Peter King of NBC Sports. "Not just on the field, but off the field, with TB12 and some of the things that he does to teach young players how to do it the right way."
For his part, Darden explained he was "star-struck" at meeting Brady but also said the two have a strong and defined working relationship.
Brady gets to throw to elite targets such as Mike Evans, Chris Godwin, and Rob Gronkowski. However, he understands the Buccaneers (at any given time) might need Darden to bring his dynamism to the offense.
The Buccaneers have a humorous description of Brady's presence in the locker room
Buccaneers players know better than to whine and grip when Tom Brady is nearby.
Someone with the Buccaneers had a funny way of explaining how Brady keeps his troops in line. He told King that selfish demands go out the window once TB12 steps foot in the room.
Meanwhile, Brady suggested it's easy to be a driven leader on a team where everyone is more interested in the collective goal than satisfying individual demands. He said that he has "love" for his teammates and is genuinely comfortable with them on and off the field.
It's a far cry from some of the tonality early last season.
Brady was always going to go through a bit of an adjustment period going from New England to Tampa. But it seemed like he was constantly being asked about his relationship with Arians and whether he had a firm grasp of the offense. Arians was also unafraid of openly criticizing TB12, though it only prompted more questions about Brady's mastery of the offensive system.
However, Brady took that criticism and channeled it into success. He left his ego at the door. It's something he's encouraged everyone else in Tampa Bay to do, even if he has to resort to more vulgar practices.
Winning is everything for TB12 and the Bucs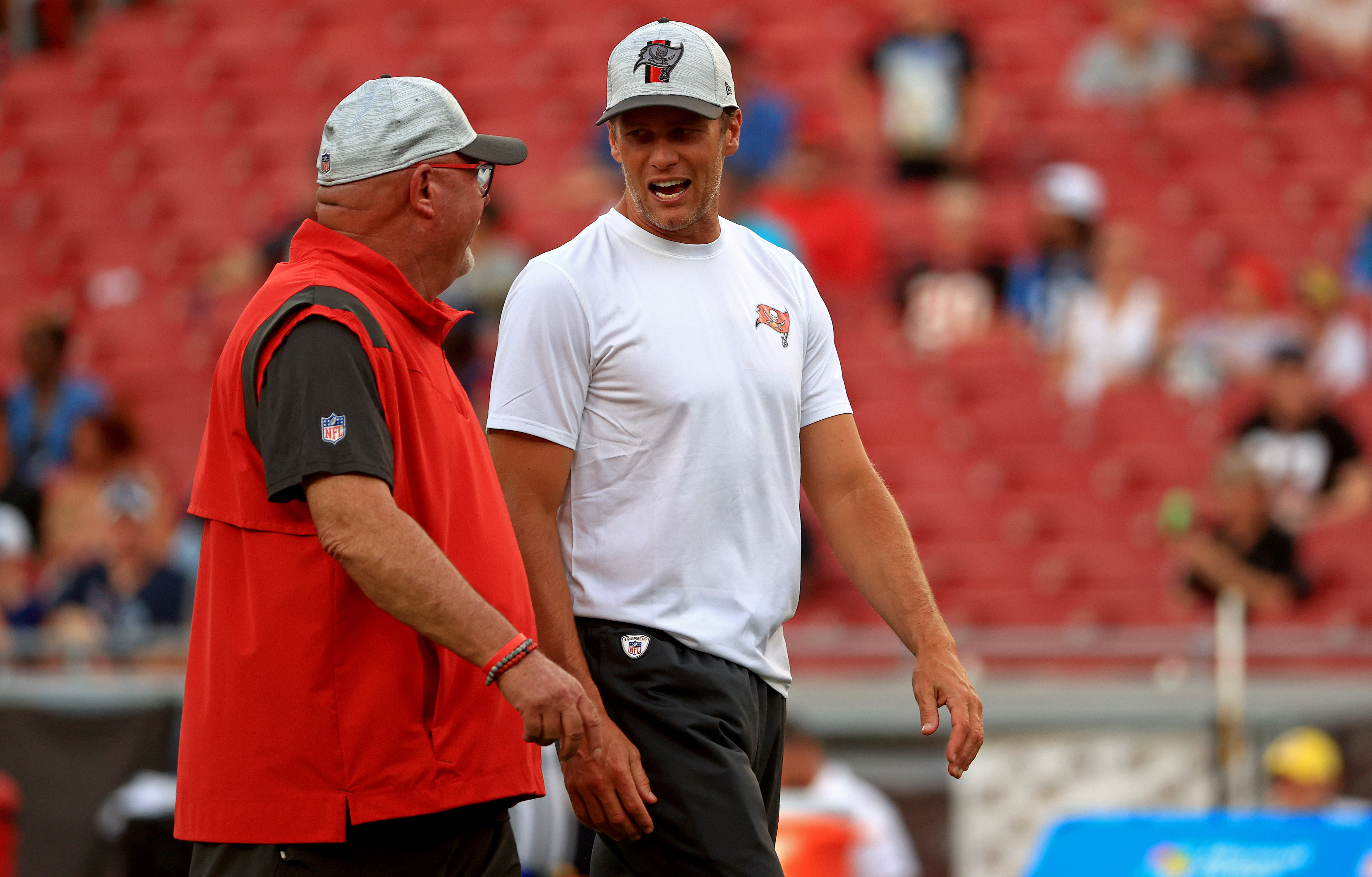 Putting the team first for the sake of winning is the motto in Tampa Bay. Brady himself adhered to the principle when he signed an extension that allowed the Bucs the cap space necessary to re-sign key players.
The Buccaneers return all 22 starters from last season. Now, they will try to become the first team to win back-to-back Super Bowl titles since Brady and the New England Patriots did it during the 2003 and 2004 seasons.
Tampa Bay will certainly be one of the favorites. The Buccaneers have a tremendous front seven that can rush the passer and plug the gaps. Brady will lead what should be a high-powered offense, especially if a healthier Antonio Brown and the likes of Darden can put up some numbers alongside Evans and Godwin.
The Buccaneers have the talent. With Brady captaining the ship, they also have the no-nonsense presence needed to keep everyone in the locker room focused and prepared for the grind of winning another Lombardi Trophy.