Buccaneers Head Coach Bruce Arians Has a Surprising yet Logical Reason for Avoiding a Ronald Jones Trade: 'You Can't Have Enough Good Backs'
The Tampa Bay Buccaneers have jumped out to a 5-1 start this season and are positioned firmly atop the NFC. Tom Brady is performing like a legitimate MVP candidate (currently has the fourth-best odds to win the award, according to Odds Shark), and the defense is performing just well enough to keep the team's offense in striking distance at all times.
Alongside the Dallas Cowboys, Los Angeles Rams, Arizona Cardinals, and the Green Bay Packers, the Buccaneers are firmly entrenched in the NFC as Super Bowl contenders.
Common sense suggests the Buccaneers are looking to add talent to their already impressive roster, with the NFL trade deadline less than two weeks away. While that will likely occur one way or the other, most of the trade noise in Tampa Bay is surrounding one player potentially departing.
Buccaneers RB Ronald Jones is being mentioned in trade talks
The Buccaneers' No. 1 running back in 2020, Ronald Jones II, is quickly becoming an afterthought in Tampa Bay. The former second-round pick has seen his attempts per game drop from 13.7 last year to 5.2 in 2021, and Bucs head coach Bruce Arians isn't signaling that this is set to change anytime soon.
Leonard Fournette — who was spectacular for the Buccaneers during last year's postseason — is the team's new No. 1 back. Fournette has carried the ball 78 times this season compared to Jones' measly 31.
With Fournette thriving as the feature back and veteran Giovani Bernard adding during the offseason, Jones frequently sees his name pop up in trade rumors. Tampa Bay seemingly doesn't need Jones nor want him, making a trade at the deadline fairly likely. Why not recoup a future draft pick for a player who is currently riding the bench?
However, Arians doesn't agree with such logic.
Bruce Arians says Bucs won't trade Ronald Jones
As trade conversation starts heating up due to the looming deadline, more and more coaches will be asked about the future of their players. Arians is no exception to this reality, as the Tampa Bay media pushed him to give insight into Jones's status.
Arians — quite emphatically — shut down the idea that Jones is on the trade block.
"No, none at all," said Arians. "It's a long season, and just that scenario that happened last year and still with COVID, you can't have enough good backs."
There it is from the man himself. Arians and the Buccaneers are avoiding a Jones trade due to the need for strong RB depth.
Coach speak? Or a genuine vote of confidence?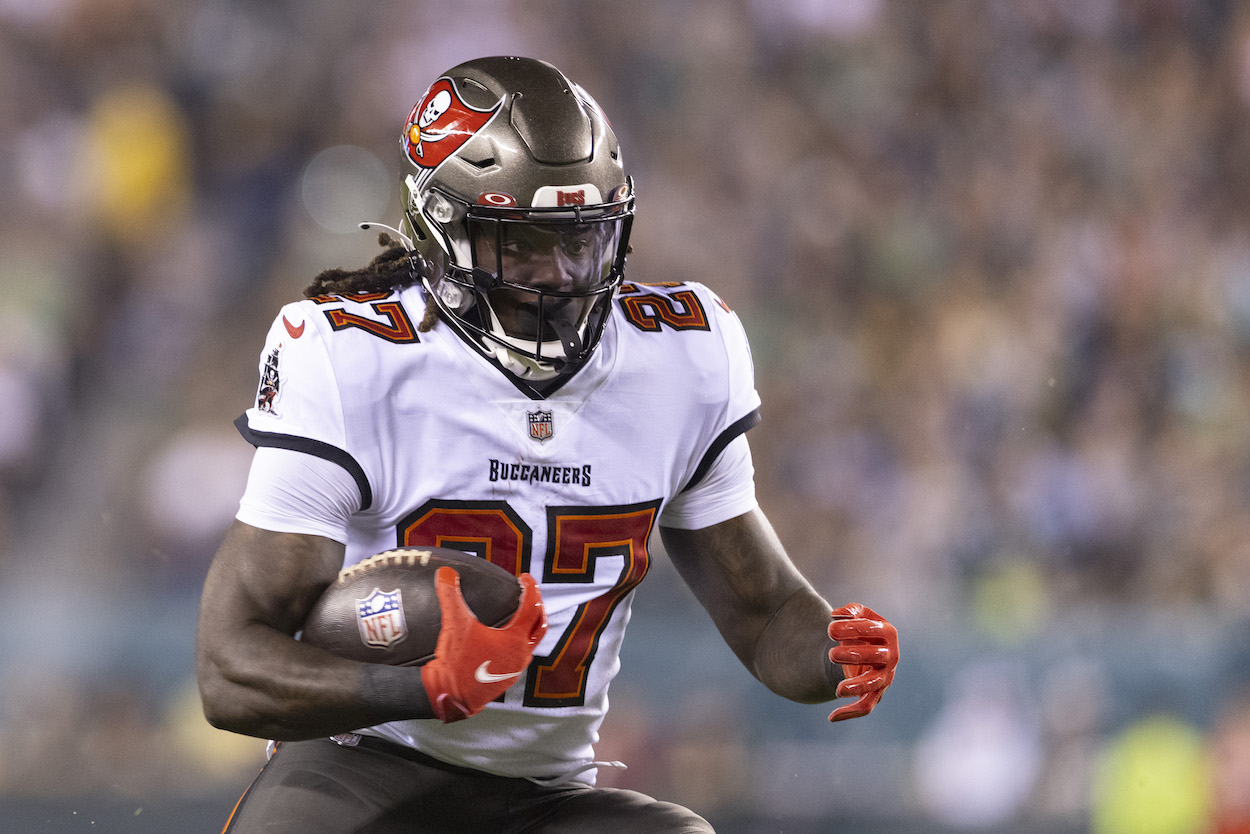 When discussing a player being available or not being available around the trade deadline, it's worth pointing out head coaches rarely act with honest intentions.
Arians could be expressing a fake desire to keep Jones to boost his value around the league.
However, if we're to take Arians by his word, having good RB depth is a fairly good reason to keep Jones on the roster, even if he's not being used appropriately at the moment. One injury to Fournette and the Buccaneers would immediately turn things over to Jones as the feature back.
Ultimately speaking, only time will tell if Arians is being honest. There's still over a week to go before the trade deadline arrives.
All stats courtesy of Pro Football Reference.
RELATED: Richard Sherman's Shocking Revelation About Tom Brady Puts Significant Pressure on the Buccaneers Front Office