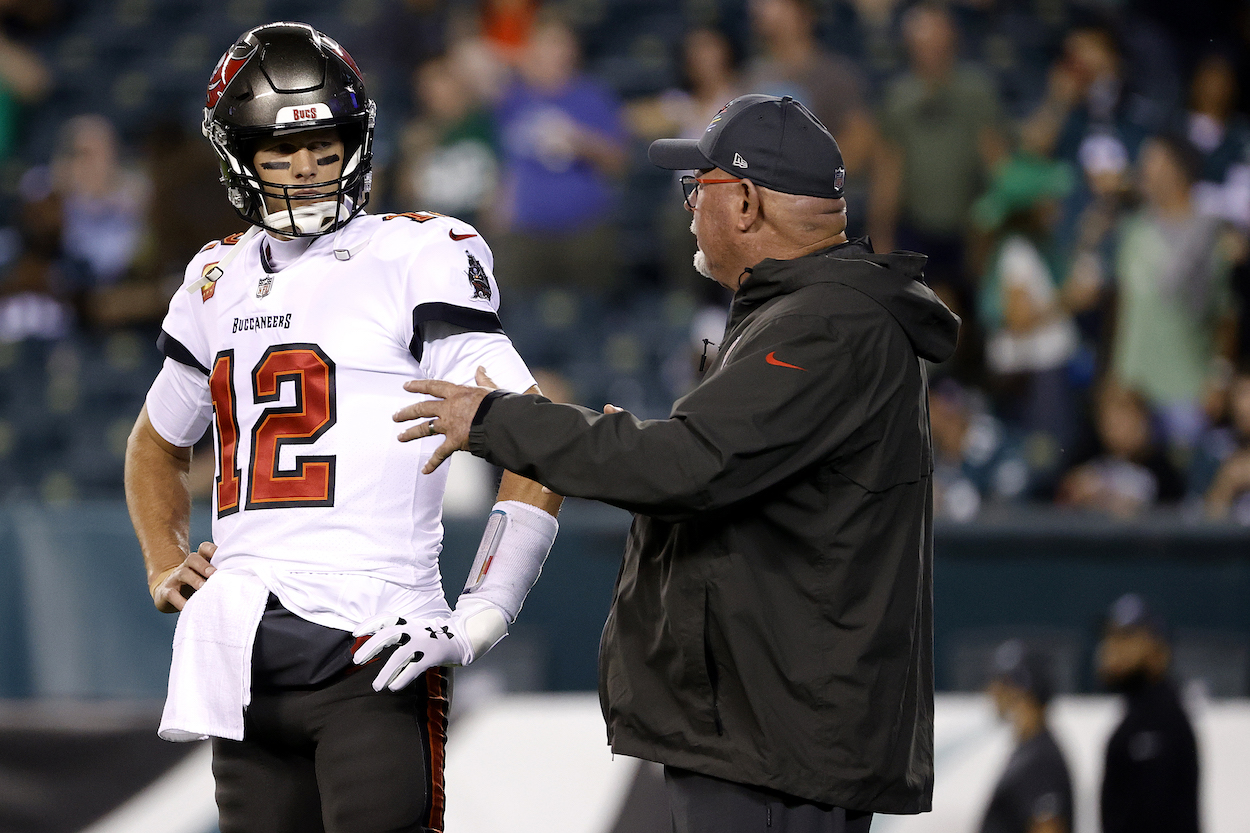 Buccaneers News: Why Tom Brady Almost Definitely Played a Role in Bruce Arians Retiring
It's extremely likely that Bruce Arian's impromptu retirement from the Tampa Bay Buccaneers was a result of Tom Brady.
All was well within the Tampa Bay Buccaneers organization when Tom Brady announced he was returning to the NFL after a short-lived retirement. Until it wasn't.
With the 2022 NFL Draft just a few weeks away, long-time Buccaneers head coach Bruce Arians announced he was retiring from coaching and moving into a front-office role. During his retirement press conference, Arians swore up, down, left, and right that his decision had nothing to do with Brady. However, it doesn't take a rocket scientist to determine that the two situations are closely connected.
Rumors of Tom Brady and Bruce Arians not getting along popped up after the Buccaneers' playoff loss
To properly discuss this topic, it's crucial to backtrack earlier in the offseason. Following the Buccaneers' frustrating Divisional Round loss to the Los Angeles Rams, rumors started popping up that Brady and Arians weren't on the same page from a game-planning perspective.
Former NFL offensive lineman Rich Ohrnberger was the first to report this sentiment out of Tampa Bay.
At first glance, the relationship between Brady and Arians appeared to be strong. They won a Super Bowl together in 2020 and were stuffing the stat sheets in 2021. However, according to former NFL player Rich Ohrnberger, the relationship began "souring" toward the end of the 2021 season.

"Apparently, while Arians was rehabbing the Achilles in the early mornings, offensive coordinator Byron Leftwich and Brady would work on the week's game plan. Arians would later come in and take the red pen to work they'd done. The QB and OC felt undermined. There was tension," Ohrnberger tweeted in reply to the above-embedded tweet.

David Esser, Sportscasting
Tom Brady has the power to make demands about his coaching staff
On the outside looking in, concluding that Brady only agreed to return to the Buccaneers is a bit conspiracy theory-ish. You'd have to put a tinfoil hat on for a few minutes to get there.
However, after refreshing on the Ohrnberger rumors from earlier in the offseason, it doesn't sound so outlandish. Brady's decision to retire never made much sense in the first place. He was coming off a 5,000-plus yard season in 2021, and was one blown coverage away from taking the Rams to overtime in the Divisional Round. He's clearly capable of winning an eighth Super Bowl ring.
With this in mind, the idea that Brady told Buccaneers ownership that he would return if Arians were replaced makes sense. Brady is a powerful enough voice in the Tampa Bay locker room to get something like that done. Without him, the Buccaneers would have gone back to being irrelevant this season.
The Buccaneers hiring a defensive head coach makes sense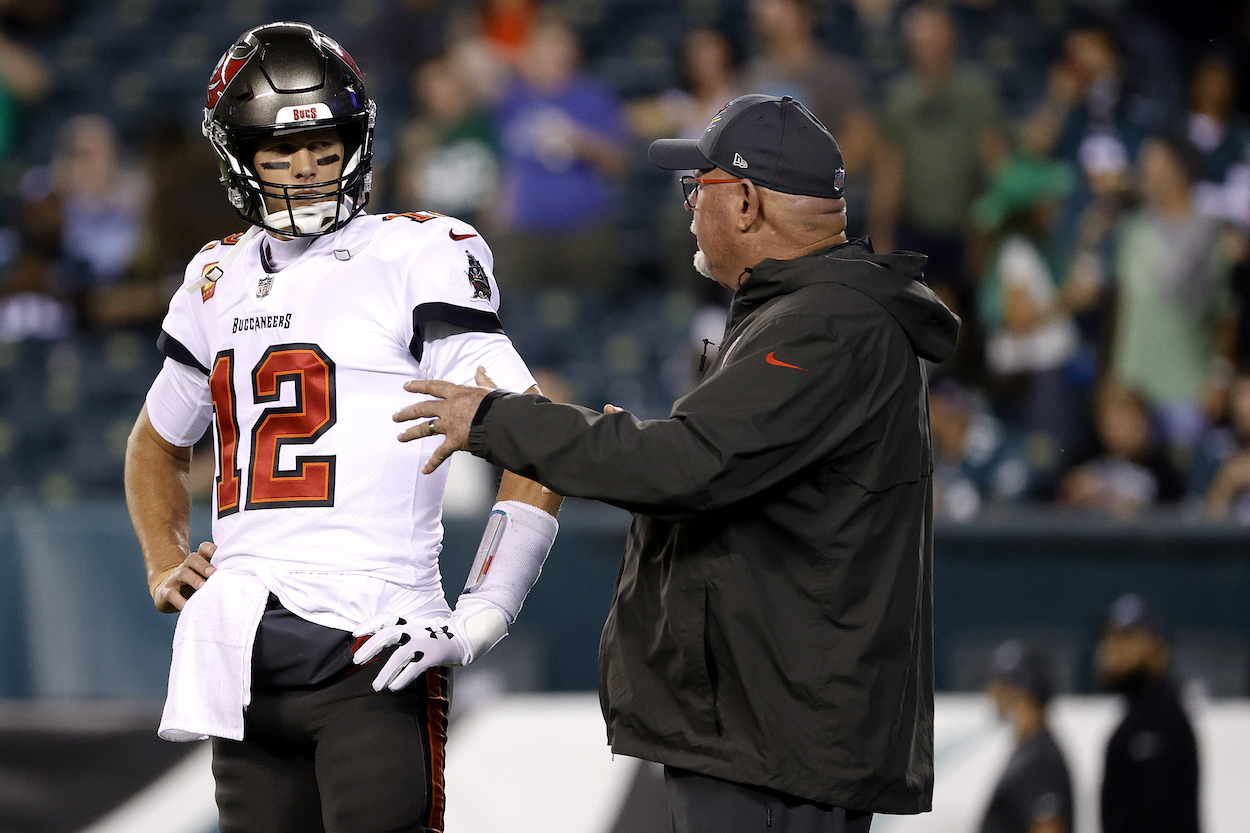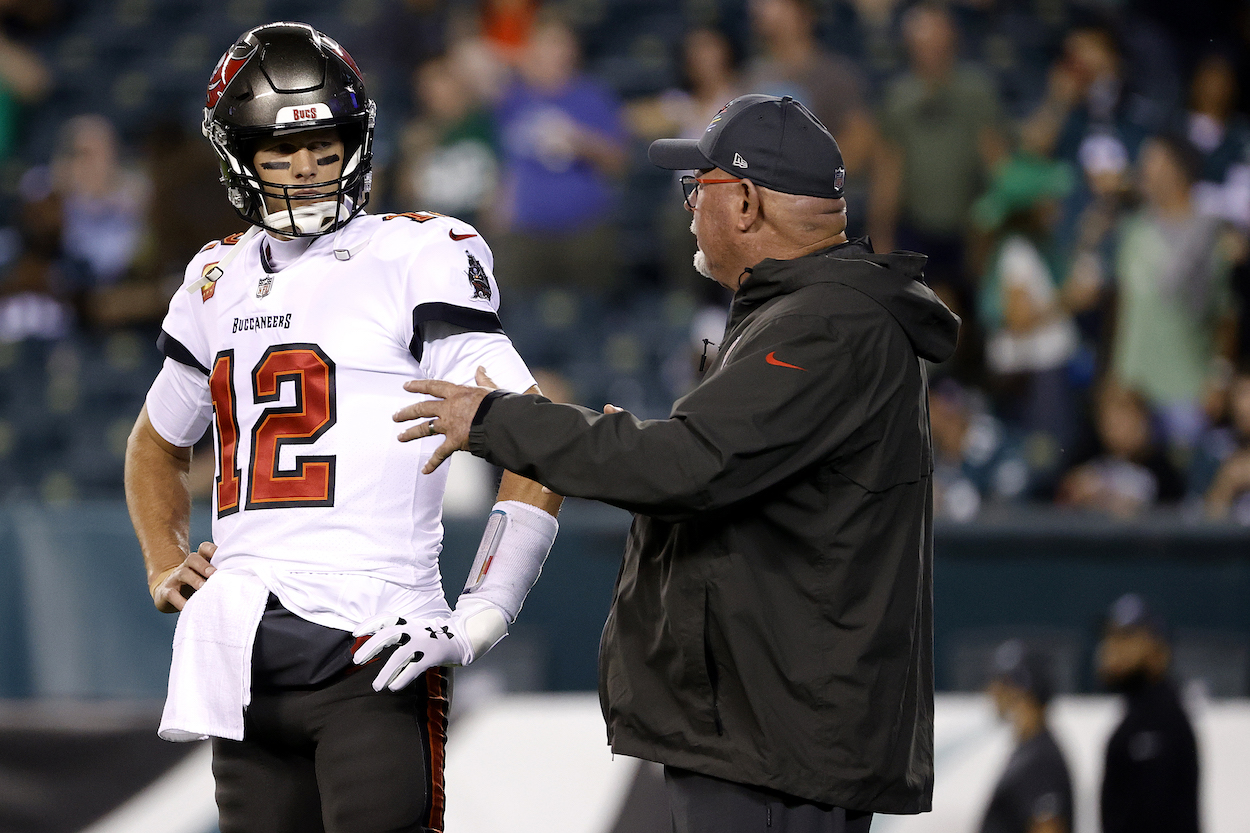 Adding even more fuel to this theory is that the Buccaneers replaced Arians with a defensive-minded head coach in Todd Bowles.
Bowles gets to act as the defacto full-time defensive coordinator, while Brady and Byron Leftwich take full responsibility for the offense — something Arians wasn't willing to concede in 2021.
Brady has never been one to stir up trouble behind the scenes when it comes to coaching and/or roster decisions. He put up with Bill Belichick and his ice-cold demeanor for years. However, as the future Hall of Famer nears a permanent retirement, it's becoming clear he's more willing to weaponize his value.
Brady wants things done his way. If he isn't accommodated, he'll simply leave.
Like Sportscasting on Facebook. Follow us on Twitter @sportscasting19.