Buccaneers QB Ryan Griffin Has $6.5 Million in the Bank Thanks to a Dream Job Backing Up Tom Brady's Backup's Backup
Tom Brady made history last year with the Tampa Bay Buccaneers. The aging quarterback proved he still has what it takes to lead a Super Bowl-winning team, pushing through injuries that would slow down players two decades younger than him. What gets somewhat less attention is how prepared the Bucs were for Brady to falter, with four total QBs on the roster.
Ryan Griffin, solidly in the third QB slot for much of his NFL career, is now reduced to a practice squad presence. Outside of the most plugged-in NFL obsessives, his name rarely merits mention. Despite all this, Griffin just might have the best career deal going in the entire league.
Ryan Griffin is a career third-string quarterback
Griffin wasn't always a permanent sideline kind of quarterback. According to Sports Reference, the California native played nearly every football game during his four years at Tulane University. He set offensive records that stand to this day at the New Orleans school. Griffin even made his mark historically by topping leaderboards for pass attempts, pass completions, and completion percentage.
Despite standing out so strongly at a Division I school, he was never seen as top NFL draft material. He joined the league in 2013 as an undrafted free agent picked up by the New Orleans Saints. After a short run as a third-string QB — starting a long trend of his use in this way — he was released and signed to the practice squad. He remained there until 2015.
Griffin always had little chance of seeing playing time with the Buccaneers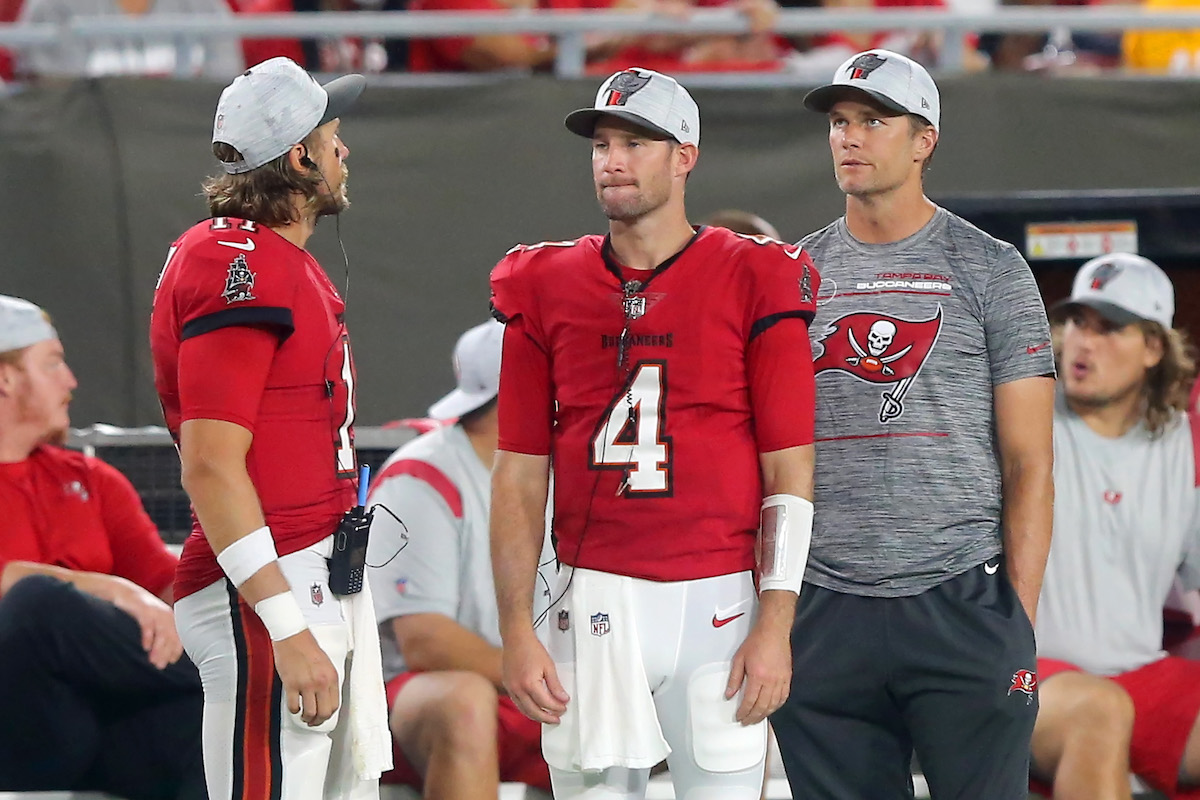 In terms of actual regular-season NFL play, Griffin is close to a ghost. The Bucs picked him up in 2015, putting him right back in the third-string slot he'd already adjusted to in Louisiana. Here, he spent his time holding out as the backup-to-the-backup for Jameis Winston. The situation eventually got him an opportunity to finally play in a regular-season game.
Since then, Pro Football Reference notes that he's totaled only four snaps for 18 yards. Each of these took place in 2019 after Winston's injury gave him a shot. That opportunity never came up again, and he's been a preseason and practice figure for the team ever since. Currently, he is once more released from the main roster, as Buccaneers.com reports. Not exactly the stuff that gets one recognized in Canton.
But does it really matter in the end?
Ryan Griffin likely enjoys the best deal possible for a non-starting NFL player
The indelible image of an exuberant Griffin holding up a drunk Brady justifies the longtime backup QB's career in and of itself. NFL fans tend to focus on star power, sometimes forgetting that football is a job. For the many players with a more workman-like path through the NFL, only a handful get to experience the joy of a Super Bowl win.
Fewer still manage to pull it off while cleanly avoiding most major injuries related to the NFL. Above all, avoiding CTE makes for a major advantage to being a practice facilitator like Griffin. He plays in a version of the NFL built to protect QBs, with high-tech helmets that prevent CTE more than before. It's one of the few NFL jobs that involve getting geared up and throwing the ball while avoiding most major harm associated with the game.
Best of all? Griffin has never hurt for cash even with his permanently diminished role. No kid dreams of being relegated to an NFL practice squad, but Spotrac reports that he made about half a million with the Saints. As a longtime Buc, he has pulled in over $6.5 million between his roster and practice stints.
Every football-loving kid, without a doubt, dreams of becoming a millionaire and hoisting the Lombardi Trophy. Griffin has done both. Plus, he has a shot at enjoying the experience at least one more time.
RELATED: Tom Brady's Shocking Decision to End 13-Year Relationship Has Given Him an Interesting New Advantage